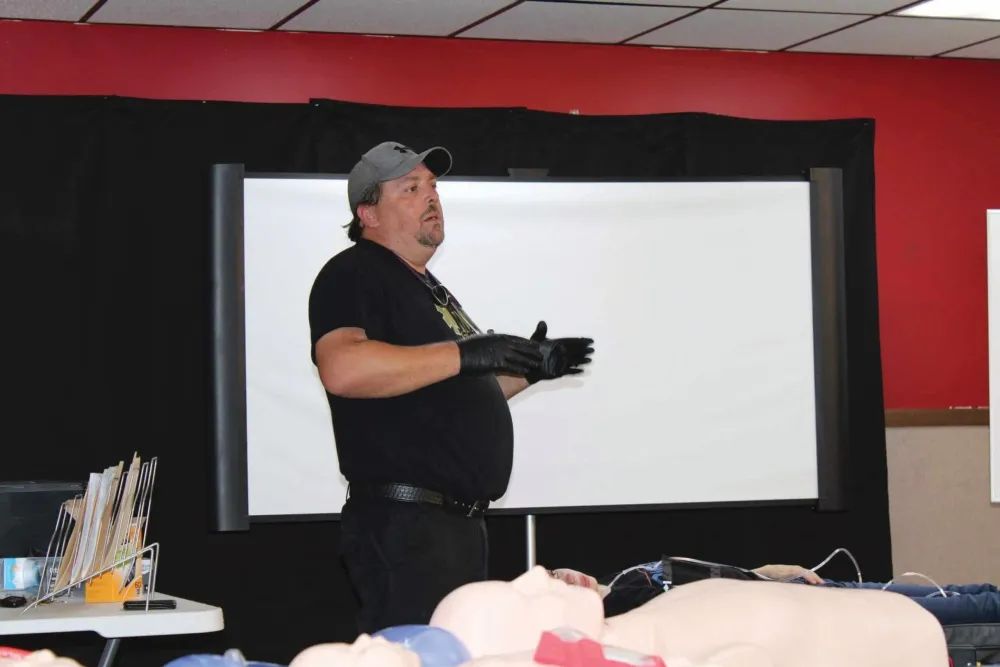 John Briggs, owner of America First Response, instructing
Emergency Preparedness a Benefit to Business & Individuals
August 2022
by Kelsi Gambill, MSPR, Communications & Marketing Manager
Emergencies can strike at any time. However, recent acts of violence across the nation have many businesses wondering what they can do to protect themselves and their employees, not to mention schools and children.
Thankfully, a new business in Billings offers services to businesses and individuals to remain safe in the face of potential danger and manage risks. Following the motto of be prepared for any situation, America First Response (AFR) has experts to give you the skills and knowledge to handle any emergency.
"Any form of training falls under the guidelines of something is better than nothing," says John Briggs, owner of AFR. It can be a matter of life and death for someone, whether in your business or the public, because if someone goes down, you can help save them with the proper training beforehand.
AFR offers multiple training and certification programs, including CPR, First Aid, Emergency Medical Technician (EMT), Emergency Medical Response (EMR), Wilderness Training, AVERT, Youth Mental Health First Aid, OSHA compliance, and more. Program highlights include:
Wilderness training is a two-day program that teaches participants to deal with trauma and medical responses such as gastrointestinal problems, altitude sickness, or broken bones. It includes getting basic first aid and CPR certifications, a wilderness add-on, and is completed with in-field scenarios in the backcountry.
AVERT, short for Active Violence Emergency Response Training, is a four-hour course on-site at participating businesses for an active shooter response training. It teaches participants to evade, safely escape, disarm and defend, and situational awareness. This new program to Billings includes "stop the bleed," which teaches how to immediately respond to control bleeding while in an active shooter situation.
Youth Mental Health First Aid program helps adults recognize signs of bullying, suicide, depression, drug abuse, and alcohol abuse in school-aged children. In addition to recognizing that they aren't just kids being kids, there's something deeper going on and help transition them to a professional.
Having a proper first aid kit compliant with OSHA standards in the workplace is low-hanging fruit for businesses. AFR makes it easy for businesses, large and small, to have proper first aid kits on site as they sell and service kits with a free app, should a business need supplies between visits.
AFR was established in 2021 by owners John and Heidi Briggs. Their business was born out of necessity during the COVID-19 pandemic as they needed to renew their CPR certifications and traveled to Bozeman to do so as no one offered the service in Billings. From this personal experience, they decided to open business here.
"What sets us apart is that we focus strictly on education. We don't operate another business or an ambulance service. Education is all we do," said Briggs.
AFR has full certifications with every program they teach and three trainers who are fully licensed EMTs in Montana. With the flexible course, tailored to fit customers' needs, AFR can do online training for those whose schedules don't allow them to be in the classroom, or they can hold in-person, hands-on full class style training. Additionally, they will travel anywhere in the state to hold trainings.
Their office has a display area in the waiting room, and two training rooms are located in downtown Billings. Learn more about AFR and view upcoming trainings by visiting https://america1stresponse.com.
Originally printed in the August 2022 issue of Simply Local Magazine
Never miss an issue, check out SLM's digital editions here!