Improving Safety Through the Built Environment
October 2021
by Jack Jennaway, Business Advocacy Coordinator
Imagine that you are a burglar; there are two properties you could rob. Both are on a busy street with plenty of potential witnesses. One property has large windows facing the street and is well-lit both inside and out. Its landscaping and clean appearance indicate that the owners are very attentive. The other property has posters blocking most of the windows. Many of the lights are broken, graffiti is on the walls, and weeds are growing in the concrete. Which property do you choose? The choice is obvious; you probably wouldn't rob either one if both properties were like the first. If your entire neighborhood were like the first property, you might consider leaving the "profession" altogether. In this way, Crime Prevention Through Environmental Design (CPTED) is one way everyday citizens can work toward a safer Billings.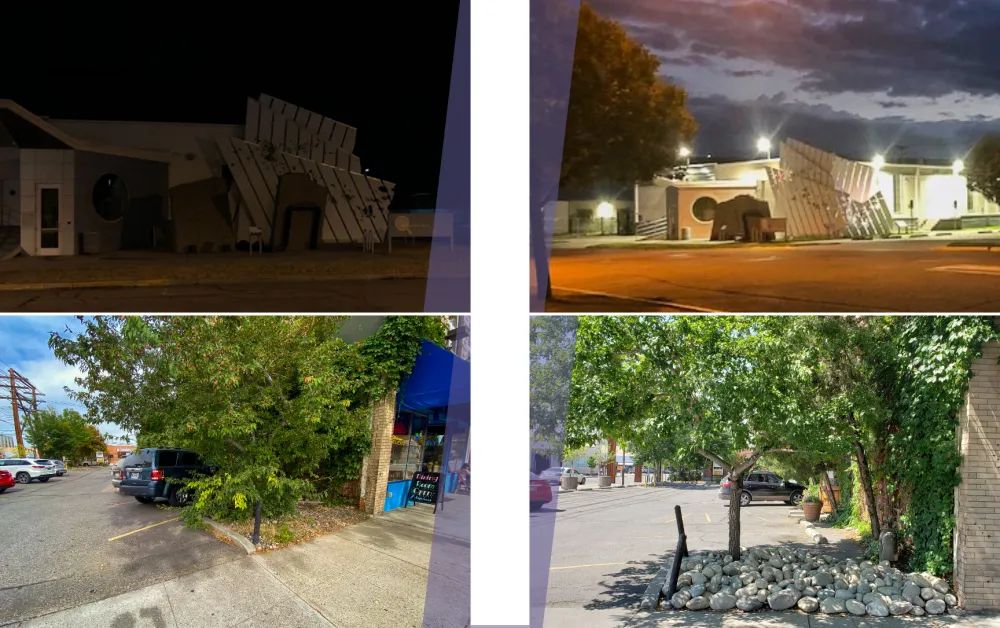 Before & After
Crime and safety are always topics of public concern, but they are especially salient now in Billings as we experience a 20-year peak in violent crime. Billings' city government has responded, placing a public safety mill levy on this November's ballot, but as you will often hear on a construction site, safety is everyone's responsibility. Just as a homeowner might take additional responsibility for their neighborhood, the business community and the Billings Chamber of Commerce have prioritized public safety. In 2019, we recognized that CPTED could substantially benefit our community and our members, so we partnered with the Billings Police Department and the Downtown Billings Alliance to start Montana's first CPTED program.
CPTED is a method of analyzing the built environment to identify and address areas that may unintentionally allow improper and unsafe use of the space. It utilizes principles from security, architecture, landscaping, and other fields to make a property a less vulnerable target. First, our staff members (certified by the National Institute of Crime Prevention) survey a property for potential vulnerabilities at the owner's request. Then, we meet with the property owner to discuss operations and areas of concern, walk the entire property, and compile a thorough and confidential report with recommendations for improvements.
Even small changes can make a big difference. Some recent improvements made following our reports (pictured right) show how effective and simple CPTED improvements can be. One of the simplest ways to improve safety at night is to add adequate lighting. Trimming a tree can open sightlines to allow everyone to maintain better situational awareness while adding rocks can cut down on unwanted foot traffic or loitering. Something as small as leaving a light on inside at night or orienting a workstation toward a window can deter unwanted activity at virtually no cost. While major renovations or more traditional security measures are sometimes necessary, CPTED is often an extremely cost-effective method for improving any location's actual safety and perceived safety.
So far, the Billings Chamber and its partners have completed 23 reports at no cost to the recipients, which have spurred at the very least $55,000 in safety investments. Last December, the Billings Chamber and Downtown Billings Alliance hosted the first-ever CPTED training in Montana, with instruction from the President of the National Institute of Crime Prevention, Art Hushen. Over three days, participants from various backgrounds, including law enforcement, planning, engineering, and landscaping, learned the basics of crime prevention. Even so, we have only begun to scratch the surface of the potential CPTED has to benefit our members and the community. Our sincere hope is that as we continue to conduct evaluations and as more property owners become aware of the principles of CPTED, Billings becomes continually less hospitable to crime. Just as safety is everyone's responsibility, almost anyone can benefit from evaluating their property through the lens of CPTED, and the Billings Chamber of Commerce is happy to help.
If you are interested in scheduling an evaluation for your property, please email jack@billingschamber.com.
Originally printed in the October 2021 issue of Simply Local Magazine
Never miss an issue, check out SLM's digital editions here!