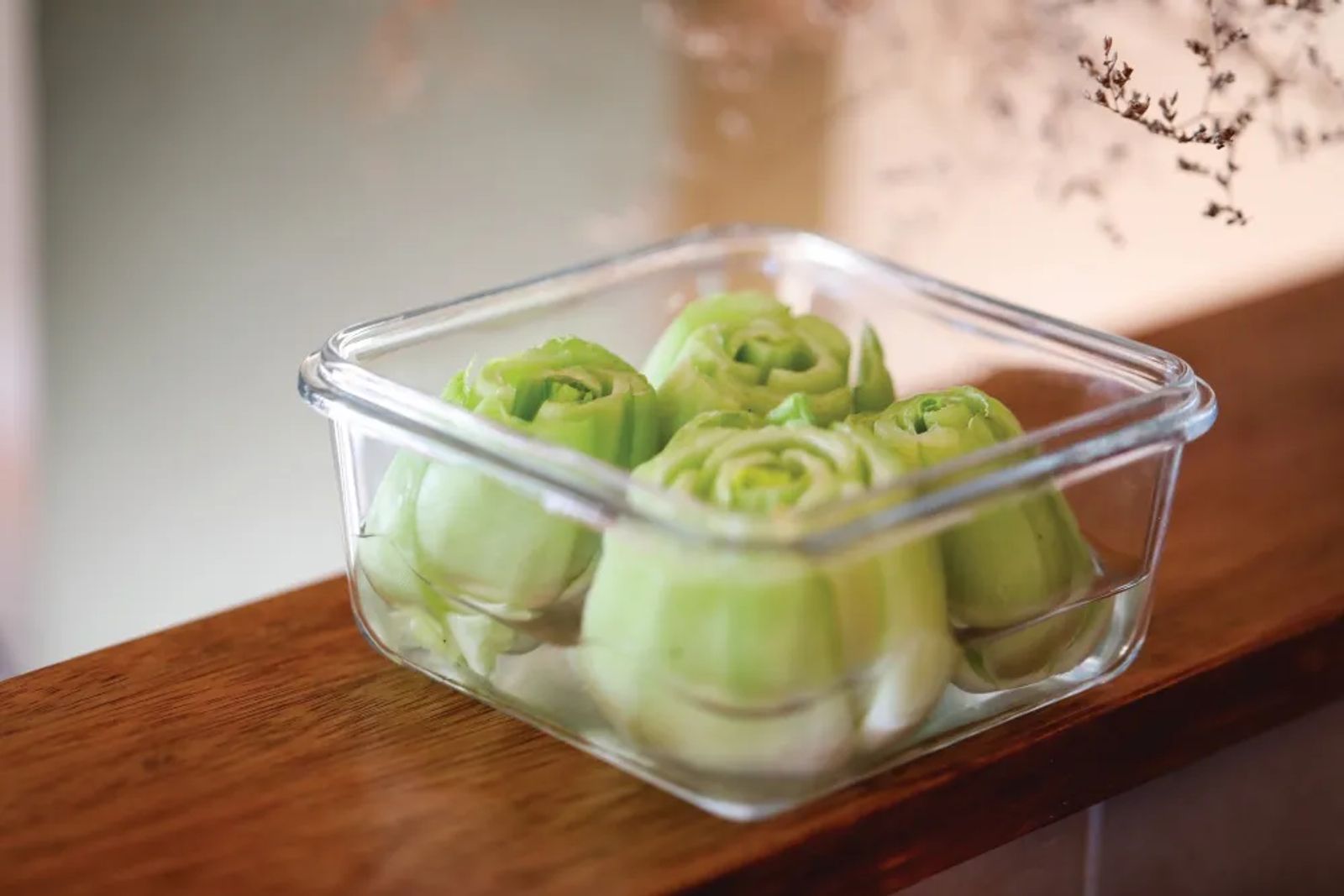 WE MIGHT THINK WE ARE NURTURING OUR GARDEN, BUT OF COURSE, IT'S OUR GARDEN THAT IS REALLY NURTURING US. – JENNY UGLOW
Don't Throw Out Those Kitchen Scraps
August 2020 | by carina deguire
Re-grow them! The benefits of a garden for one's physical and mental health are plentiful; however, there is a commitment of both time and space required to obtain an actual garden harvest. Are you short on time or space, or looking for a little garden therapy that you can enjoy indoors? Fresh produce can be grown in water with scraps from your kitchen - minimizing both cost and time required and allowing you to bring fresh garden ingredients to your recipes and kitchen table in as little as seven days.
Looking to really put your green thumb to the test and expand your garden further? The following items can be grown from your kitchen scraps as well:
Bok Choy, Cabbage, Carrot Greens, Fennel, Garlic Chives, Leeks, Lemon Grass, Potatoes, Sweet Potatoes, Pineapples, Cilantro, Mint, Lemon Grass, Bean Sprouts. Avocado, Ginger, Garlic, Onions, Pumpkins, Mushrooms, Peppers, Tomatoes, Turnips, Cherries, Apples, Peaches, Lemons, Hazelnuts, & Chestnuts
In need of a little inspiration for all that fresh produce you've been growing?
Chop up some fresh green onions and toss them into homemade guacamole! Other add-ins to consider: fresh cilantro, chopped mango, tomatoes & lime juice.
Basil makes a great addition to lunchtime sandwiches, a fresh Caprese salad, bruschetta, or as the main ingredient in homemade pesto.
Celery might be most well-known for its role in "ants on a log;" however, it shines brightest when added to soups or mixed into chicken salad alongside apples, grapes, and pecans for a fresh and crunchy flavor profile that is sure to become a summertime favorite—looking for a fun twist? Add in a little curry powder. You won't be disappointed!
Top off your salad or sandwich with fresh-cut lettuce clippings. Are you having tacos? Consider replacing taco shells with a lettuce leaf to create a light and refreshing summertime dish - no utensils required.
*Be sure to replace the water every 2-3 days!
Originally printed in the August 2020 issue of Simply Local Magazine
Never miss an issue, check out SLM's digital editions here!