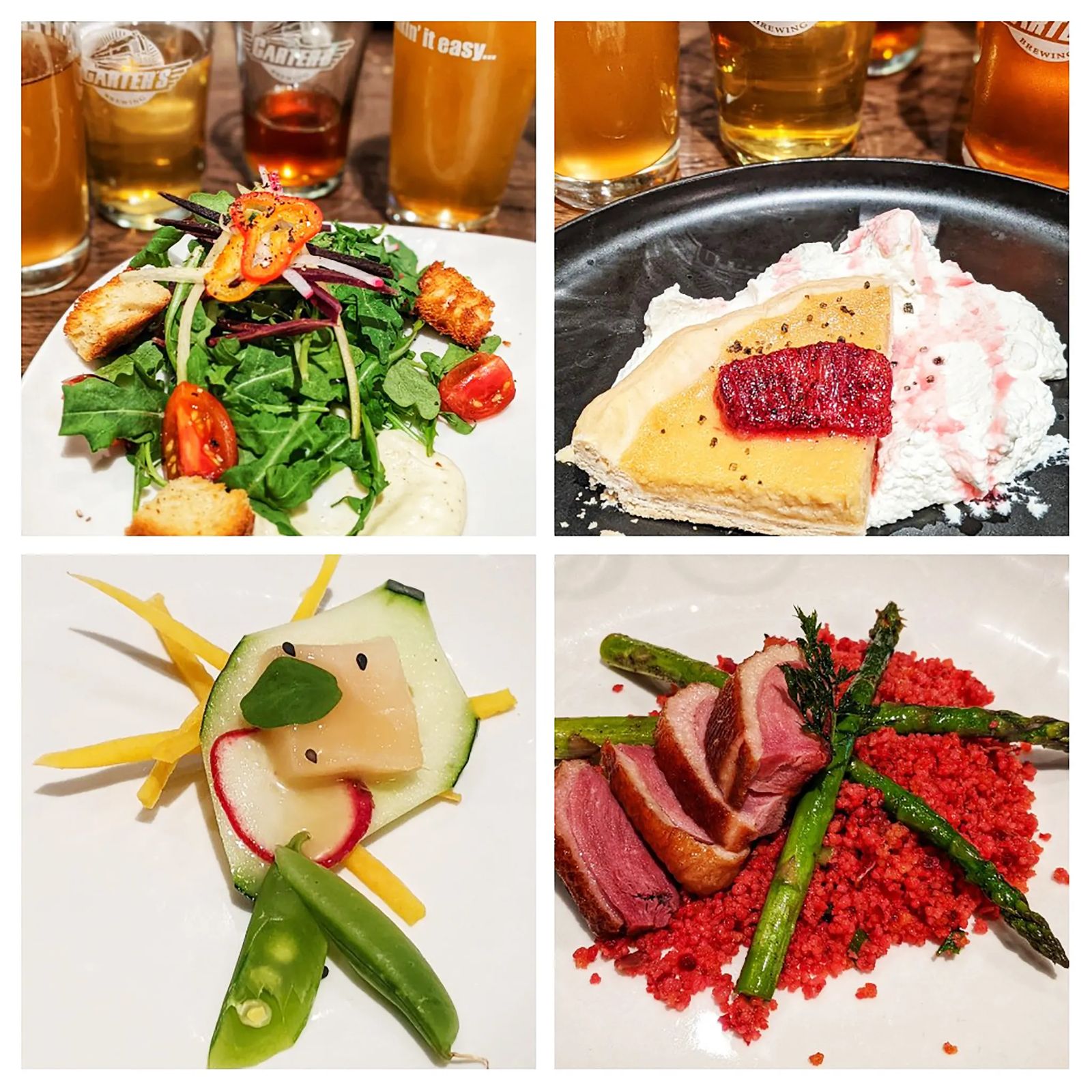 Craft Beers And Innovative Cuisine
September 1, 2021
The Midway Grill and Brews Hosts Beer Dinner In Partnership With Carter's Brewery
Sometimes last-minute things turn out to be better than pre-planned, anticipated ones. Especially when it comes to dinner. Dining out in Billings on a Saturday night will challenge your decision-making skills, as there are so many good places to choose from. Leaving old favorites behind, I decided to try the recently opened The Midway Grill and Brews, which has been around for a little over four months. And to make it even more interesting, I chose one of their food and beer pairing events: a collaboration with Carter's Brewing, a local staple which I'm fairly certain does not need an introduction after 14 years of successful operation in our city.
The Midway staff set up a beautiful, long, communal table stretching almost the entire length of the restaurant, and 30-40 diners gathered around it promptly at 6PM. Shortly after that, the dishes and the accompanying beers started coming out. Carter's owner and head brewer, Mike Uhrich, and The Midway's executive chef, Aaron Zitar expertly presented each round in advance, giving us an idea about the flavors and aromas we were about to enjoy. And it went like this:
Course 1 opened up the feast with a generous portion of light and airy pumpernickel bread, surrounded by frothy goat cheese, sweet cinnamon butter, caramelized onions, and smoky peach chutney on the plate, and Carter's Gandy Dancer Rye Saison in the glass. Oh my, that superb pairing got us started with a bang, and it was difficult to put some of that bread aside, mindful of the fact that we had five more courses to go.
Course 2 was a spicy, warming, bold poblano and hatch chili with smoked pork loin, contrasted by a bright and refreshing Mas Fina Mexican-style lager. I'm willing to guess that we were all grateful for the high drinkability factor of that lager. The heat of the chili made us drain the glasses in a hurry!
Course 3, a bite-size yellowfin tuna crudo on top of raw vegetables and lemon gelée was a bit more daring choice, as Chef Zitar warned us. Judging by the empty plates going back to the kitchen, it seemed like we all enjoyed it, especially when paired with the White Lightning witbier, a Belgian-style ale gently spiced with coriander and orange peel.
Course 4 was the star of the show, as far as I was concerned. Smoked for 8 hours, slowly roasted for 8 more, the duck breast was a melt-in-your-mouth culinary delight, and beautifully plated alongside jewel-toned beetroot couscous and grilled asparagus. The beer choice could not have been any better: a rich, malty, and luxurious Scottish ale that I'm still thinking about 24 hours later, as I'm writing this review. Carter's official name for it is Switchyard Scottish Ale. Remember that on your next visit to the brewery!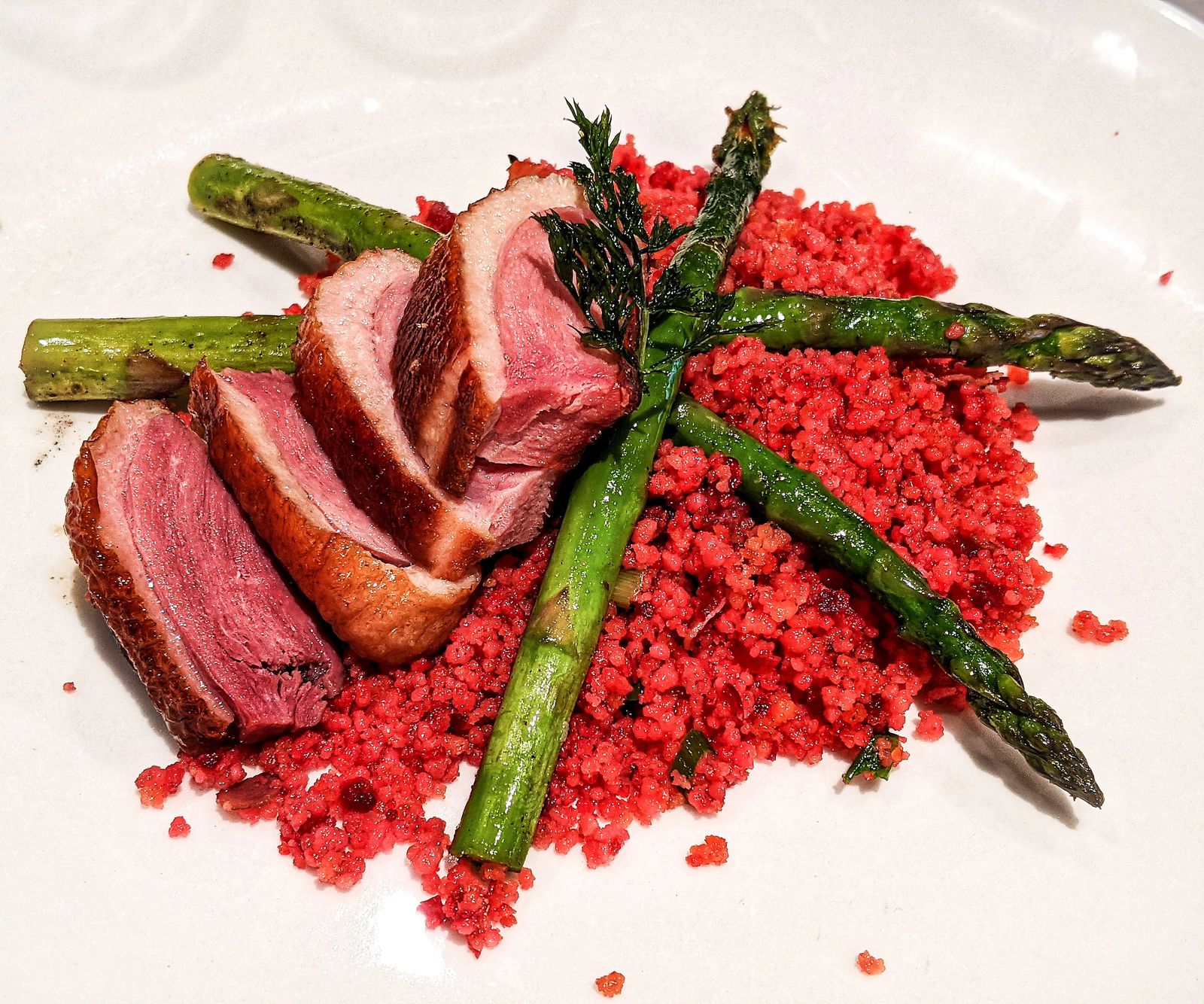 Smoked duck breast with beetroot couscous and asparagus
Course 5 offered a quick reprieve to our senses, cleansing the palate with an arugula salad with lemon sage dressing, and the light-bodied, refreshing Coldwater Kolsch beer that came with it.
Course 6, the grand finale, was a delicate blood orange and hibiscus tart topped with candied blood orange and surrounded by a cloud of Chantilly. Why a hibiscus tart, you might wonder? Well, because it introduced Carter's eponymous Wild Child Hibiscus Tart, not only a clever play on words but also a great way to end the meal with a highly aromatic, refreshing and fruity wheat beer, spiced with Thai lemongrass and dried hibiscus flowers.
Are you sad you missed this memorable dinner? Don't be! The Midway and Chef Zitar are planning to host more events like this, the next ones coming up in just a few weeks. The Great Gatsby Gala will be a roaring party (please pardon the pun!) in partnership with Montana MINT Festival. Next up is another food and beer pairing dinner, in collaboration with By All Means Brew Lab, happening on September 17. Get your tickets in advance, you won't regret it!