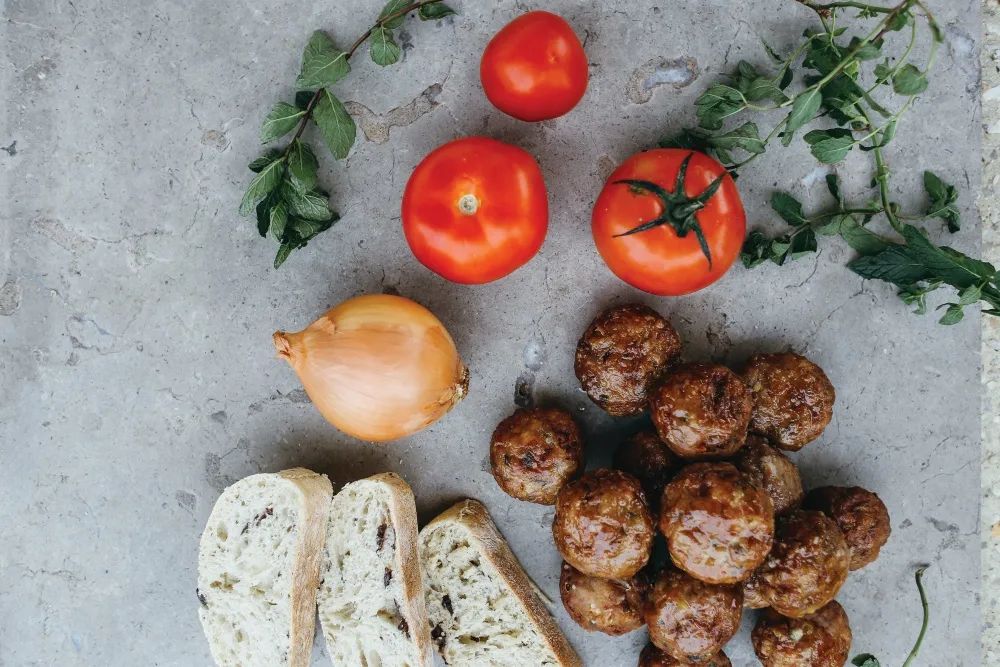 Cook This: Everyday Meatballs
July 2023
by anna rogers | recipe inspired by Half Baked Harvest's "Sunday Meatballs" 
Ingredients*:
1 pound beef (I used grass-fed) 
1 large egg 
2 slices sourdough milk bread 
Enough milk to cover bread slices 
1 jar of favorite marinara (homemade or storebought) 
¼ Cup red wine 
½ sweet onion, finely chopped 
2-4 cloves garlic, pressed 
1 teaspoon herbs (parsley, basil, thyme, oregano – whatever is available) 
½ teaspoon crushed red pepper flakes 
Sea salt to taste 
½ Cup each shredded mozzarella and parmesan 
1 block or container of goat feta or ricotta 
2 Cups kale, coarsely chopped 
Directions:
Place bread in a small bowl with milk to cover and let soak for 5-10 minutes.
Squeeze out excess milk and crumble bread with hands.
Mix bread together with ground beef, whisked raw egg, and salt and pepper.
Form meatballs by hand, and bake in cast-iron skillet at 450° for 12-15 minutes.
Stir together marinara, wine, onion, garlic, herbs, crushed red pepper, and sea salt in a bowl.
Pour over the meatballs and cover the skillet with foil, return to the oven for 20-25 minutes.
Remove the foil and sprinkle cheese and kale over the dish.
Bake uncovered for another 5-10 minutes.
Serve over fresh pasta with a local greens side salad! 
*There are many options for purchasing locally raised or crafted foods in and around Billings, especially in the summer! Here are some of my suggestions for sourcing ingredients for this recipe:
Beef: Coulee Creek Ranch (Lavina)
Milk: T&C Farms (Laurel, raw)
Bread: Samurai Sue's Everyday Foods (Red Lodge)
Onions & herbs: Lady Kate's Farm (Billings)
Kale, Garlic, Side Greens: Midtown Market Garden (Billings)**
Feta or Ricotta: Amaltheia Organic Dairy (Belgrade, goat)
Pasta: Seconde Fresh Pasta or Yellowstone Pasta Company (Billings)
**This is our garden, so we use everything we can from it! There are lots of other great, local growers for produce.
Originally printed in the July 2023 issue of Simply Local Magazine
Never miss an issue, check out SLM's digital editions here!