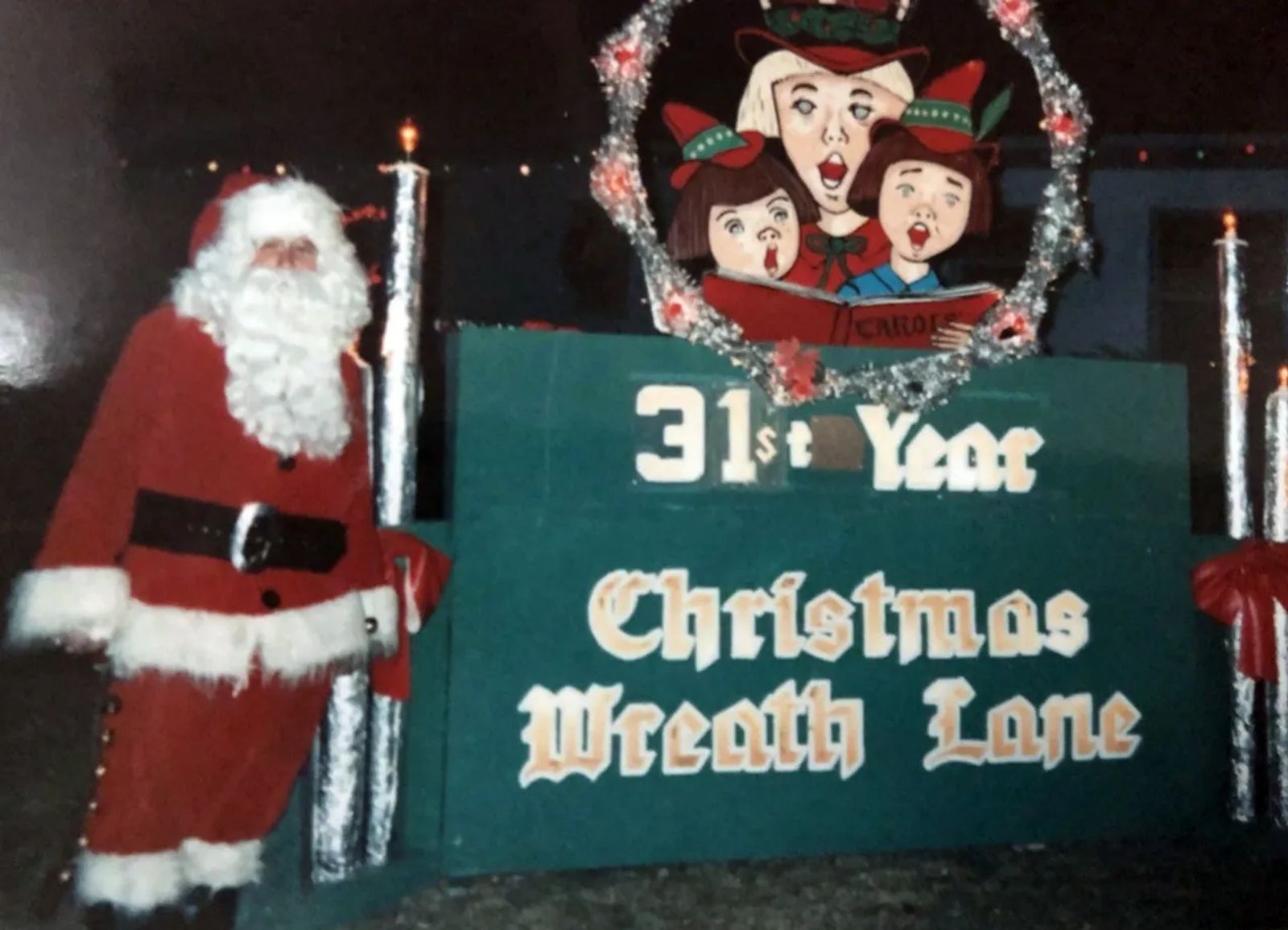 Bill Burdge at the corner sign on the 31st anniversary of Christmas Wreath Lane | photo courtesy of Jolene Burdge
Christmas Wreath Lane Celebrates 60 Years
December 2020| by rebecca stewart
"It's a block like no other." -Jolene Burdge, resident.
In any neighborhood, families come and go, so imagine maintaining a tradition across six decades and any number of neighboring changes. That's just what the residents of Avenue D (from blocks 1700-2100) have done since 1960. As families have come into the neighborhood, with their new home also comes a wreath and figurine. Jolene Burdge recalls her introduction to Christmas Wreath Lane upon moving into the neighborhood in December of 1986. Some of the neighbors came by and explained, "This is what you do, we'd love for you to participate, but you don't have to, and if you don't want to, let us know, and we will come and put your stuff up and take it down." She adds that it's so infectious, it's hard not to participate!
Aside from the joy Christmas Wreath Lane has brought our community at large (and so many others, as people come from all over to traverse their bright and shiny block), it has created a kind of family amongst its neighbors. Jolene reflects that her neighbors are like family that see each other through the good times and the hard, "My best friends are my neighbors, and it's not just Christmastime, you help each other all through the year." The neighbors have gathered for block picnics in the summer to game plan the season and again for holiday block parties to kick off the festivities.
Christmas Wreath Lane Through the Years
<<<<< swipe to see photos
Though the houses on Christmas Wreath Lane might include other decorations, the wreaths remain the same, although they are each decorated to their homeowner's preference – with the exception of the 50th anniversary when they all dazzled in gold. The corner houses don a large display indicating which anniversary it is, and there have been many years that the seekers of all things Christmas lights have caught a glimpse of Santa (Bill Burdge) visiting the Lane.
When asked what being part of this long-standing tradition has meant to her, Jolene shares, "It gives such meaning to the fun of Christmas but also the true meaning of Christmas – the joy and the love for helping each other and what Christ did for you."
Decorations are scheduled to go up on November 28 and are expected to be lit up starting that night!
Originally printed in the December 2020 issue of Simply Local Magazine
Never miss an issue, check out SLM's digital editions here!