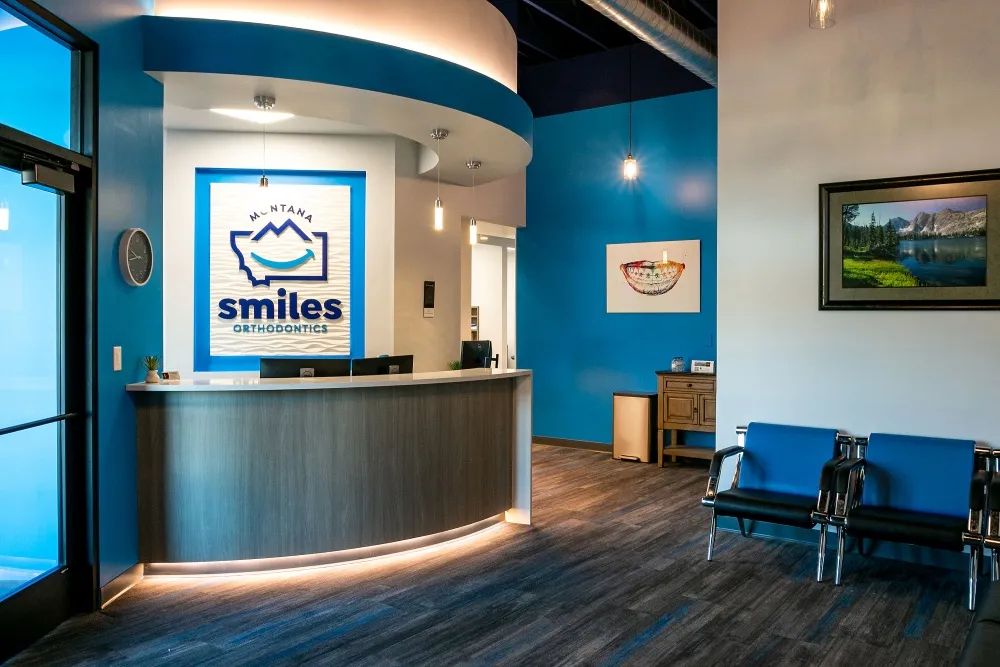 Business Spotlight: Montana Smiles Orthodontics
October 2022
article & photos by renata haidle
Does dental work make you nervous? If so, you're not alone. Dental anxiety is a real and common phenomenon, with studies citing as much as 60% of the population suffering from varying degrees of fear when visiting the dentist. But when you walk into Montana Smiles Orthodontics' new office, chances are you'll forget all about it. Welcomed warmly by the reception staff and surrounded by calming blue hues, your anxiety levels are bound to come down.
Montana Smiles is a relatively new orthodontic practice, started in November 2021 by Dr. Ryan Hecht and his wife, Sarah, the office manager. Born and raised in Billings, Dr. Hecht attended Brigham Young University, graduating with a degree in physiology and developmental biology, and a minor in Portuguese. He received his doctorate in dental medicine from the University of Nevada - Las Vegas and completed his orthodontic residency and a Master of Science in craniofacial biology at the University of Southern California - Los Angeles.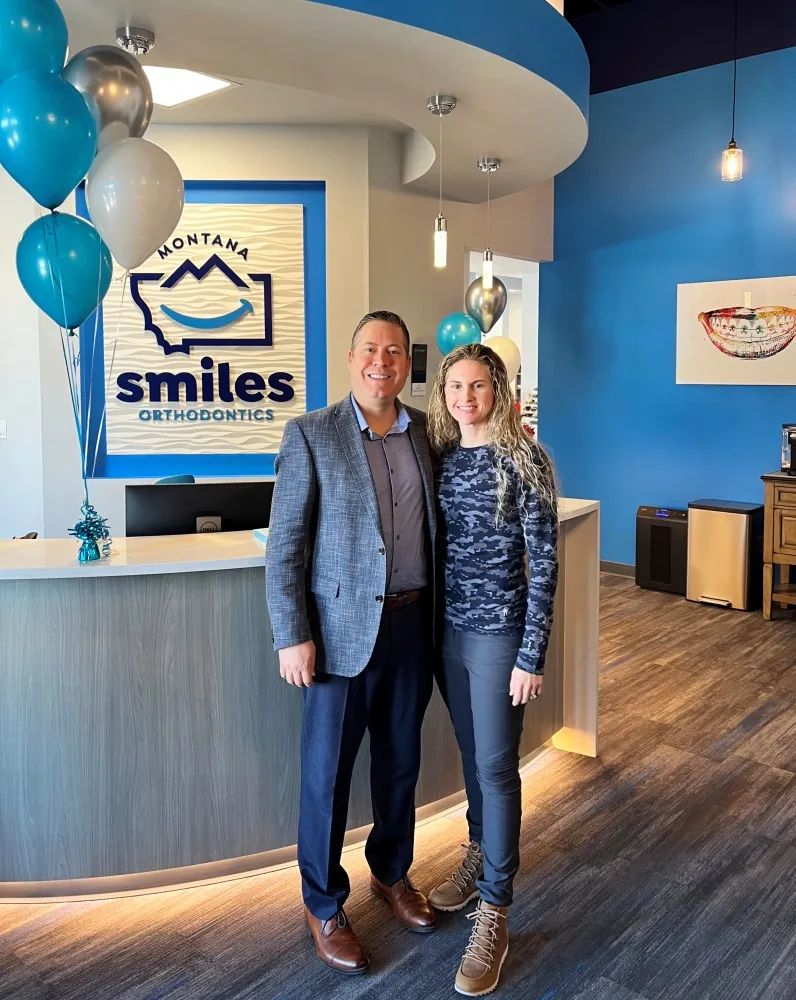 Dr. Ryan and Sarah Hecht | photo courtesy of Sarah Hecht
After practicing for five years at Brewer Dental Center, he and his wife pursued his dream of opening his own practice in his hometown. Located on the West End in a modern and stylish building, the practice stands out through an elegant and minimalistic design, which was entirely conceived by Sarah. Despite not having formal interior design training (she was a physical therapist before becoming the business manager), Sarah expertly chose every detail, from the warm blues popping up everywhere to the furniture, lighting, and accessories. "Sarah is the mastermind, the designer, and the CEO," says Dr. Hecht, with a smile and a touch of pride in his voice.
Intrigued by his undergraduate degree, I asked him what made him choose a minor in Portuguese. "I did a mission for my church for two years in Brazil," he says, "and I went back after that and did a study abroad for six weeks."
Dr. Hecht's commitment to serving others did not stop there. When asked what is the most important thing Billings residents should know about him and his practice, he answers without hesitation: "We're here to serve the community." His practice does a fine job at accommodating patients, young and old. Montana Smiles Orthodontics can get patients in on the same day they call or schedule online and put on braces/scan for Invisalign that same day. They provide private treatment suites, free consultations, flexible payment plans, and accept most types of insurance. The equipment is all new and delivers state-of-the-art technology. The staff is warm and friendly to every single patient, and they love getting to know them and following what goes on in their lives. Dr. Hecht accepts patients starting at age 7 up to 90. Orthodontic treatment goes beyond cosmetic appeal. Besides straightening teeth, it can help with bite correction, jaw pain, breathing issues, speech impediments, or chewing problems.
Outside of the office, Dr. Hecht and his wife are busy keeping up with the demands of parenthood. They have four children: Alexis, Kayla, Finley, and Troy, and spending time with them is Dr. Hecht's main priority. A devoted father, he takes an interest in his children's activities and supports their athletic endeavors. At home, Sarah says he is a grill master and a good cook. "He just cooks the meat perfectly," she adds with a smile.
At the end of our interview, I have one more question: what is it like working with your spouse? Sarah is the first to answer. "Awesome," she says. "Yes," Dr. Hecht confirms immediately. A great husband and wife team, it seems. They support each other, complete each other, and finish each other's sentences. And they keep building their dream, one beautiful smile at a time.
Originally printed in the October 2022 issue of Simply Local Magazine
Never miss an issue, check out SLM's digital editions here!