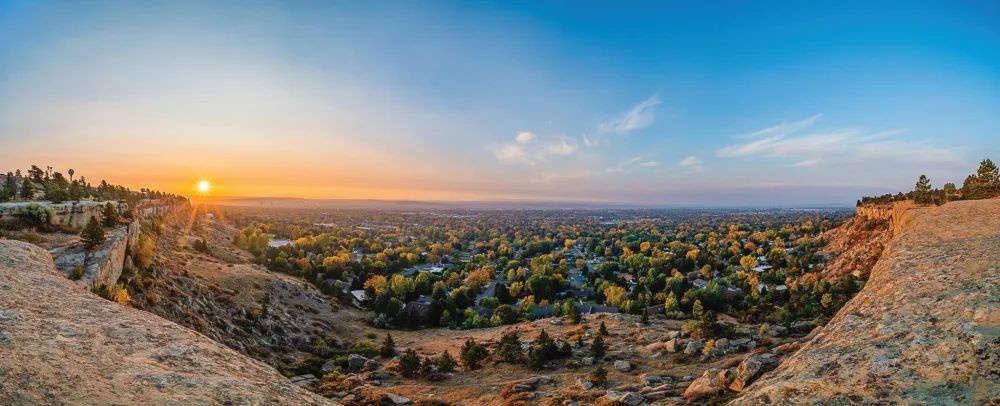 Building a Better Billings: Parks, Recreation, and a Safer Community
September 2023
by hannah olson | photo by seth kroft
Enhancing Community Well-Being Through Park Investment
As summer ends and fall commences, Billings residents are preparing to decide on a Parks and Recreation bond to expand recreational opportunities, upgrade facilities, and complete long overdue park projects throughout the city. The proposed multi-generational recreation center is at the heart of this initiative, which features an impressive blend of minimal or nonexistent amenities currently existing in the community. Such features include an Olympic-sized swimming pool, two ice rinks, and a large facility hosting large sporting events with extensive court space. It will be built at Amend Park, also the city's largest soccer complex, making the area the hub for sports.
William Henry is a parent, coach, and organizer for large tournaments in the community. He recognizes that "Billings has the potential and ability to be the sports hub of the region as the largest city in any direction for over 300 miles. The community offers an array of food choices, an attractive lodging landscape, and other activities for all!"
Evan Decker, the Sports Tourism Manager with Visit Billings, agrees and is ready to engage with the new facility to generate an increase in revenue for the Billings economy through recreation. The recreation center holds the potential to draw large competitive events to Billings while increasing opportunities for activities for all ages in the community, adding a vibrant layer to the city's recreational landscape.
Revitalizing Parks and Boosting Prosperity and Connectivity
Billings' community parks have experienced limited growth since the 1980s, and a 1999 parks and recreation funding vote indicates a history of underinvestment. The question surrounding why the bond must be so comprehensive is because it aims to rectify this situation by allocating increased funding to rejuvenate existing parks and create more appealing spaces while including every part of the community and not just one locale. Robust recreational options and well-maintained parks attract new residents, further boosting the city's growth and prosperity at a time when the workforce is diminishing as older residents move into retirement.
The bond's development involved extensive collaboration and expert consultation, guided by goals of inclusivity and transformation for a thriving community for generations to come.
The bond allocation also includes trail funding, essential for promoting connectivity and unlocking broader grant opportunities for outside investments. Kristi Drake with Billings TrailNet noted that multimillion-dollar grants require a level of committed funds for which to qualify to apply. With the bolstered funding from the bond, the City can apply to receive funds to make Billings an exceptionally connected, navigable city through its extensive trail system. The improved trail networks will also provide safer routes for residents and visitors, connecting Downtown to the Yellowstone River and joining trails above and beneath busy roads to keep those using them safe. It will also allow signs along city trails to provide direction and encourage responsible use.
Promoting Safety, Community, and Growth
The 2023 Yellowstone County Community Health Needs Assessment conducted by RiverStone Health exposed challenges in Billings, including limited physical activity by residents. This underscores the need for improved recreational opportunities. Parks, trails, and a multi-generational recreation center have proven associations with improved physical health, mental well-being, and positive social interactions, which weaves resilient ties and strengthens pride within the community.
Passing the bond has the potential to impact all of Billings significantly. It promises a wider range of year-round recreational choices, contributing to an improved quality of life. The diverse projects covered by the bond cater to all age groups and emphasize the importance of quality parks in reducing crime rates, particularly for at-risk youth who require positive outlets.
Community leaders have emphasized the significance of parks for the community and local economy throughout the discussions that led to the development of the bond. Current funding constraints prioritize public safety, yet the bond recognizes the role of secure public spaces and expanded recreation in reducing crime.
Billings Police Chief Rich St. John is a proponent of the bond, confirming that "Such improvements show citizens that the community cares about what is going on in respective neighborhoods," he says. "We also know that cleaning up blighted areas and investing in improvements - such as lighting - reduces crime and the perception of disorder.  All efforts show that parks are a safe place to bring the family for recreation." 
Dan Carter added, on behalf of Par Montana, which has committed corporate funds to the project considering the benefits of improved public safety, "Active spaces inherently become safer spaces, making it a wise allocation of taxpayer funding and corporate contributions. Unique opportunities like this unite people in ways that are seldom possible, magnifying the collective strength of community involvement."
Passing the bond, along with increased park funding, and a new recreation center, can elevate the quality of life, boost community engagement, and propel economic growth within Billings. Although a cost exists, the investment in the Billings community will benefit its residents for generations to come and bring this extraordinary vision to life.
Costs and Returns
If approved, property taxes will increase by $50 for every $100,000 of home valuation, roughly translating to a $200 increase for a $400,000 home. Improved parks and the new recreation center have the potential to attract visitors, positively impacting local businesses. The enhanced parks and modern centers can also elevate property values nearby, appealing to potential homebuyers and renters. The bond issuance will be spread over 3-5 years to avoid sudden tax increases.
Billings residents are set to vote on the $143 million parks bond in November. Around $86 million of this bond is designated for constructing a new recreation center in southern Billings. Funds by the South Billings Urban Renewal District will offset the overall cost of the recreation center by nearly a quarter of its total cost, and $2 million in funds have been committed by Par MT, with more corporate entities to follow. Additional fundraising efforts are underway to support the costs and demonstrate community commitment.
*Visit https://www.billingsparks.org/parks-bond-2023/ to learn about everything included in the bond.
Originally printed in the September 2023 issue of Simply Local Magazine
Never miss an issue, check out SLM's digital editions here!