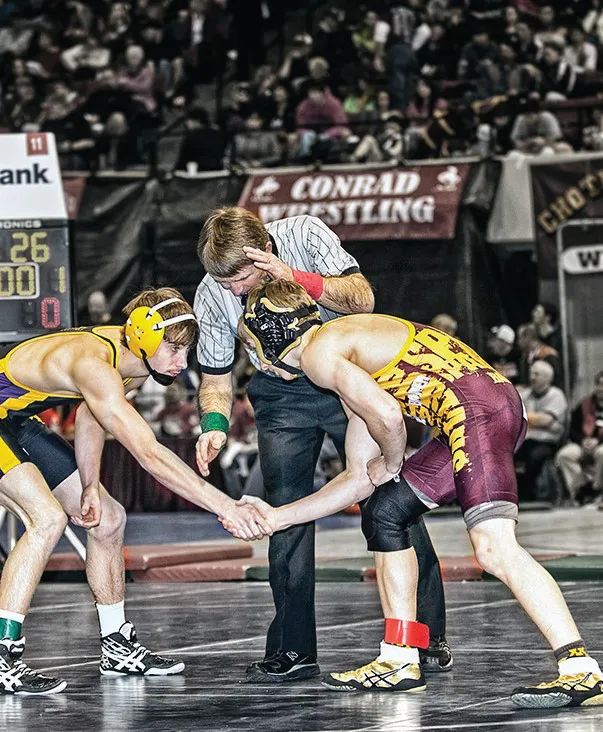 State Wrestling Tournament | photo courtesy of Visit Billings
Sports Tourism: A Role in the Regional Economy
October 2021
by alex tyson, executive director Visit Billings | Managed by the Billings Cham



ber of Commerce
Hosting sporting events in Yellowstone County reveals numerous benefits to the community. Visit Billings staff promotes the economic impact of sports events big and small at Montana's Trailhead; opportunities are plentiful, and the conversation about the future of sports tourism in Billings needs to continue.
For locals, sports events offer entertainment and a sense of community, an opportunity to socialize and be civic-minded. They also allow athletes of all ages to compete without always traveling elsewhere. Sports events enhance a community's competitiveness, cultivating an identity that can create strong economic impact and resident retention. For visitors, it may strengthen the destination's attractiveness and create brand loyalty to encourage repeat visitation.
Major Local Impact
In 2018, 2.6 million people visited Billings, spending $621MM (Destination Analysts), more than a quarter of those visitors integrated sports into their visit. From the NAIA Women's D1 National Basketball Championship, Big Sky State Games, and Above the Rim 3x3 to the Montana High School Association's All Class Wrestling Tournament, Montana Women's Run, and NCAA DII West Region XC Championships, sports are a year-round attraction for national and regional travelers to Billings. There are amazing people in the community who work very hard every year organizing events for athletes. And these events attract people who travel here to compete, celebrate, and spend money.
Attention to Detail: Facilities
But as with any tourism segment, sports tourism will only be as strong as the community's offerings. Facilities not only entice new residents to move to Billings, but they also position the community to host events attracting visitors and increasing spending. What is the status of the venues we offer today? Take inventory. Great strides have been made in Lockwood and Laurel for facilities. Amend Park upgrades and the gyms at Rocky Mountain College, and MSU Billings are great assets, but how can Billings better serve athletes and fans, local or otherwise, in the years and decades ahead? It's important to pay attention to these conversations now. Conversations with First Interstate Arena about upgrades in master planning efforts at MetraPark, School District #2 plans, Billings Parks and Recreation investments, or South Billings Urban Renewal Association will all map out what sports events look like tomorrow in the area. Resident involvement in future facilities or upgrades can help better position the community for tomorrow for locals and visitors.
Billings and Yellowstone County already have a strong brand for sports events which has taken shape over time with hard work, but the opportunities ahead will depend on the facilities available. The quality of life for residents and the quality of experience for the visitor are important discussions that impact the community brand. We hope you'll join in these conversations.
Originally printed in the October 2021 issue of Simply Local Magazine
Never miss an issue, check out SLM's digital editions here!