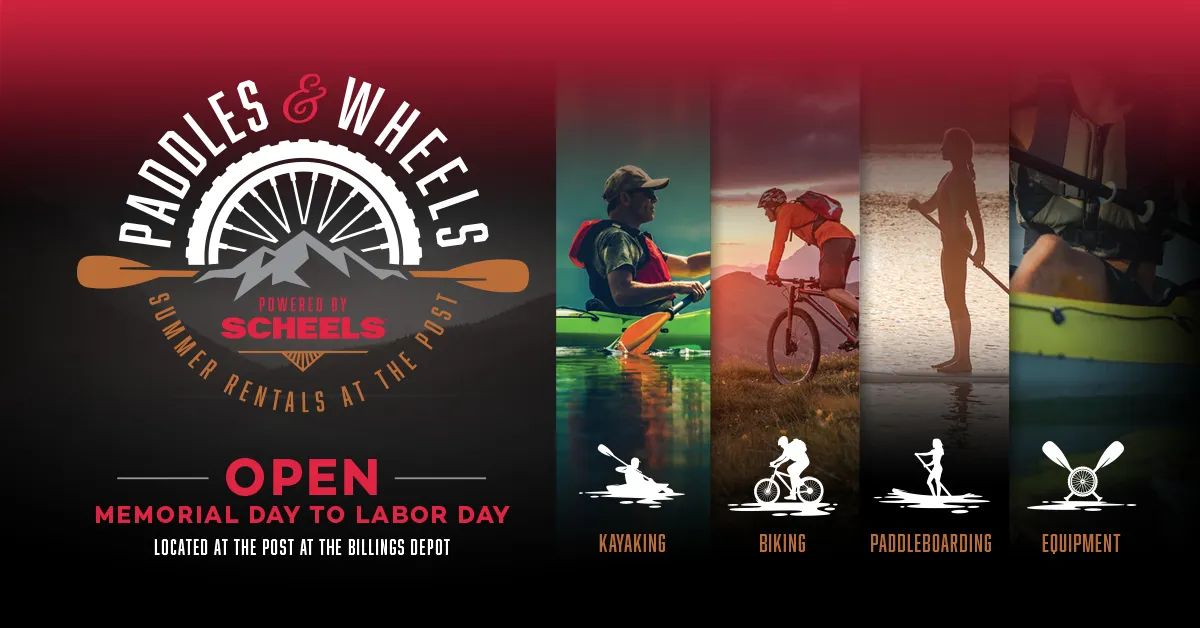 Billings Depot Seeks Interns for Paddles & Wheels Summer Rental Shop
March 20, 2023
by rebecca stewart, via Billings Depot media release
Following a soft launch in 2022, Billings Depot, in collaboration with Scheels, is set to fully operate a summer rental popshop in Downtown Billings at The Post at Billings Depot. Open Memorial Day through Labor Day, Paddles & Wheels offers bicycles, ebikes, kayaks, paddle boards, and all supporting safety gear for rent.
The Depot is seeking six interns to run the Paddles & Wheels summer rental shop. This paid internship is best suited for students in Marketing, Communications, Business Management, Retail, Hospitality, and/or Outdoor Studies.
Scheels is providing all of the rental equipment for the Depot and will be launching a similar program in its store to enable the sharing of rentals and extending to multiple pickup/drop-off locations. The Depot is responsible for staffing the store on campus and is a great opportunity for students to gain the experience of running their own business with direct on-the-job training to support their education.
As a Paddles & Wheels Business Intern, students will be working with the executive director of the Billings Depot and Scheels staff on the project from start to finish. This will include:
staging and retail setup
promotion & advertising including meeting with hotels, hospitals, and retailers
managing social media
sales tracking
business management
media relations & interviews
overall maintenance and upkeep of the Depot campus & facilities
Students will also receive training from Scheels on:
equipment management
basic repairs
installation of roof racks for transportation
Scheels' standards in customer service
This is a paid internship. Interns are paid $12 per hour for all in-store hours and training shifts.
It is anticipated that the store will be open Monday through Saturday from 9 a.m. until 4 p.m.. Interns will be able to select their own hours; however, they will need to work together to ensure all shifts are covered.
In the two weeks leading up to the opening, interns will receive training from both the Depot and Scheels. For the Depot, staff will be educated on Depot brand standards, general customer service, rental processes, and campus access. Scheels will teach the basics of the equipment, simple repairs, installation techniques, care and cleaning. Because this position is representing two significant community brands, a large amount of time will be spent on customer service, processes, and brand management.
Qualifications:
Students applying for this position should have strong organization, management, and communication skills as well as be able to work independently whereas they will be overseeing the store by themselves most days. They should enjoy the outdoors and have experience with some of the equipment we will be renting.
Students must be comfortable speaking with the public and troubleshooting problems. Physically, this position will require individuals to be able to lift and carry the equipment which varies in weights and sizes.
Please address resumes and questions to:
Michelle Williams
Executive Director
Email Address: michellewilliams@billingsdepot.org
Phone Number: (406) 656-7273