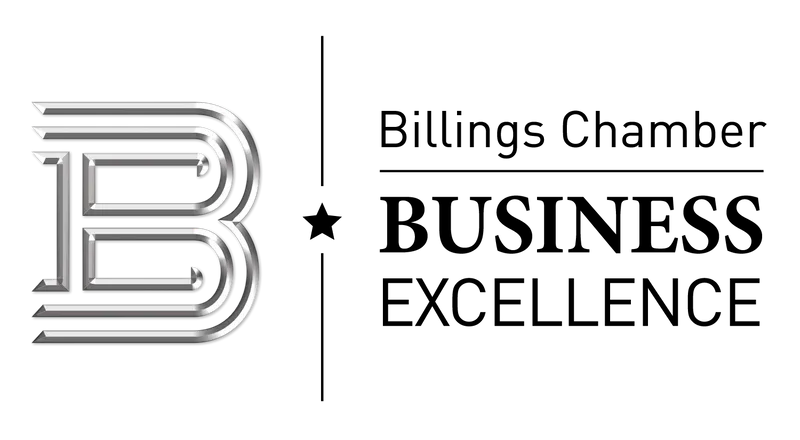 Billings Chamber's 2023 Business Excellence Awards
April 2023
by Hannah Olson, MSPR, Communications and Marketing Director
Each year the Billings Chamber of Commerce awards exceptional leaders whose impact and example deserve recognition - not simply for their accomplishments but also for their character, leadership, and integrity. The 2023 Business Excellence Awards honor five individuals for contributions that undoubtedly make Billings a better place to work and live. Congratulations to this year's recipients.
Outstanding Business Person | Dusty Eaton, A&E Design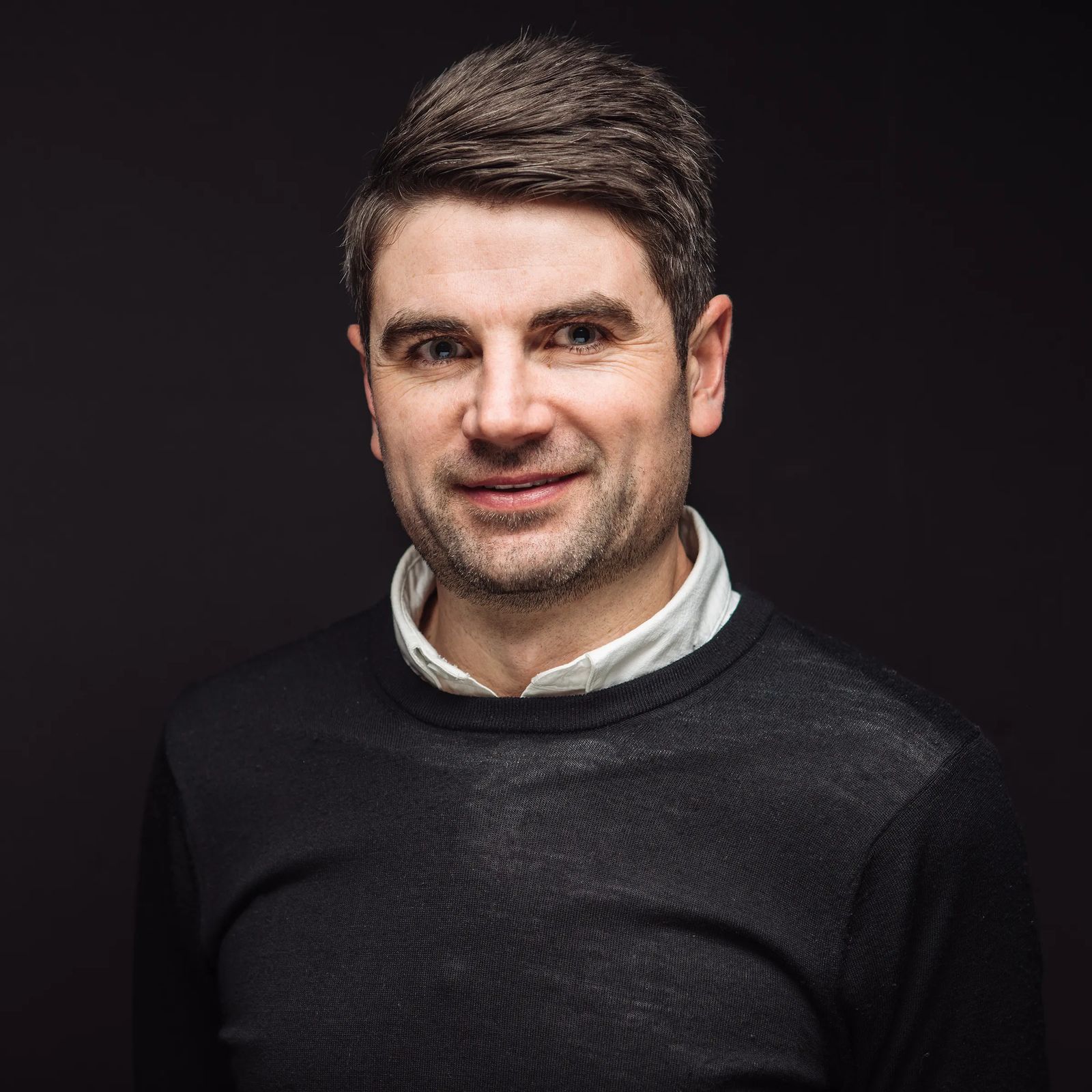 Dusty Eaton, A&E Design
Dusty Eaton asks how architecture can solve problems for communities, illustrative of his purpose to serve others and improve the world, one building at a time. He is the CEO of A&E Design and the youngest principal and leader in the firm's 50-year history.
"Our work is focused on design, but investing in people can have an equally important impact," Eaton says of his drive to affect his team and community. "Through focusing on our people, building stronger leaders, and empowering them to create lasting change, we can leave a positive impact that ripples out into the community in a positive way."
Eaton's team has taken the lead on projects that elevate the Billings community and impact residents, whether they realize it or not. Their portfolio spans Montana and beyond, from the historic preservation of the Old Faithful Inn in Yellowstone National Park and our State Capitol in Helena to local educational institutions like St. Francis K-8 and public schools like Elysian, Ben Steele, Medicine Crow, and Elder Grove, and the MSU Billings Student Union Building. A&E has even been a part of local favorites like Walker's, the Northern Hotel, and STEEPWORLD Climbing Gym, to name a few.
As a leader, Eaton has built credibility and trust through his human-centered approach to design, which starts on the inside with company culture. The A&E Design team is passionate, energetic, and devoted to serving communities through innovative design. Eaton has intentionally built upon the firm's culture, ensuring a workplace that inspires pride and creativity. He empowers his staff to challenge convention through intermingling design ideas and introducing more sustainable practices to achieve an exceptional product. He is intentional and transparent about increasing workplace diversity and encouraging different perspectives and opportunities for collaboration.
"We are often so focused on just doing good work and trying to raise the bar and exceed our client's expectations every single day that when I pause at our 50th anniversary and look around and realize that impact we have had on this state - and Billings especially - it's profound. So it's an incredible honor to be recognized for that," Eaton says of the legacy of A&E Design and his architectural contributions.
Eaton leads the firm by example. He was mentored by a long line of innovative thinkers changing the way architecture and design operate in the region, and his leadership perpetuates the legacy he came from. A&E Design was founded in 1973 in Billings and has grown to serve Montana and the Northwest with offices in Billings, Bozeman, Missoula, and Kalispell. Since Eaton took on the role of CEO in 2017, the team has doubled to nearly 100 employees. The firm's mission has evolved, as well, to blur lines between diverse disciplines, enhancing the approach to complex design challenges.
"Every client project - regardless of scale - is an opportunity to create impact. We don't come with any preconceived idea about a solution," Eaton says of his approach to design. "When we build a design solution, it should be informed by place and reflective of the community, where it sits, and how people are going to interact with it."
Eaton's community impact moves beyond his business endeavors. He is involved with his family's nonprofit, United Luv, working to spread joy to patients battling cancer. He also serves on the board for Eagle Mount, a Billings-based nonprofit providing adaptive recreational activities for children and adults with disabilities. In 2019, he was invited to join the Young Presidents' Organization (YPO), a global leadership community of CEOs and leaders working to improve lives, businesses, and the world. Eaton is on the board of directors for Downtown Billings Alliance and Western Security Bank and has participated in Leadership Billings and Leadership Montana. Additionally, he is involved with Montana Ambassadors, Downtown Billings Rotary Club, Billings Architectural Association and is an active member of the Association for Learning Environments.
Eaton is committed to architecture and design as a strong force in Montana, knowing that inspiring future designers, builders, and creative thinkers builds a better future for us all. He invites students to shadow the A&E Design team, offers internships at the firm, and maintains A&E Design's financial support of architecture students through the A&E Design Scholarship at Montana State University.
"The award is an incredible honor," Eaton says of being named the 2023 Outstanding Business Person. "To be recognized by the Billings Chamber and my team is humbling. I am deeply grateful for the acknowledgment and that recognition."
Eaton's people-centered, solutions-oriented approach to leadership is evident in his business success and the community of Billings and beyond. Congratulations, Dusty Eaton, on this incredible honor.
*** Anna Paige, Creative Writer with A&E Design, contributed to this article.
Employer of the Year | Entre Technology Services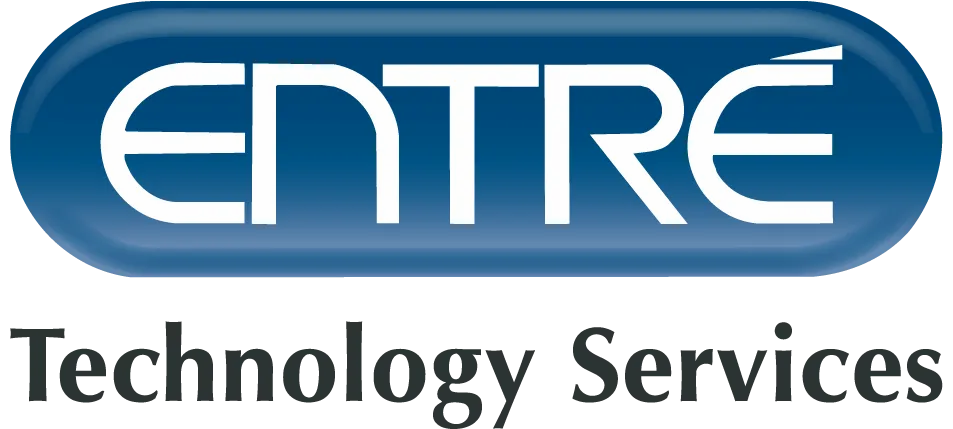 Entre Technology Services
Consistently providing a positive, healthy, and inclusive work environment is a key qualification for the recipient of the Employer of the Year award for the Billings Chamber of Commerce Business Excellence Awards. The 2023 recipient, Entre Technology Services, far exceeds these standards. Entre not only offers benefits and training to employees, but also encourages community engagement which ultimately adds value by making Billings a better place to live and work.
To win this award "means all of the work we put into creating the core values of who we are and having that permeate through our business is actually working," Craig Burke, Consulting Director and Vice President said of the recognition. "It means that not just the owners, but everybody has bought into this; they understand it; they believe it, and they are working it day in and day out. It solidifies that the path we have taken is the right one."
Entre, a Montana technology services company, offers computer and technology support, managed services, consulting, and training. Entre's client base is comprised of small businesses and organizations that aren't large enough for their own internal IT department. Entre has a 30-year history of providing technology services to Montana and the Rocky Mountain region with locations in Billings, Bozeman, Helena, Great Falls, Missoula, and Kalispell.
With over 30 employees, Entre is made up of Microsoft Certified engineers, Office 365 specialists, and computer education consultants, as well as experienced customer service personnel. It isn't solely their vast offerings, team of experts, or even their superior customer service that earned them this award, however; Entre's culture and dedication to their employees is what sets them apart.
"Entre understands and embraces the 'work hard, play hard' mentality," said Debra Fisk, Director of Human Resources and Operations. "Our leadership team has created processes to empower our employees to have a voice. Our employees are part of company solutions." She explains how Entre's leadership team prioritizes their employee's growth by removing roadblocks and obstacles and allowing them to learn, train, grow, and focus on what they are passionate about.
Providing a workplace, systems, and policies that encourage employees to bring their authentic selves to work and motivating employees to achieve their highest potential are also important criteria for the award. "I have worked in a number of industries before coming here, and there is a level of transparency from the lower levels through upper management that gives you the impression that everyone can be as straight forward as they need to be because that's what's reflected from the top down," said Client Services Coordinator, Eden Seiffert.
"Everybody has their opinions and ideas," Services Manager, Chas Llewellyn said of empowering their team to share and contribute at every level. "Through our internal meeting structures, . . . everybody gets a voice and is heard, and to great benefit of the company because you can't have too many great ideas!"
Craig Burke, who is also co-owner of Entre, credits much of their success to their commitment to transparency and to their employees. "Integrity is doing the right thing when nobody is looking," he said. "And I think our leadership team has put together an atmosphere and culture of doing the right thing because it's the right thing."
Chris Christison, Chief Operating Officer, agrees and holds himself and others to the same standard. "We try to build for our employees what is best for the client, so we want our employees to have the highest level of integrity so that they are offering the best level of technical service and solving whatever comes to us every day."
To see the Entre team interact and speak so highly of one another is to appreciate the strength of their organization. "What makes Entre great is all of the employees here. We have done a remarkable job bringing on the best people," said Christeson.
Seiffert agrees. "This is the first place I have worked where there is a sense of not only team, but community," she said of her colleagues and of the award. "I am just very proud. It is a very nice feeling that something I feel so much attachment and dedication for is being perceived in the way we are trying for it to be."
Ben Holden, a Service Desk Engineer, is humbled to be a part of the team. "I feel like I am standing on the shoulders of giants, in terms of other people [earning this award], but I still feel like I had a part to play in it."
For the owners and the leaders of Entre, the sentiment is unanimous: each member of the Entre team played a role in their Employer of the Year award, and each one is as valuable as the next to their success as a business and for their valuable role in the Billings community.
Inclusion Award | William Henry, Be Better World
William Henry, Founder, Be Better World
William Henry is known for many things in the Billings community and beyond, and each of them have one thing in common: impact. "Do the work. Watch the change," Henry says of the legacy he is building. Henry is the recipient of the Inclusion Award for the 2023 Billings Chamber of Commerce Business Excellence Awards. Although his career was rooted in human resources, he has forged his own career path with the sole mission of making a difference.
Henry founded Be Better World in early 2018, which is a movement that teaches skills to kids to help them avoid bullying and embrace kindness and inclusion. With the mantra of "We all play a role," Henry takes his campaign into schools and throughout communities in the region. The "mission is to help provide clarity around the systemic issues of bullying and equip educators, parents, and students to better handle situations that can be resolved before it rises to the level of bullying." Henry has also penned a series of children's books that he uses in his outreach to combat bullying and foster attitudes and mindsets in young people that embrace inclusivity.
"Be Better World is all about the transformational skills that awaken the most powerful form of confidence," explained the Chamber's Workforce Development Manager, Cathy Grider. "It unveils the advocate in all of us, which builds success. William identified that behind every successful person is their belief in themselves and a strong external support system," and he uses this philosophy to spread kindness through self-accountability.
To take his work into professional spaces, Henry created the William B. Henry Experience. This brand elevates his initiatives with youth and tackles the topics of diversity, equity, and inclusion (DEI) in workplaces, organizations, and community groups. Henry adds an additional "I" to his methods, adopting DEII for his brand, as conversations can only go so far—implementation is a key to the overall solutions for lasting change. "What we are trying to do is create a safe space for individuals to learn and grow in our community. When I say implement, I want people to understand, this is the work that we have to do as a community to embrace change," Henry says of the practice beyond the theory of his work. "What we are trying to do is sustain a culture that invites people in."
In partnership with the Billings Chamber, William facilitates the Chamber's own DEII Immersion Program. The program has proudly graduated 150 Billings area leaders since it launched in 2021. With a marked shift in the business community, Billings is only becoming more inclusive. "This work is important, and I am super happy to be able to partner with the Chamber," Henry says of the impact his Chamber partnership is having. "If we continue to do this work, we will look back and see that we have a community of individuals who are fully embraced and welcomed into our community."
On April 19th, 2023, Henry will kick off his second annual DEII and More Leadership Conference at the Northern Hotel. The event's website states, "This conference is for EVERYONE looking to take the uncomfortable step in furthering their experience in Diversity, Equity, Inclusion, Implementation and More. The conference will create a safe space for learning and engagement." Further, "Attendees will have an opportunity to expand their knowledge, respect differences in cultures, and remove any preconceived notions that may exist around DEII."
Henry has gained the attention of many Billings community and business leaders. He has empowered participants in his programs to adopt change within themselves and their organizations through conversations and lessons he facilitates. "I try to make sure that people understand that I'm human, I'm vulnerable, and I am learning as they learn," he explains of his approach to difficult conversations, "And I think they invest in me differently because of that."
Although DEI can be a trigger term for some, Henry embraces individuals and their unique beliefs, as he states that his goal is "to build—not tear down. We are trying to erase the divisiveness that can be created by the phrase 'DEI'. We are trying to build a community where people feel safe and that is welcoming to other individuals."
In addition, Henry founded and operates Big Sky Ballin' LLC, which is a sports organization responsible for one of the largest outdoor 3-on-3 basketball tournaments in the Northwest Region, Above the Rim. Big Sky Ballin' also runs several youth sports leagues and tournaments throughout the year where Henry has coached, mentored, and often sponsors teams to further opportunities for teams who might not have the resources to compete.
Through his sports programs, anti-bullying campaigns, DEII initiatives, coaching, board positions, and other leadership roles he holds, Henry has established himself as a pillar of integrity in the Billings community. "Integrity is at the epicenter of all the work that I do," he explained. Through every effort he makes, Henry encourages others to uphold the same high standards.
"He guides people to define their values and analyze the choices they make," his nominator wrote for his award. "He helps others work on building and improving these characteristics within themselves, so that they have the strength and courage to do the right thing when the time comes."
Customer Service Excellence | Matt Hall, Midway Auto & RV
Matt Hall, General Sales Manager, Midway Auto & RV
For many who have embarked on a career in sales, making the sale and exceeding a monthly quota is at the core of their job function. For this year's Customer Service Excellence Award recipient, it is much more than numbers and quotas. For Matt Hall, with Midway Auto and RV, it is about relationships, service, integrity, and investing in coworkers and colleagues.
Matt has built a successful sales career in the Billings area, from the auto and RV industry to technology. His nominator shared that there is a certain contagious approach to business in Matt that flows into the way he approaches each day. He inspires others through the fair and transparent way he approaches staff, customers, and everyone else he meets at work, exuding a peaceful demeanor, which is contrary to the aggressive nature that can give salespeople a bad name.
The adage "honesty is the best policy" rings true for Matt and his upbringing. His father, who consistently displayed honesty and integrity, is a source of inspiration and encouraged Matt to do the right thing. Even if it costs the company money in the short term, it'll come back the right way in the future. Early in his career, Matt learned that "The truth always prevails. When you are dishonest with a consumer or customer, you damage yourself, and you damage your reputation."
Loyally subscribed to the golden rule, Matt imparts a sense of confidence in his employees. "In business, if I was nice to people and a man of my word, then I would have much better transactions. It's become a lifestyle for me and worked all these years," he said.
Cultivating relationships and providing customer service are at the core of Matt's achievements and career success. Relationships are what matters in the industry, long after the new-car shine is gone. He brings a sense of joy and ease to the vehicle buying process for customers. His respect for everyone creates the strong retention of employees and clients, no matter which dealership he works for. "I'm super excited to be with Midway. They're a family-owned business and very much line up with my core values as well," he said of his current employer.
Through the progression of his career, Matt has become known as a trusted source for industry experience, knowledge, mentoring, and coaching in the greater Billings area. Those he has invested in find themselves not only equipped to do the work, but successful, and enjoying a better quality of life due to the higher level of standards Matt has taught them.
Matt's unique, people-centered approach to his profession is not only beneficial to customers and the dealership, but as his nominator explained, "It spreads to the future of the business and inspiring the younger generation to excel in customer service and day-to-day interaction."
A lifetime of great mentors in the Billings community poured into Matt and he's thankful for what he was able to utilize, combined with his strong beliefs and core values, to his career and that of others to the next level. His goal is to leave a legacy of great people that he has been able to mentor and teach in return, and that their success will carry on by doing the right thing no matter what. He encourages the next generation to not let stigma get in the way of exploring auto, RV, or general sales as a job. "Find a great company with great management and great mentors that you can lock on to and learn this trade," advises Matt. "Learn the right way to interact on a daily basis with the people in your community, and you'll be shocked at how well these industries will take care of you for the rest of your future."
A humble recipient of the Customer Service Excellence Award, Matt remarked, "It means the world to me to receive this award because of the reputation our industry has, and I want to let everyone know that there are many, many good companies in this town that are in the auto or RV industry and are great people, are honest, and have integrity. We get a bad rap, so for me to win this for all of us is really huge."
NextGEN Exceptional Emerging Leader | Bo Bruinsma, Billings Public Schools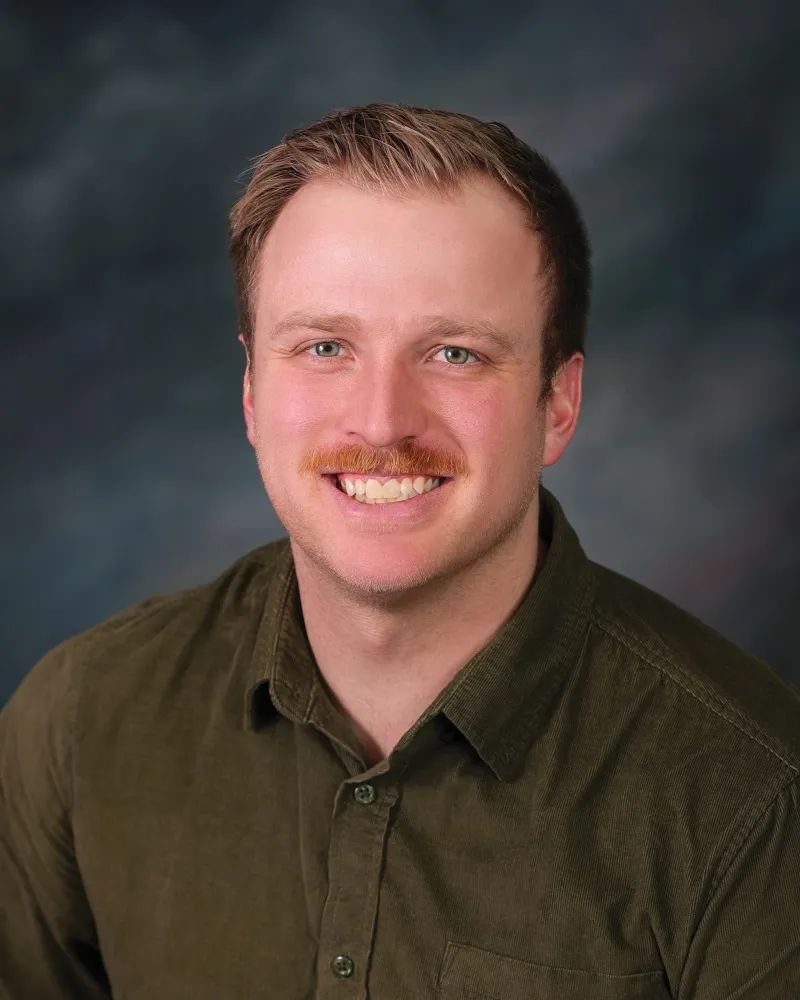 Bo Bruinsma, Career Outreach Director, Billings Public Schools
"One of the biggest goals I have is just to stay true to myself," Bo Bruinsma said about his future. "I don't know what the next steps are for my life or career, but how I treat people is what my focus is."
Bruinmsa, who works as the Career Outreach Director for Billings Public Schools, was recently named the NextGEN Exceptional Emerging Leader by the Billings Chamber of Commerce as part of their annual Business Excellence Awards. The recipient of the award goes to a young professional who demonstrates strong leadership, sincere interest in peer development, excellence in professional, philanthropic, and community investment, and ultimately inspires others to succeed.
Bruinsma grew up in South Dakota, where he also completed his undergraduate degree and a master's in public administration at the University of South Dakota. He moved to Billings to join family members who had recently relocated, where he worked for the State of Montana in their apprenticeship programs. When the position for Career Outreach Director came open, however, he knew it was where he was meant to be. "It was like a dream job for me to get this position," he said of the opportunity.
Bruinsma can't recall a time he wasn't passionate about education. With two parents who are both educators in the public school system, he always felt compelled to help students, even when his path took him on various detours through his own career exploration.
"My parents are a really big inspiration for me," he said. "They allowed me to pursue whatever I wanted to in my life . . . They provided great perspective growing up, like seeing things from other's points of view and finding and pursuing what you're passionate about." Now Bruinsma gets to inspire students in Billings to do the same.
Bruinsma works with career coaches, counselors, teachers, and administrators in the schools, as well as with local businesses and various state boards and agencies. "I have one of the coolest jobs in the world! Just really trying to help [students] figure out what they want to do and help them get there, even before they leave high school," Bruinsma explains of his role. "Helping students find what they are passionate about is really fulfilling."
The individuals who work with Bo can attest to his dedication. "Bo time and (time) again goes above and beyond to help students succeed. He is especially great at encouraging and assisting those students who may be struggling to find their pathway," said Career Coach Jenny Randall. "He never gives up and works tirelessly to find the right fit for them. His excitement in watching students succeed and find their purpose is contagious, and he makes everyone on his team want to work just as hard to ensure these successes."
Bruinsma is committed to being a positive influence for students, but more importantly, he wants to be a great leader and co-worker for his team. He gauges his success on whether or not others enjoy working with him. Tammi Watson, another colleague of Bruinsma's, confirms that his goals have not only been met, but are consistently exceeded. "Bo is the type of leader who rolls up his sleeves to help with anything needed, whether setting up for a career fair or developing a new program. He is serious about his work and also has a fantastic sense of humor and makes work fun."
Bailee McDonald, another colleague, also recognized Bruinsma's passion for the Billings community and the school district alike. "Bo works tirelessly with multiple organizations and groups in order to share our vision as a district," she said. "He is constantly taking on a leadership role in the organizations and groups he is a part of. He is excited to be a part of sharing something larger than himself."
With an arsenal of passion, commitment, and a tenacious refusal to fail students, Bruinsma has set himself apart as not only an exceptional leader, but also an inspiring member of the Billings community.
Originally printed in the April 2023 issue of Simply Local Magazine
Never miss an issue, check out SLM's digital editions here!