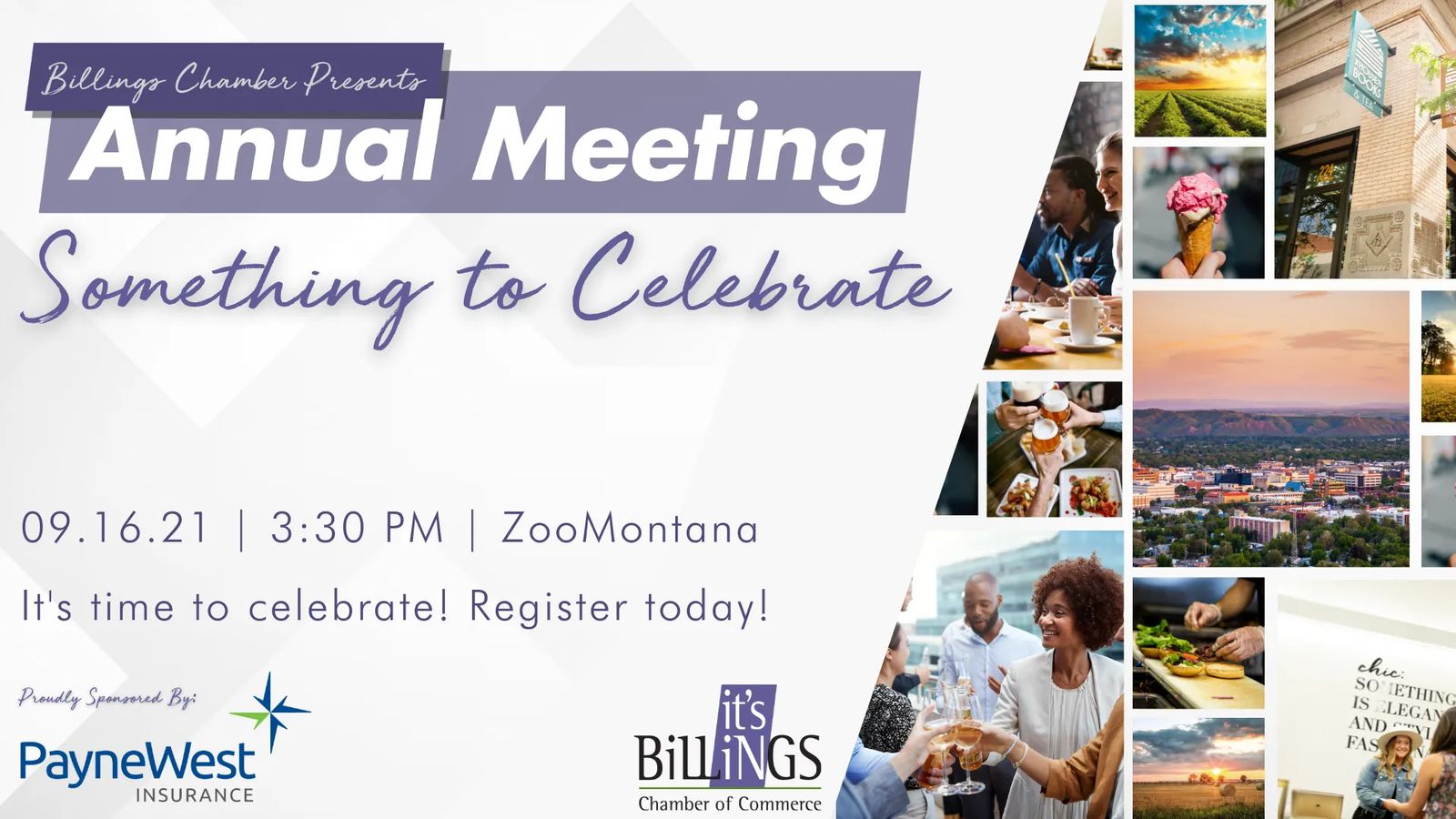 Billings Chamber Annual Meeting – Something to Celebrate
September 2021 | updated September 2, 2021
by Alyssa Voeltz, Member Experience Manager, Billings Chamber of Commerce
Looking back over the past 18 months, it's clear how the Billings community has come together. This community support is truly Something to Celebrate, which is the Billings Chamber's 2021 Annual Meeting theme. This event is a chance to look back, see how far we have come, the lessons learned, the growth made, and, most importantly, to celebrate a bright future together.
The Chamber's Annual Meeting is an opportunity to bring the business community together, explore an important topic in detail, introduce the work the Chamber will tackle in the coming year, and create connections. Join us at ZooMontana on September 16th at 3:30 p.m. for an annual celebration like none we have ever had before! We will have a brief program to celebrate our Legacy Award winner, showcase our strategic priorities, and celebrate the Billings business community and the way we all showed up for each other over the last year and a half.
When you attend, not only will you encounter wildlife, but you will also encounter the Path to Success. This pathway is where you can dive into many of the Billings Chamber programs and benefits. It is an opportunity to ask questions and learn more about how the Chamber fights for you and your businesses.
You will not want to miss this amazing celebration, time of reflection, and vision for a bright future. Our thanks to PayneWest Insurance, the title sponsor of the Annual Meeting, for their support.
Get registered for a table of eight today at BillingsChamber.com.
Join us after the main event for this all-inclusive After Party to find your niche and network with friends. Grab a drink and enjoy some great food at this end-of-summer gathering at the Zoo. This is your chance to connect with other Chamber members while strolling the path and absorbing all that the Chamber has to offer.
The After Party is from 5-7pm on September 16th at ZooMontana. Tickets are $25 per Chamber member and give you exclusive access to this premier networking event.
The Billings Chamber and ZooMontana want to assure you that the health and safety of every guest is our highest priority. It is our intention that we have a fun and safe event for everyone.
Hand sanitizer will be placed throughout the venue for your use.
Masks are not required, but welcome.
All food will be safely served by trained waitstaff.
We encourage you to get vaccinated ahead of the event. Vaccination information can be found below.
Please do not attend if you are feeling ill.
added September 2, 2021, 2:17PM
Originally printed in the September 2021 issue of Simply Local Magazine
Never miss an issue, check out SLM's digital editions here!