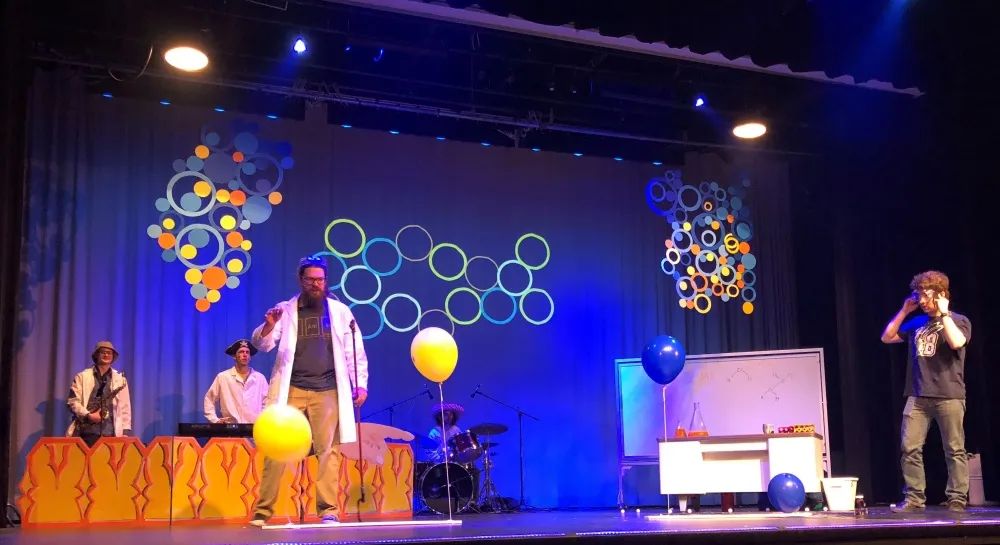 Atomic Circus Takes the Show on the Road
March 2022
by stephanie hobby | photos courtesy of Dr. Matt Queen
With a vibe straight out of Nickelodeon's You Can't Do That On Television, the Atomic Circus's mashup of magic show, dance performance, rock concert, and occasional explosions has been delighting standing-room-only audiences in Billings since 2018. It is the most spectacularly fun science lesson you'll ever get - and it's coming soon to a town near you.
The brainchild of Dr. Matt Queen, a chemistry professor at Montana State University-Billings, and co-hosted by Dr. Dan Willems, assistant professor of analytical biochemistry, the Atomic Circus is a descendant of the annual chemistry magic show offered in tandem with the Science Expo. When he inherited it, Queen decided to spice things up a bit, explain the science in a little more detail; and while he was at it, why not write a script and maybe bring in some actors, a dance troupe, and a rock band? The result feels a bit like coordinated bedlam - at one point, hundreds of colorful ping-pong balls launch from an industrial-sized trash can - while dancers perform a choreographed routine to illustrate what is happening at the atomic level.
The motivation behind pulling off this enormous undertaking is multi-faceted. While it encourages interest in STEM fields for all kids, Queen wanted to reach families whose parents did not attend college and did not see that as an option for their children. "The real focus of the whole thing is not only to get kids excited about science but to also show them that college is something that's attainable," he said.
Thanks to a $1.2 million Science Education Partnership Award grant from the National Institute of General Medical Sciences at the National Institutes of Health, that message is set to reach even more families. Queen and his colleague, Amanda Obery, professor of education, were awarded a highly competitive Science Education Partnership Award (SEPA) last summer. They have formed the Authentic Community Engagement in Science, or ACES, group with this grant. Over the next five years, they'll take the show to a different community each year, including Wyola, Glendive, Plevna, Poplar, and Frazer.
Additionally, ACES will use the award to develop a pre- and post-show fifth-grade curriculum specifically tailored to the community's needs. All curriculum will be place-based, meaning Queen and Obery will talk with local leaders to see what healthcare or STEM careers are needed and available in that community and highlight those opportunities for students. Of course, healthcare is always needed, but Queen points out sometimes towns that don't have a doctor will have a veterinarian, so they're looking at all options in a particular community to determine what to incorporate in their shows.
"I don't want them to go into STEM just to go into STEM, I want them to go in there because there is a future in it. Figuring out what that future is, is really important," he said.
Science is the whole point of the production. Still, Queen is taking the performance side seriously, too, hiring theater tech experts to transform spaces. "I really want to make it something where I can come into a gym somewhere, and it doesn't feel like the place where you eat lunch," Queen laughed. "I feel like that's important."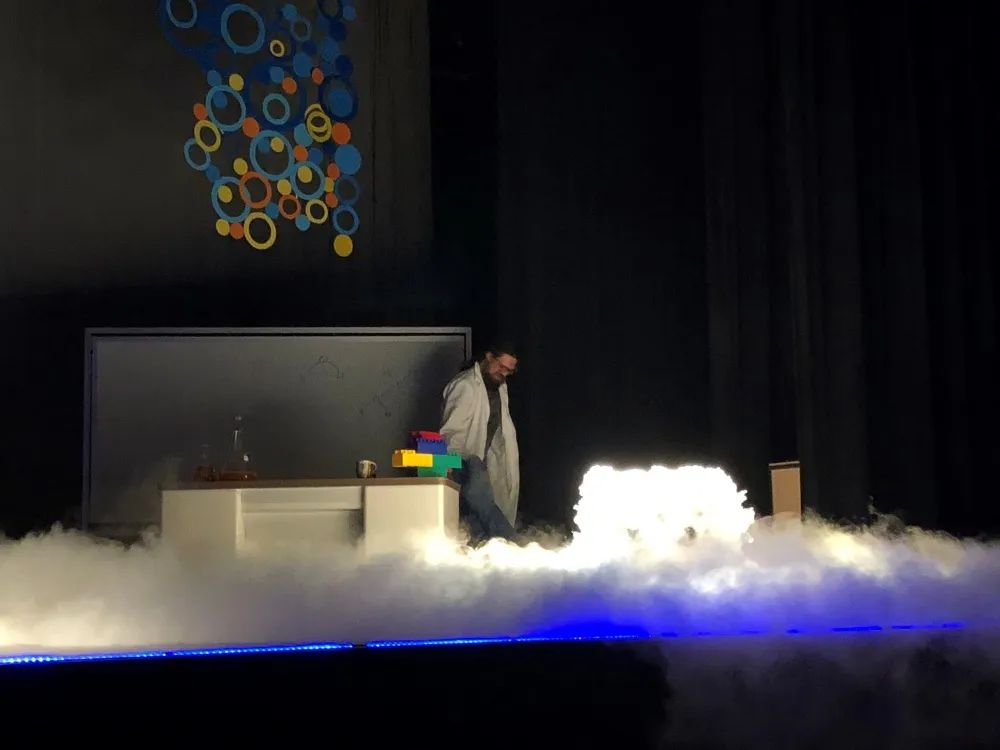 Science is certainly the center, but Atomic Circus does not lack on the razzle-dazzle.
The rollout starts in Billings this spring. Working with five local teachers and one math and science coach, Obery and Queen are developing a curriculum for fifth graders in School District 2, emphasizing challenges facing Yellowstone County. The plan is to incorporate Atomic Circus fun into fifth-grade learning plans as long as the show continues in Billings.
Bringing this vision to fruition is important to Queen and, he believes, to Montana's future. "I love science, but honestly - this is something I think about a lot - in general, this has a chance to make the state better. The more that people become comfortable with science and want to go into healthcare careers, I think it makes Montana a better place," he said. "We're really trying to give some time back to the community in that way. And getting kids hyped up about science is a great way to get them interested in STEM careers and stay in the state to help these rural communities."
The shows will be at Petro Hall on the MSUB campus for fifth-grade students in SD2 on April 21 and 22, a public evening show on April 22, and a matinee on April 23. The performance is free to attend but is popular, so make sure to get there early to find seats.
Atomic Circus | MSUB
Saturday, April 23, 2022
12:00 AM— 12:00 AMUTC
Atomic Circus | MSUB
Saturday, April 23, 2022
9:00 PM— 9:00 PMUTC
Originally printed in the March 2022 issue of Simply Local Magazine
Never miss an issue, check out SLM's digital editions here!