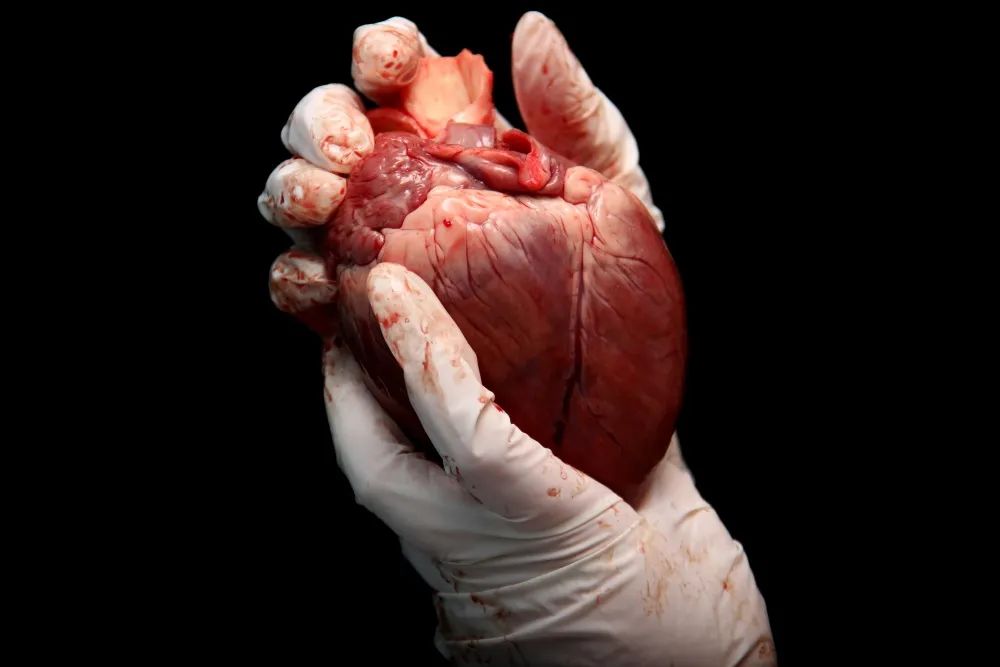 A Heart to Heart: About Organ Donation
February 2023 | update: Montana donation registration website correction
As of this writing, 104,875 people needed an organ transplant in the United States. Researching for this article, I saw that number bounce around – 105,055; 106,000; 108,000 – not because these organizations can't get the facts straight, but because that figure is in constant flux. In 2022 (January-November), 19,482 donors led to 39,241 transplants, according to the UNOS (United Network for Organ Sharing) website. Incredible, miraculous, inspiring figures, yet there is an obvious gap, and it's estimated that across the nation, 22 people die each day waiting for a life-saving organ transplant, says LifeCenter Northwest's Fact Sheet. To add another number into the mix and bring things closer to home, nearly 2,300 of our Northwest neighbors are awaiting a life-saving organ transplant.
That's a lot of numbers we've thrown at you; hang in for a few more:
Up to 8 lives can be saved through the gift of a heart, lungs, kidney, liver, pancreas, and intestines.
Up to 125 individuals can be healed through tissue donation for nerve restoration, heart valve replacement, burn treatment, and more.
Every 10 minutes, another person is added to the transplant waiting list.
107 years is the age of the oldest known donor. Any person can make a difference.
As if all of that isn't a big enough reality check, let's be honest with each other: Organ donation is not an easy or warm and fuzzy topic. It is rooted in loss – devastating loss that somehow also allows for a unique brand of hope, knowing your loved one has left behind a legacy of hope and healing with this extraordinary gift. It is difficult for many to even talk about – who wants to think about being in a position where their – or their loved one's - organs could be donated? Perhaps you and yours haven't thought about it beyond marking (or not) a box on a form at the DMV. Maybe you've never discussed it with your family – your wishes or theirs. No one wants to think about the worst, but so often in life, we plan for the worst and hope for the best.
Local Health and PE teacher Wendy Bekkedahl has dedicated a unit on organ donation in her freshmen health classes for 22 years at Laurel High School. She explains that the topic covers various health issues, including the functions of the body's organs, ethics, and decisions surrounding death and dying. She aims to educate her students on organ and tissue donation and get the conversation rolling at home. In fact, the unit – one, she notes, is never rushed – has but one assignment: to discuss organ and tissue donation with their families, so the family has an idea where they each stand on the issue. Recognizing the personal nature of such a discussion – and decision – the students bring back a paper signed by themselves and a parent/guardian that confirms they've had the conversation.
While Bekkedahl hopes that students genuinely learn and retain the information, she tells them, "I hope [you] never have to use it again in real life." A sharp contrast to the message teachers generally deliver to their students, but "If they never have to use this information, then they never had an organ fail and potentially need a transplant, nor are they in a situation where they know someone who passed away of brain death in a hospital." Something she experienced firsthand following the death of her first husband, who was an organ donor in 1999. "Having lived this experience," she says, "makes teaching this unit pretty meaningful to me."
So…Conversation? Let's talk.
We asked LifeCenter Northwest (the non-profit organ procurement organization (OPO) that serves Alaska, Montana, North Idaho, and Washington, as well as an American Association of Tissue Banks accredited tissue recovery organization) about the biggest misconceptions surrounding organ donation:
Doctors won't try as hard to save a life if the patient is a registered donor – "Medical staff who work to save your life are not the same staff involved in recovery and transplantation. It is only after every attempt has been made to save your life that the donation process begins. The organ, eye, and tissue donor registry is a confidential database." Only the recovery organization can access the database, so there is no conflict between saving a life and donation.
My age or medical condition won't allow me to be an organ donor – "We ask that no one medically rule themselves out as a potential donor. A medical assessment is done at the time of the referral by the recovery agency's medical team to determine donation potential."
Though the donor family we talked to had never had any conversations with their 17-year-old daughter before her death following a long struggle with severe depression, Derrek Shepherd says, "It just wasn't on our radar, but we knew Julie, she would have been one to help people, no questions asked." Shepherd recalls that at the hospital, the initial conversation was, "We're gonna do everything that we can, but you may want to think about this," adding that the hospital did a good job of introducing and letting the family process things, while "LifeCenter did a very good job explaining the process" while giving the family time to think things through and supporting them. He emphasizes that people often think doctors won't work as hard, but "people need to understand that they'll do everything they can."
Most of all, Shepherd wants other families to know that "The donation process has helped ease the pain of her death by giving us the knowledge that other people's lives were helped. Her drive to be the best, compete with all her abilities, explore, and love and care for those around her has given our lives new meaning. We love the idea that something good came from Julie's death." Indeed, Julie's impact goes beyond organ and tissue donation, as the family has been transparent about her depression, hoping to be a beacon for mental healthcare. Shepherd concluded our interview by highlighting the importance of getting help if you have mental health challenges.
It's important to note that families are not an island through this process. LifeCenter Northwest tells us two things happen once a referral has been made (by law) and they've determined if the patient is a registered donor and has donor potential. First, while the Clinical Teams are conducting medical tests and checking donor suitability, the Family Support Team provides the family with dedicated support, which includes supporting them in grief, explaining the donation process, answering questions, and creating a space for memory-making and story-telling. In the aftermath, when a deceased person has donated their organs, the Aftercare Team takes over providing grief and bereavement support to the donor's family for a minimum of 18 months. This includes providing books, articles, and other grief resources, monthly virtual support groups, and facilitating opportunities for donor families and recipients to gather and honor the donors.
The Perfect Storm
When I said to the LifeCenter Northwest team that organ donation feels like a perfect storm of things that have to happen to have success, they agreed, saying,
Many things have to come together quickly for organ donation to occur. The donor has to die in a hospital on ventilated support, they must be registered, or their family must support their donation. Numerous tests indicate that the organs and tissue pass all the clinical tests and are free of infections and disease, the organs must be the correct size and blood type for the donor, accepted by the transplant center, and the actual transplant must occur within a number of hours after death, depending on the organ. We are working on all of these things concurrently, which is why it is a rare and remarkable process.
The generosity of the person at the center of this process – the donor – touches everyone who takes part, from family members to medical professionals and transplant recipients.
3 ways to become a registered donor:
*Hospitals do not access this information, as their only job is to save a life.
Originally printed in the February 2023 issue of Simply Local Magazine
Never miss an issue, check out SLM's digital editions here!