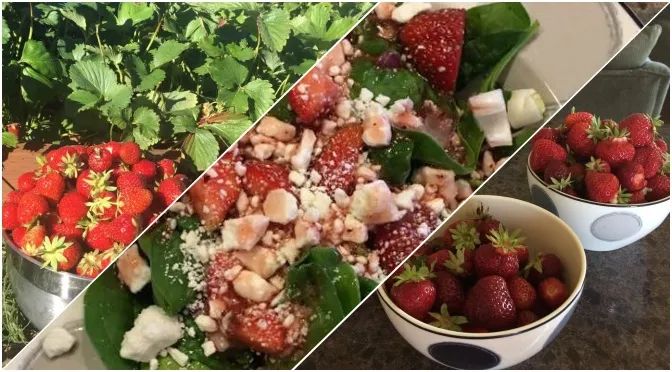 A Healthy Delight: Strawberry Spinach Salad
July 18, 2019 | by ashlynn reynolds-dyk
Since the last recipe I shared was not healthy in any way (see Hearty Smoked Mac and Cheese), and I refused to apologize for it, I will offer one of my favorite, mostly healthy summer recipes. I do not remember how I came across this recipe or when I first tried it, but I do know that it has been a staple in our summer diet for a long time. Strawberry Spinach Salad is especially refreshing on these warmer days we've FINALLY been getting, and it does not require you to use any sort of heat to prepare which is another bonus on these warm days. If you happen to have a large strawberry patch like me (I might have an obsession), this is a great recipe to best utilize some of those strawberries. Here, the combination of the sweet strawberries combines with the tanginess of the vinaigrette, salty feta, and the crunch and flavor of the onion, to create powerful flavors, appealing textures, and a beautiful visual (red, purple, green, white!).
Strawberry Spinach Salad
Ingredients:
The number of ingredients here can easily be adjusted if you are making yourself a quick salad for lunch or serving a large bowl for a family dinner, dinner party, or potluck. Here, I'm offering portions for a family dinner side for four or five.
2 cups fresh strawberries, sliced in half
5 cups fresh spinach
½ red or purple onion, thinly sliced
¾ cup crumbled feta cheese (or chopped into small pieces)
½ cup fruity balsamic dressing (I like Wishbone's raspberry vinaigrette)
Optional: bacon crumbles
Preparation:
Add strawberries, onion, feta cheese, and bacon (if desired), to the spinach. Top with vinaigrette and lightly toss the ingredients. Cover and refrigerate for 15 minutes prior to serving.