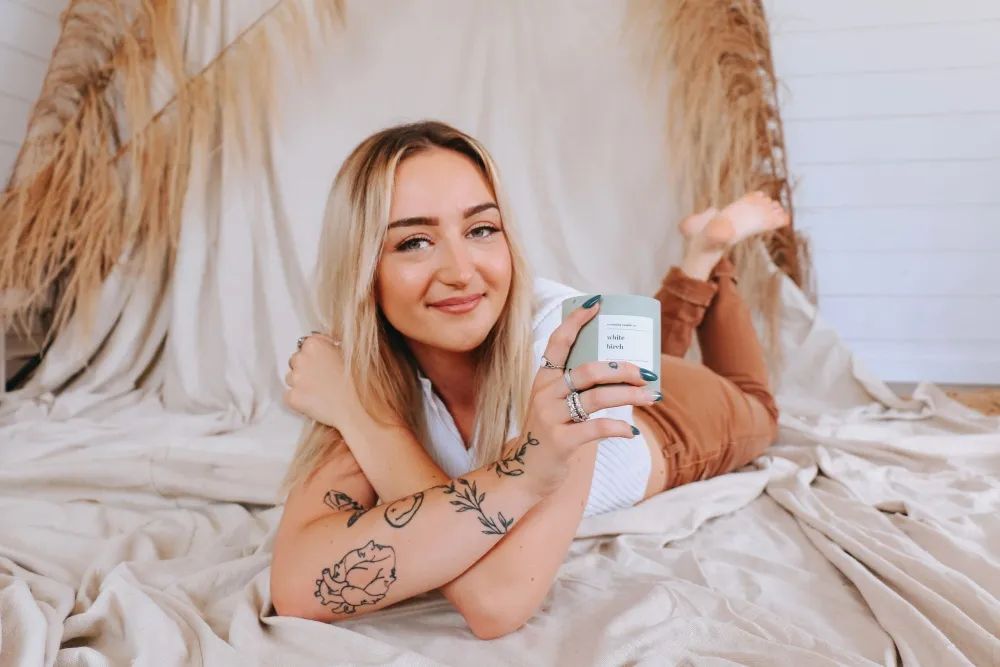 A Dream That Lights the Way
November 2022
by brooke wagner | photos by 1864 Photography
It only takes a spark to light a flame, which is true for Veronica Zimmerman. With an entrepreneurial spirit and a love of creativity, Zimmerman is the founder of Veronica Candle Co., a local business that produces hand-poured, scented soy candles. A, nearly, lifetime resident of Billings, Zimmerman remembers selling Avon door to door to pay her phone bill at only 12 years of age. She says, "From then on, I started multiple small businesses throughout my school years. I was raised in a family of entrepreneurs who continue to inspire me, and I always knew I wanted to be my own boss one day, too."
Zimmerman loves that her candles combine function with beauty to create an aesthetically pleasing and utilitarian product. All of her products are made with toxin and phthalate-free ingredients, making the luscious fragrance they produce safe to breathe in. "A scent can provide comfort and relaxation, and it's usually the first thing you notice about a space." Zimmerman knew she would have to start from scratch to craft the creation she envisioned. Everything is hand-made by Zimmerman herself, including the hand-poured cement vessel that houses each candle. Her soy candle scents include succulent aromas like white birch, fresh linen, and lemon verbena. To add to the sustainability of these products, customers can use the container as a planter for seeds or herbs after the candle burns out. 
In addition to the clean lines of the cement vessel candles, Zimmerman enjoys stretching the limits of her creativity by designing shaped candles. Handmade molds produce unique styles like the "Air Force One Candle," a mini replica of the classic Nike Air Force One sneaker. Available in 15 scents and unscented, this showstopper looks like you could lace it up and slip it on. Zimmerman encourages her customers to "tie their space together" with another molded candle called "The Knot." This petite and whimsical design encompasses all of the high-quality elements of the company's other candles with a fun and unexpected twist. 
With all of the options from Veronica Candle Co., it's easy to see how a customer can get overwhelmed. Never fear - Zimmerman offers a sample pack of two tealights where scents can be tried without committing to an entire candle. Hand-poured wax melts, perfect for electric warmers, are also an affordable option. Butterfly, star, and cactus shapes up the wow factor for these items. With creativity that flows faster than melted wax, Zimmerman says, "I love being able to redesign whenever I want to. I am constantly being influenced by different aesthetics and ideas, and being able to bring those to life through my own brand in my own way is important to me. I also love creating something that represents what I believe and that my customers love."
Perhaps one of the company's most iconic creations is a nod to Zimmerman's home state, truly the "Last Best Place." This hand-designed candle captures the beauty and essence of Montana. Made in an original state-shaped mold, it is exclusively and entirely self-created by Zimmerman's own hands. This creation is almost too beautiful to burn, with a perfectly-placed, crackling wooden wick to embody the breathtaking terrain. It's fitting that the company would have a visual representation of where it all began for this entrepreneur.  When Zimmerman created the company in 2019, she purchased all the supplies with money out of her pocket to start bringing her vision to life. Now, three short years later, she says, "...seeing how far I've come from my first candle to where I am today is an inspiration always."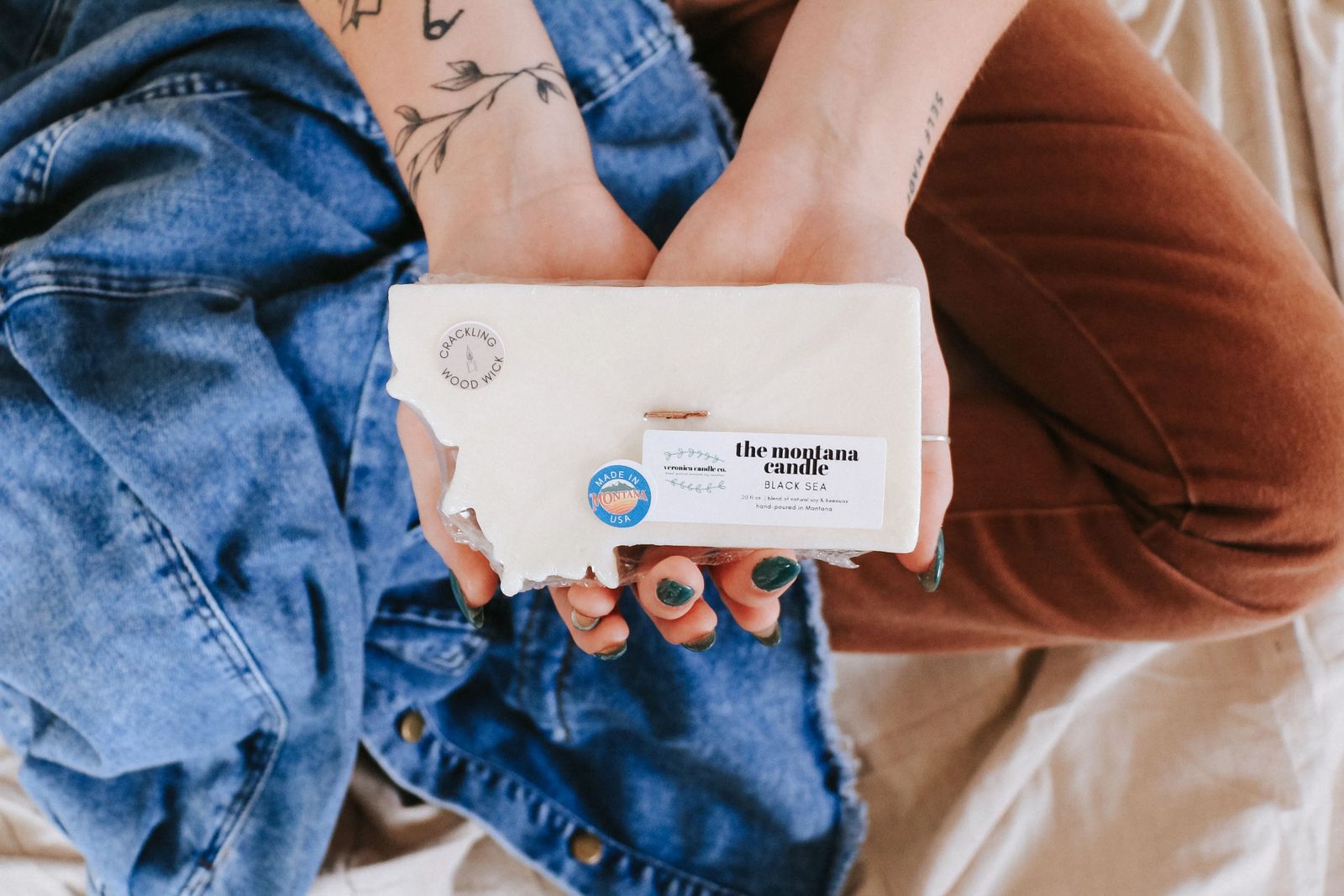 Veronica's candles are available at Roots Garden Center and coming soon to other local retailers. Veronicacandleco.com, @veronicacandleco
Originally printed in the November 2022 issue of Simply Local Magazine
Never miss an issue, check out SLM's digital editions here!