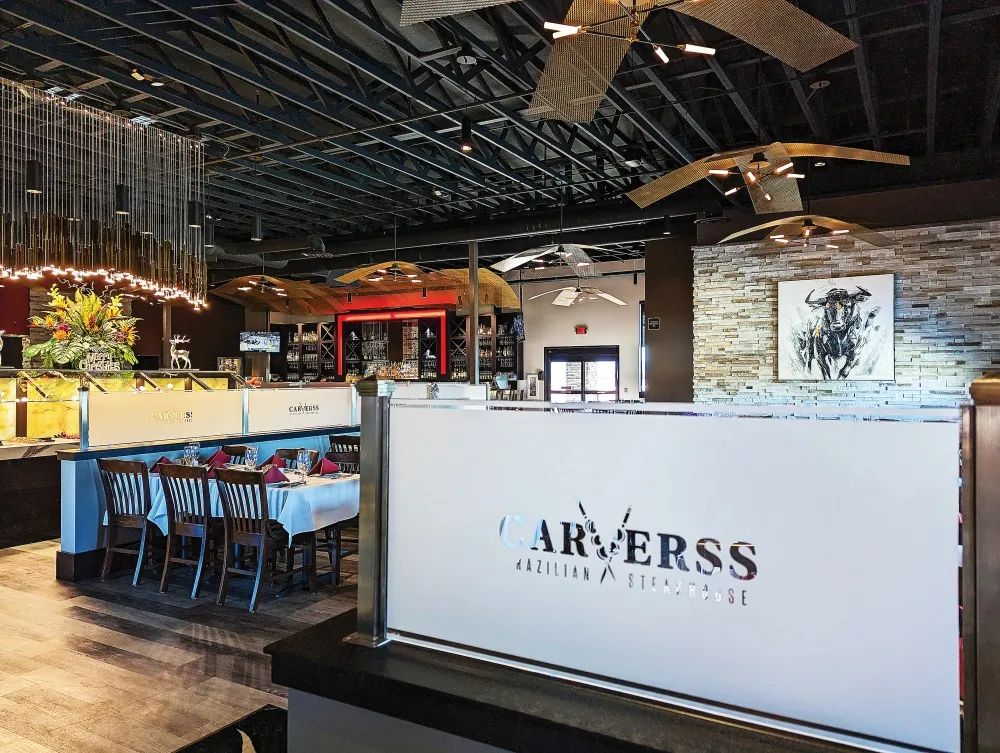 A Dream in the Making: Carverss Brazilian Steakhouse
February 2023
article & photos by renata haidle
Have you ever dreamed of going to Rio de Janeiro for Valentine's Day? Just you and your soulmate on a plane to a tropical paradise, escaping the cold Montana winter for a few days? No, this is not an ad for your next vacation to South America. Instead, a simpler and much more cost-effective alternative: take your beloved to Carverss Brazilian Steakhouse for a date night filled with Brazil's flavors, colors, and rhythms.
Owners Matt and Rebecca Singer's story is a Valentine's Day-worthy romance. Matt, a Billings native, went to Rio de Janeiro for a couple of years to do mission work and teach English as a second language. While staying with Rebecca's cousin, he saw a photo of her. His curiosity was piqued, so he wrote to her. She wrote back, and, after a year of being strictly pen pals (Rebecca lived in Sāo Paulo at the time), they saw each other briefly for an hour at the Rio airport, right before Matt was due to come back to the US. Five months later, he returned to Brazil to be with her, and another five weeks after that, they were engaged. They got married in Brazil, and not long after, she came to join him in the US.
In the following years, Matt worked hard to grow his landscaping business, John's Home and Yard Service, while Rebecca raised their two children, Hyrum and Zyra. The opening of the restaurant in October 2022 was the result of a shared dream long in the making. They enlisted the help of Rebecca's cousin, Bruno Scalco, an experienced restaurateur who had helped open several other Brazilian steakhouses around the US. Bruno brought with him not only valuable expertise but also several well-trained staff members. Five family members from Brazil joined the staff as well.
Rebecca was responsible for interior design, which she managed to create single-handedly. She and Bruno worked together on the menu, ensuring that the recipes and flavors were exactly like those that their mothers and grandmothers had cooked back home in Brazil. On some nights, you can still find Rebecca in the Carverss kitchen, creating desserts or helping make the salad bar dishes. In addition, 15-year-old Hyrum helps with bussing tables. Zyra, 12, will join as a hostess as soon as she is old enough to work. This family business is dedicated to serving great food and offering a unique experience to the community.
"We aim to bring finer dining to Billings at a price point that we hope everybody can afford, It's not just the food. It's an experience that you can't get in any other place. This is a one-of-a-kind thing."
-Matt Singer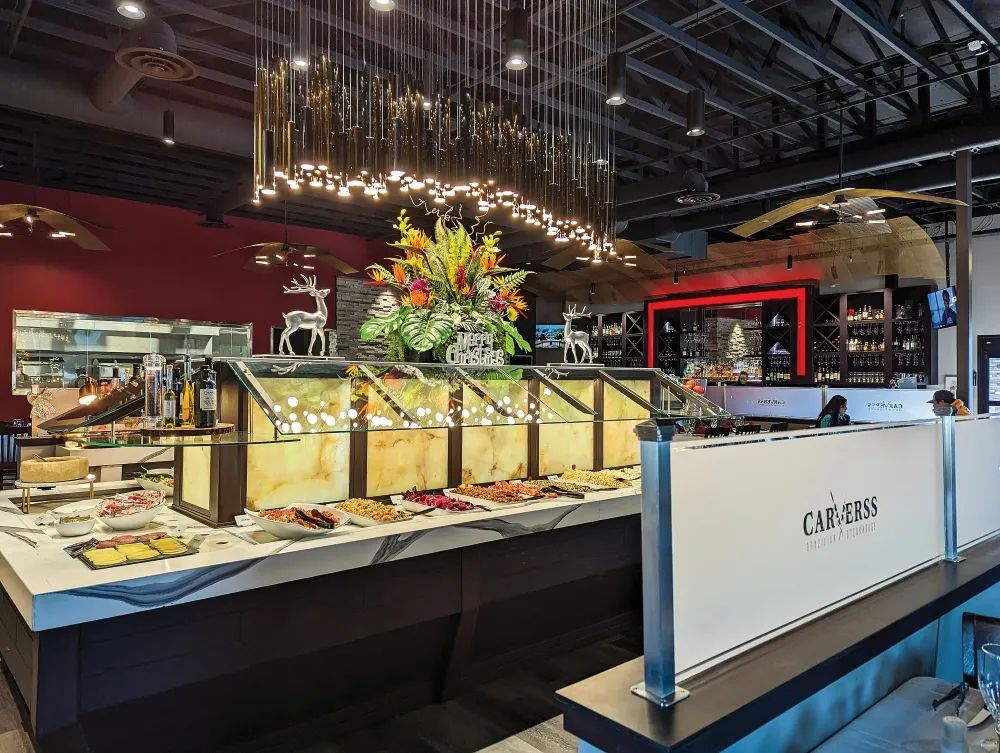 Carverss has been fortunate to receive a very warm welcome from the Billings community. "Wednesday through Sunday, we are booked out every day. You have to have a reservation between 5 and 8 PM," says Matt.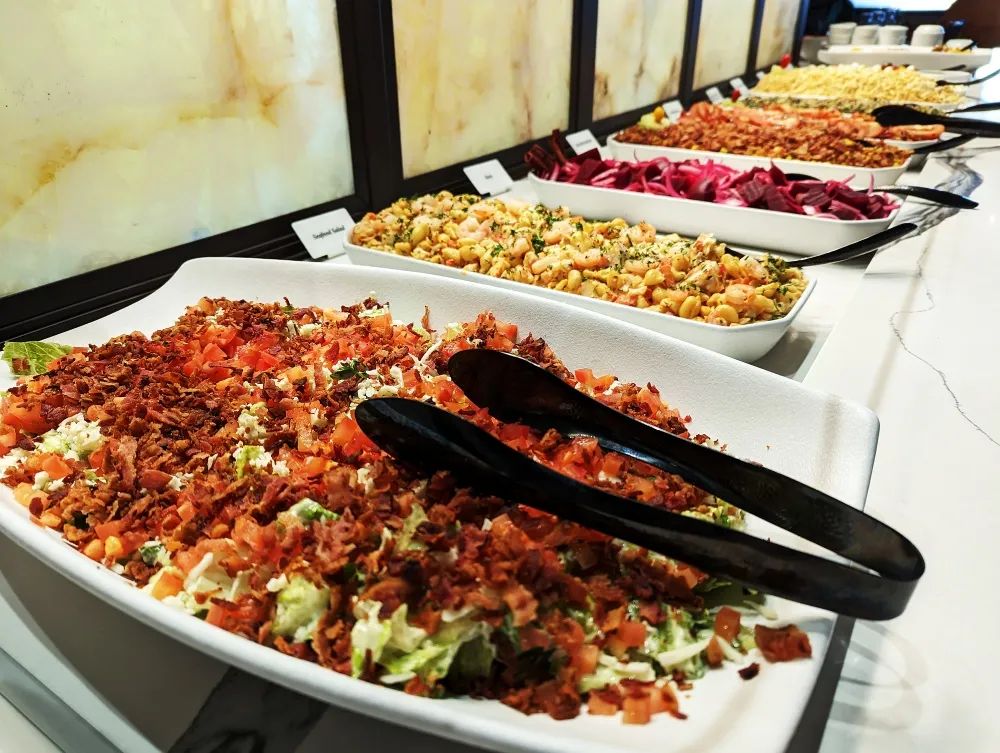 If you're unfamiliar with the concept of a Brazilian steakhouse, this is how it works. As soon as you are seated , you can head to the extensive salad bar, beautifully arranged in the center of the restaurant, and serve yourself. You can sample both cold and hot dishes - the options are nothing less than impressive. "There are potato salads and casseroles," Matt explains, "and then there is a hot bar, which will have your rice, beans, breads, macaronis and pastas, French fries, and soups. There are cheeses, hams , meats, fruit , and vegetables. So far, everybody said it's the biggest salad bar they've ever seen, and that's a great thing."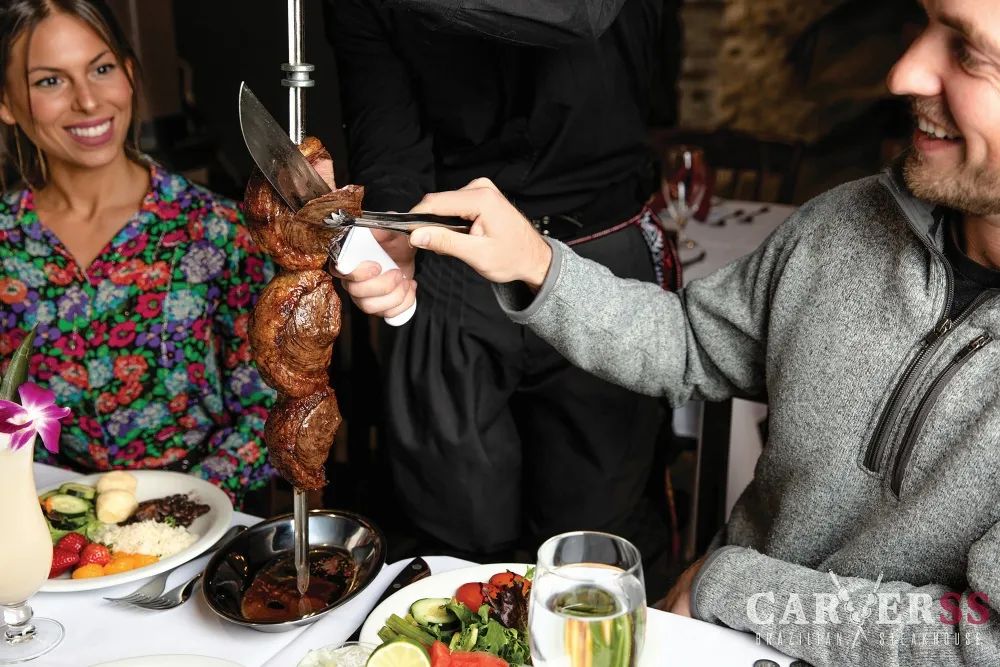 photo courtesy of Carverss
For the main course, the meats come around in a big rotation to your table. "You get your plate from the salad bar," then head back to your table, and all the meats will come to you and be sliced off at your plate." Some twenty meat selections include Picanha (top sirloin cap), lamb chop, chicken wrapped in bacon, parmesan chicken, or parmesan beef. A red or green button on your table indicates whether to keep the food coming. But, as Matt explains, "If you want to turn it to red for 10 minutes and then turn it back to green, you can do that, too. You control how much food you get."
To quench your thirst, opt for the fan favorite piña colada. It will arrive fresh and frothy in a pineapple shell, transporting you straight to tropical heaven. For dessert, you can sample abacaxi (grilled pineapple), the Carverss gâteau (a brownie with ice cream and Brazilian toppings), or rabanada (somewhat similar to French toast, served with ice cream as well).
Carverss is located at 1390 S 24th St W, and they are open for dinner daily between 4-9PM and for lunch Fri-Sun only. They can accommodate a gluten-free diet and provide a food allergy list. Large groups are welcome. Reservations are recommended.
Originally printed in the February 2023 issue of Simply Local Magazine
Never miss an issue, check out SLM's digital editions here!