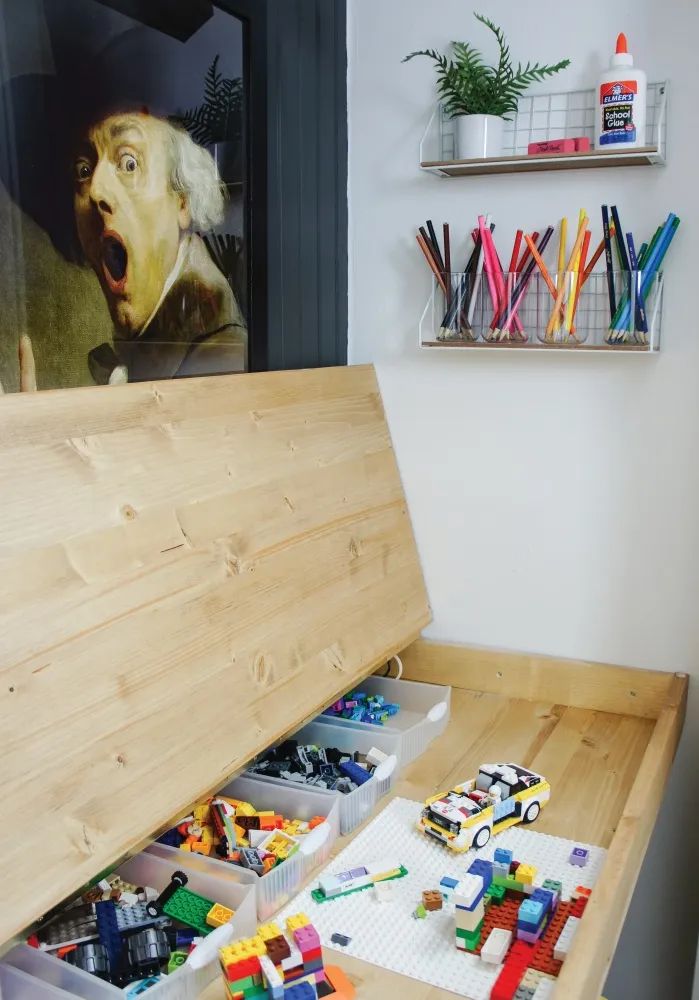 f your student uses their desk for everything but homework, create a compartment that can be hidden away when it's time to hit the books with a hinged top. The tray design keeps Legos from falling on the floor and out of reach of a curious little sister.
A+ Design Tips for Back-to-School
August 2022
article & photos by cassie michael
I was the student that got butterflies seeing the school supply aisles being stocked mid-summer. I would peruse each section making mental lists of which colors, patterns, and new inventions (Trapper Keeper, anyone?) spoke to me most. As the daughter of a teacher, my anticipation and preparation may have been a bit much. Still, my coordinating pencil box and notebooks offer an important lesson for our homes… beauty + function = joy. Creating a space that you find truly beautiful while elevating your every day will cultivate energy, comfort, and happiness.
With some simple and intentional design choices, two primary areas of your home will lend to a better school year for all…
the Entryway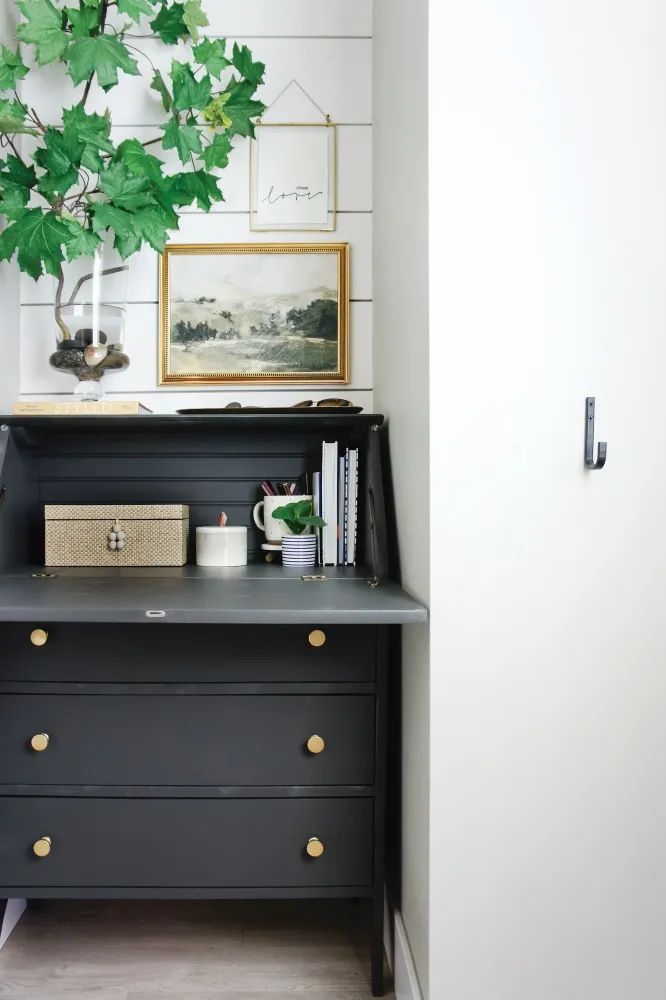 A vintage secretary makes this mere 30" entryway an organizational powerhouse with multiple drawers for hats, gloves, sunscreen, and the like. A tabletop for last-minute permission slip signatures that hides clutter is a huge bonus. Plus, telling your kiddos to put items away in the secretary just makes an ordinary space feel so fancy.
We all have it – the 2x2' space immediately in front of your doorway where kids come tumbling in after school. It's the drop zone for backpacks, shoes, keys, coats, sports gear, half-eaten lunches, and permission slips. The goal for this space is to not only make it serve all the needs above (no small task in itself) but also welcome you home . Just as we greet our kiddos with smiles and hugs when they hop off the bus, your entryway design should greet you with a warm hello.
Start the design process for this hardworking space by thinking about how it's used during the most chaotic time of the day – the morning rush. You'll want anything that will simplify this routine to be easily accessible and organized. Do you need a seat for lacing up shoes? Will a few hooks suffice for backpacks and coats, or does the coat closet need a good purge? Where will shoes be stored? Do you need a hairbrush for last-minute touch-ups before walking out the door?
1. Choose Hooks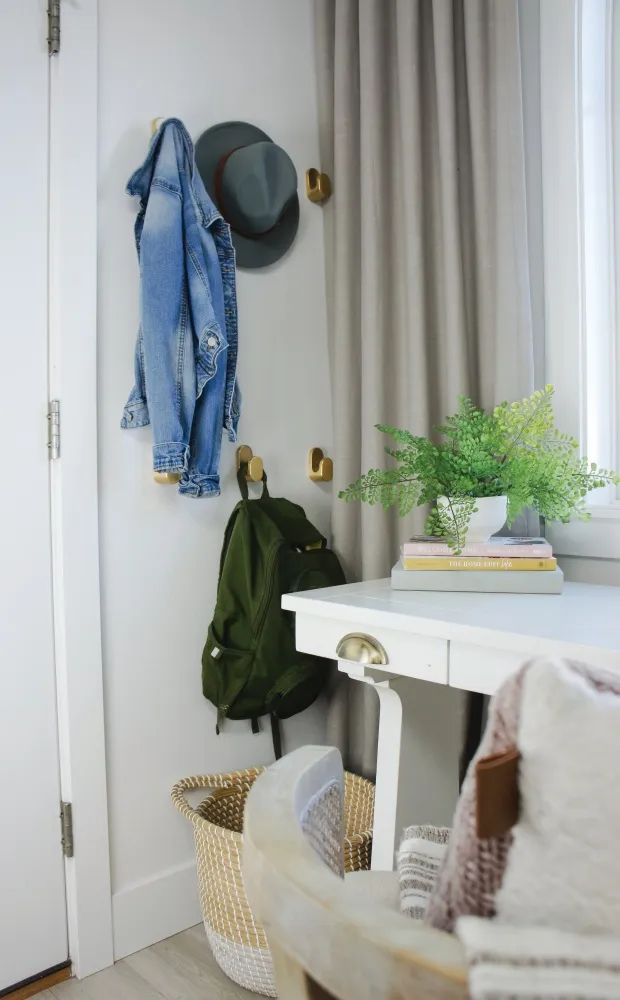 Hooks, making life easier one coat at a time.
No matter your age, there is something inherently easy about placing your coat on a hook rather than taking the extra two seconds to place it on a hanger. Quick-access coat hooks can be placed inside a coat closet or near your entryway door. Reserve these hooks for the 1-2 outerwear items most worn each day, depending on the season. Store other out-of-season items to eliminate clutter and the occasional fashion tantrum (my second grader still stands by his insistence that a rain jacket is sufficient January attire).
Bonus Tip: Add small name labels above each hook so each family member can help maintain your hard-earned organization.
2. Shoe Storage
I love a shoe basket for each family member when the space allows! Again, keep clutter minimal by only storing those shoes worn most. Wicker baskets will add texture and warmth to any entry while disguising contents well.
Bonus Tip: Place a plastic bin inside your wicker baskets during wet seasons to keep snow and mud contained and easily cleaned.
3. Horizontal Surface
A small table, dedicated shelf, dresser, or even a credenza is essential for any well-designed entryway. This surface acts as the catch-all for all the items you juggle by the door; your phone, coffee cup, keys, sunglasses, mail, and more. It's also the perfect place for a quick styling moment to add some personality to the space. Select a unique bowl to house keys, lean and layer a mirror and art, and finish with a small lamp and you've just made a utilitarian area of your home look and feel just as lovely as the rest.
Bonus Tip: Add a dedicated docking drawer or charging station to naturally unplug from your device while at home.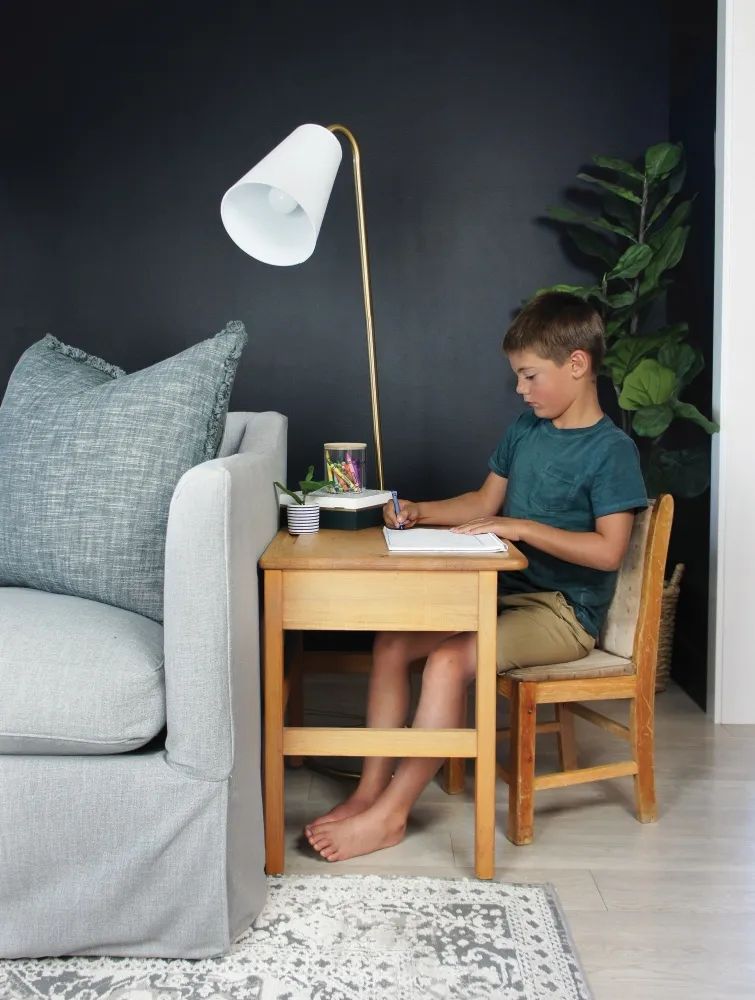 This small vintage desk and chair built by my late Grandpa for me when I was a little girl serves my family well as a side table next to the sofa. It's especially great for elementary students that need a little extra attention with homework.
In addition to a bit of morning chaos, the other school year constant we can all relate to is homework. Whether it's a kindergarten coloring sheet or two hours of geometry, being prepared is half the battle. Imagine if each day, upon arriving at the office, you had to set up and plug in every cable for your desktop computer, arrange your pens and notepad just so, and then scour the office for a chair. You would probably dread work a bit each day. But it isn't the work that is the issue – it's simply getting started.
The same theory can be applied to the young minds of our students… If an area of your home can make getting started on homework easy, the entire process will be more enjoyable for all!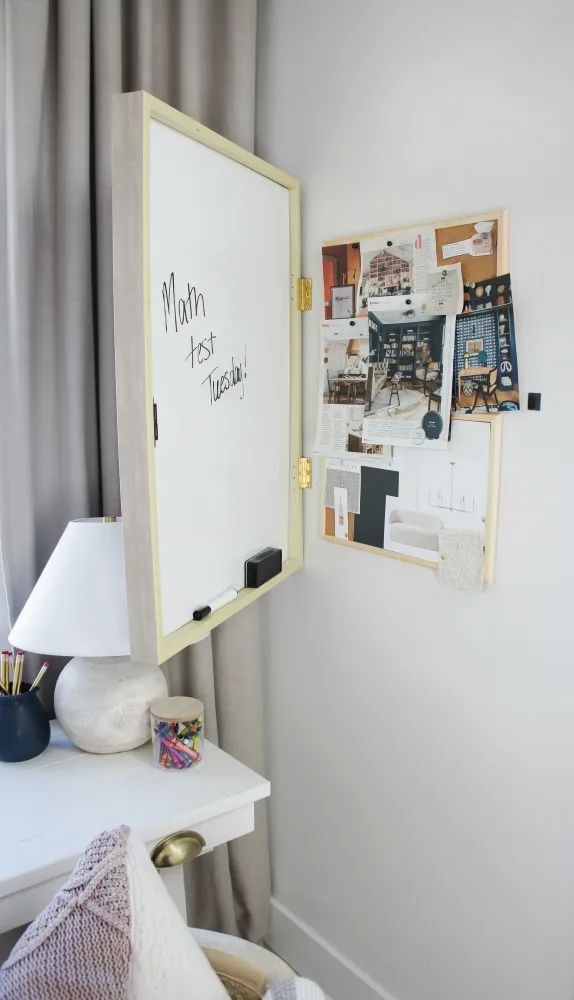 This space is a double hitter acting as both an entry and homework station! A small console creates an intimate desk space under a beautiful window. A magnetic canvas on hinges even opens to reveal a marker board and cork board!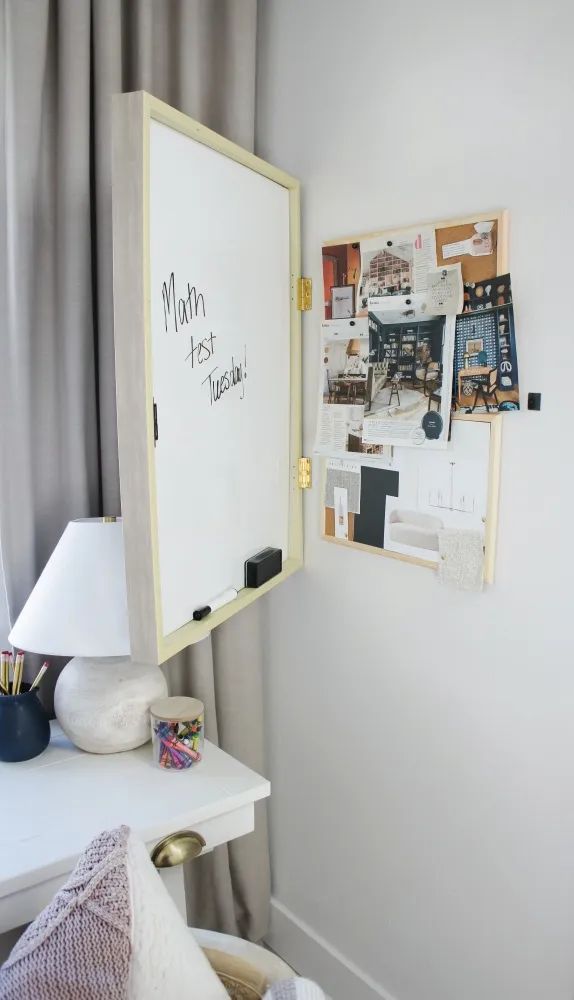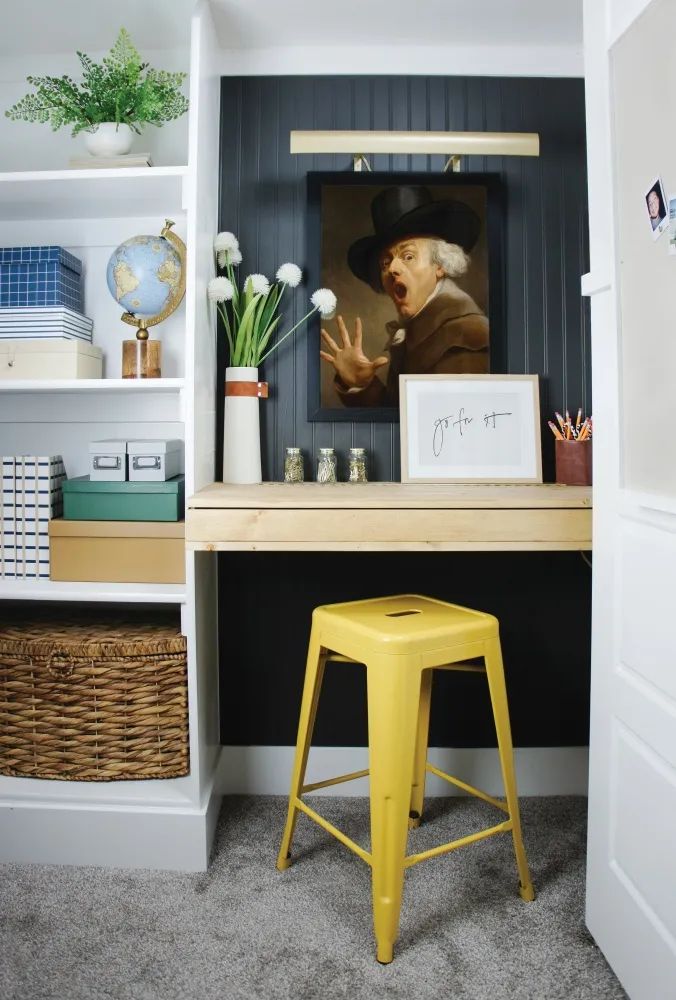 Half closet, half homework duty! In true boy fashion, this elementary dude didn't need an entire closet for clothes, so a desk made the space much more functional. The counter height table top makes it easy for him to sit or stand while working, and extra school supplies are stored in the decorative boxes on the shelves.
You'd be surprised how many places a small desk can fit nicely within your home. Choose a spot that's distraction-free, comfortable, and all needed supplies are close by. Don't be afraid to get creative and turn an underutilized closet into a homework space or position a desk as a console table or side table next to the sofa. Remember, any intentionally dedicated space is always better than nothing!
Bonus Tip: Opt for a taller desk that can be used in a standing position for energetic little ones! Giving your yoga ball double duty as a desk chair is another wiggle buster option.
4. Homework Cart
A homework cart or caddy will serve you well if your student prefers to do homework at the dining room table or kitchen counter. Stock the cart with needed school supplies and simply bring it out for each homework session.
Bonus Tip: For families with multiple students, create a homework caddy for each child stocked with age-appropriate supplies. Everyone can then easily share one desk or study station!
Originally printed in the August 2022 issue of Simply Local Magazine
Never miss an issue, check out SLM's digital editions here!