photo by Frank McKenna via Unsplash
4th of July in 2020: Finding Your Celebration
June 23, 2020 | by rebecca stewart
Being in the midst of a global pandemic that is showing no signs of magically ending, many an event has been cancelled or rescheduled. It felt like it started with St. Patrick's Day Parades and has seen its way to Fourth of July traditions of parades, rodeos, fireworks, and more. Our traditional celebrations have certainly had to adapt in this year of 2020, and though there are many differences from our norm, there are still opportunities to celebrate this beautiful, complicated country that we live in. Perhaps on this Fourth of July we can remember the rallying cry of 2020: We're in this together, even while we're apart.
So, Fourth of July in 2020, it's certainly a different kind of celebrating than we're used to, but come along as we see what's still in play, along with some ideas that can step in for some of our beloved traditions.
Laurel
For 69 years, the Laurel Volunteer Fire Department has proudly displayed one of the most spectacular fireworks shows in the Northwest, as a result of COVID-19 and the current restrictions, this year's show will go on...Just different from years past. Rather than the show being shot from Thomson Park, with thousands filling the park's and high school's grounds, Laurel's 70th annual Fireworks Show will be shot from an undisclosed location, and the community is asked to take in the sights from the comfort and safety of home.
As a show of gratitude to the community for their support, the 35 members of the Fire Association will be paying for this year's fireworks show themselves. It will not be as grand as it has been in years past, but it will light up the skies over Laurel. If you would like to contribute to the show, donations are being accepted at PO Box 1191, Laurel, MT 59044.
Still in Play
23rd Annual Chief Joseph Run- 6:30am, 8-mile | 7am, 4-mile | 7:30am, 2-mile. The race starts at Thomson Park, 6th St. in Laurel. Packet Pick-up: July 2-3, 9am-4pm at Laurel Chamber, 108 E Main St or day of race. Register: https://runsignup.com/Race/MT/Laurel/ChiefJosephUphillRun. Proceeds benefit S.O.W. Ministries Food Wagon.
Food Trucks- Food Trucks will be available on 1st Avenue, please abide by social distancing. (Sponsored by Laurel Chamber of Commerce)
Fireworks Display- 10:30pm, the skies over Laurel (NOT being shot off at Thomson Park, please enjoy from the safety and comfort of your own home)
Cancelled
Pancake Breakfast
Grand Parade
Arts & Craft Fair
Billings
Celebrate Freedom- A gift from Harvest Church
Though the annual festivities in the park have been cancelled as a result of the pandemic, Harvest Church was determined to find a way to celebrate.
Fireworks at the Metra- A 35-minute professionally choreographed fireworks show, paid for by Harvest Church for the city of Billings. Launching from the upper parking lot at MetraPark. Radio station to broadcast music for the show (stay tuned for updates). Fireworks by Pyro F/X.
Cody, WY
Cody Stampede Rodeo
Though current health orders have limited seating capacity, Cody Stampede Rodeo is still bucking along! Advance purchase of tickets is highly recommended, in order to guarantee your spot. (Select either Grandstand or Buzzard Roost for a section. All seats are general admission in the section you have chosen and are not specifically reserved.)
Adult - $23
Child - $11.50 (7-12)
6 & under free
Group rates are available for parties of 10 or more people. Please call 307-587-5155 for more information.
-Facility and Online Service Fees Will Apply-
RODEO STARTS @ 8pm | GATES OPEN @ 7PM | GET YOUR TICKETS
In Case You Missed It: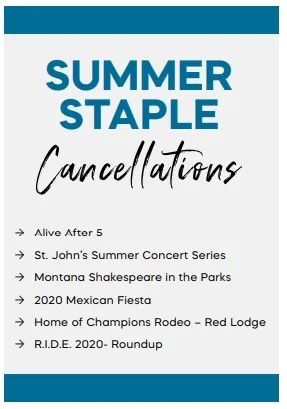 We have become expert stayers at home, but in case you need a few ideas for your at-home Fourth of July festivities, we've got you covered: