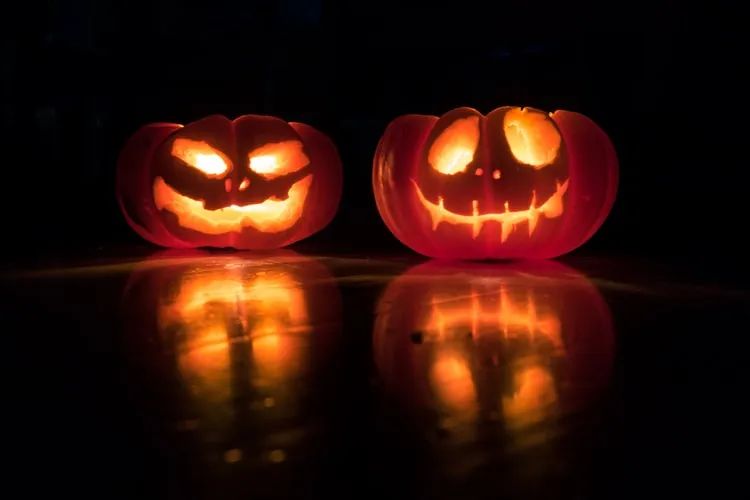 photo by David Menidrey via Unsplash
2020 Halloween Happenings in Billings
October 2020 | by rebecca stewart
Register Early
Downtown Billings Alliance Pumpkin Painting Contest | Submissions Due: October 8 | https://downtownbillings.com/wp-content/uploads/Pumpkin-Painting-sumission-form.pdf
Put your pumpkin painting/decorating skills to the test with the DBA's Pumpkin Painting Contest. Submissions can be as scary or silly as the artist desires and are due Oct 8 with voting/public viewing open Oct 9-15 (viewing location revealed the week of). Vote on pumpkins at https://downtownbillings.com/event/downtown-pumpkin-painting-contest.
There's no cost to participate and your entry puts you in the running for a Downtown Billings Gift Card. Submissions will be divided into three age categories: PreK-3rd Grade, 4th-8th Grade, and HS-Adult.
The Goods on Your Gourd:
You may use paint, stickers, and other craft materials in the decorating of your pumpkin.
Pumpkins should be no larger than 36" in circumference.
Your design may include the minimum of 1 or maximum of 3 pumpkins.
All designs must be in good taste and appropriate for viewing by the public and families.
Prizes will be awarded on Oct 19 via DBA's social media. Pumpkins may be picked up Oct 16 (9am-3pm) or Oct 19 (9am-4pm).
Open Daily
First Alliance Church Pumpkin Patch | Open daily, Oct 6-31, 12 pm -Dusk | 1835 Central Ave.
"Welcome to the Patch, where we give back!" Proceeds from this fundraiser go towards local charities and youth activities. https://www.facebook.com/First-Alliance-Church-Pumpkin-Patch.
Every Friday & Saturday
The Maize at Grandpa's Farm | Sept 11-Oct 31: Fridays & Saturdays in October, 10am-10pm | 58th Street West and Grand Avenue | https:/www.themaizeatgrandpasfarm.com
The theme for this year's Maize at Grandpa's Farm is ever so timely, as we are all ready to "Kick COVID-19 out of the country." You're invited to "Come and help us work through this Covid mess of a maze with the heart of an American." There is much to do at Grandpa's Farm (besides the epic Maize), plenty of what you've come to know and love, along with a variety of new things to discover.
See the website for details on cost and get a $2 off coupon at: Hubbard/West Feeds, Shiptons Big R, and Albertsons.
2020 Pumpkin Patch @ T&C Farms | Sept 18-Oct 31: Fridays-Sundays, 9am-Dusk
Though plenty of our harvest happenings have fallen victim to 2020, the Laurel Pumpkin Patch at T&C Farms is still here, ready with family fun and pumpkins galore! Located just outside of Laurel at 1927 Holstein Ln, a $10 ticket includes Hayride, Corn Maze, and 1 free field pumpkin. Other activities include: Pumpkin Slingshot, Redneck Skeeball, Horseshoe Pitch, Barrel Train, County Playground, Country Store, Picnic Amenities, Farm Produce, and more!
Facebook: LaurelPumpkinPatch
Every Friday & Saturday (and the occasional Thursday)
Sleepy Hollow Wagon Rides @ ZooMontana | ​Oct 2,3, 9, 10, 15-17, 23, 24, 29-31 | 6-9pm, weeknights; 6-10pm, Fridays and Saturdays | 2100 S. Shiloh Rd
Back for their 5th season at the Zoo, the Sleepy Hollow Haunted Wagon Rides provide the telling of a tale made for Halloween on a wagon ride through the back of ZooMontana, winding your way through a variety of scenery and spooky sites. While the experience is intended to be eerie, it's appropriate for families and all age groups (however, be aware that the later in the evening it gets, the experience naturally becomes scarier because of the darkness).
In addition to dressing for the weather, please make note of these COVID-19 precautionary measures: Large groups of family and friends that sign up together (with 15+ people) will have their own wagon and will not need to wear masks. Smaller groups, where you'll be joining others in a wagon, do need to wear a mask.
Reservations are HIGHLY recommended: http://sleepyhollowmontana.com | Tickets: $15/person; Free/Children ages 3 and younger
#HauntedMoss
For all things #HauntedMoss, remember to arrive masked-up and prepared to socially distance. Please note that staff will monitor attendance and adjust start times as needed to maintain safety for all.
Every Thursday
#Haunted Moss at Moss Mansion | Mysteries at the Moss: Scooby Doo™ Edition- Level 1 Scare | Every Thursday in October @ 4-6pm | Recommended ages 6+
Come on, gang! Scooby and company need your help! A precious artifact has gone missing at the Moss Mansion and super sleuths are needed to explore the passageways and corridors, looking for clues and meddling in museum affairs while solving puzzles – all to unmask the culprit. This adventure is part escape room, part detective work, and a whole lot of nostalgia.
Kids will use reading, math, and reasoning skills to unlock this mystery and might need your assistance, making this a special Moss experience for everyone!
Tickets: $12/child, $5/accompanying adult (includes detective book, map, and puzzle) | Register online www.mossmansion.com / walk-ins welcome.
Mark Your Calendar!
#HauntedMoss at Moss Mansion | Clue: Assassins- Level 1 Scare
October 9 & 10 @ 7-9pm (max 20) | Recommended ages 18+ | must be able to navigate stairs
Not for the faint of heart, this next-level game of Clue has raised the stakes of this popular action strategy game by turning out ALL the lights. Someone is blackmailing you – demanding your presence at the Moss Mansion. You must go and eliminate the threat, but what's waiting for you is a dark house, a flashlight, and a target on your back. Do you have what it takes to survive the night and solve the ultimate whodunit? Wear your best costume – the mansion supplies the flashlight, weapon, and clues. Your mission? Try not to be one of the victims…
Tickets: $30/person, reservations required (includes light snacks and a beverage)
#HauntedMoss at Moss Mansion | Flashlight Tours- Level 2 Scare
Is the Moss really haunted? Bring along your sense of adventure because it's time to find out! All the lights will be out, you'll be armed with a loaner flashlight, meeting members of the Moss crew lurking in the shadows. They are ready to share some particularly macabre objects from the collection with you. If you can find your way to the "Spookeasy" Lounge on the 3rd floor, you'll be rewarded with a cup of courage and maybe a ghost story or two.
Tickets: $25/person, reservation required (beer for purchase on 3rd floor, water or soda included in ticket price)
#HauntedMoss at Moss Mansion | Kids' Maze- Level 1 Scare
October 15, 22, 29 @ 4-6pm
This one is especially for the littles! Come on a maze run in the afternoon (before things get too scary) and see if you can get all the way through. Kids can come with a parent or teen chaperone and can have up to 3 tries from the front door. No scarers, just music, Halloween sounds, and good times!
#HauntedMoss at Moss Mansion | Haunted Labryinth- Level 3 Scare
October 17, 23, 24, 30, 31 @ 7-10pm
It is a longstanding tradition to have the bejeebies scared out of you at the Moss throughout October. The labyrinth has undergone a few changes, but what kind of changes? Well, that's for you to figure out! Bring your best friend and your best scream; you'll need both. Round and round you'll go. Can you get out? Nobody knows…except maybe those who lurk in the shadows.
#HauntedMoss at Moss Mansion | Horror Theater: Ghost Encounter @ Moss Manor- Level 3 Scare
October 16, 17, 23, 24, 30, 31 @ 6:30-10pm
A professional Ghost Hunter, you're not, but don't let that stop you from breaking into Moss Manor for one night to investigate. Sitting abandoned for years, Moss Manor just acquired a new owner who plans to restore it to its former glory and time is running out to discover the truth behind its dark past. Too many unexplainable phenomena are tied to its history – some say the family never left. It's a shame you won't have come more prepared because you'll quickly realize that Moss Manor is more than just haunted…
Venture into the shadows with Backyard Theater actors and immerse yourself in the hunt!
**CANCELLED** (due to recent COVID restrictions) Rocky Horror Picture Show @ The Babcock Theatre
7pm & 10pm, October 23 & 24; 6pm, October 25
This October tradition is making its way back to Babcock Theatre for the 45th anniversary of The Rocky Horror Picture Show. Babcock is thrilled to be able to continue this tradition of sharing this unique moviegoing experience with Billings!
Dress up and have a blast! (Seating limited to 200 per showing).
Seating limited to 200 per showing. The Babcock Theatre. GET YOUR TICKETS!
YEP Halloween Event @ 1145 Grand Avenue, #2
This family funhouse at the Youth Empowerment Program office is open to the entire community and includes local businesses decorating their vehicles' trunks in the parking lot for Trunk-or-Treating., along with a Haunted House with games and prizes inside the building. Things will look a little different this year, keeping in line with COVID safety guidelines, but fun will most definitely still be had by all!
Admission: Freewill offering to enter the Haunted House
Known Cancellations
Boo at the Zoo
Downtown Trick-or-Treat
Shiloh UMC Trunk or Treat
Originally printed in the October 2020 issue of Simply Local Magazine
Never miss an issue, check out SLM's digital editions here!