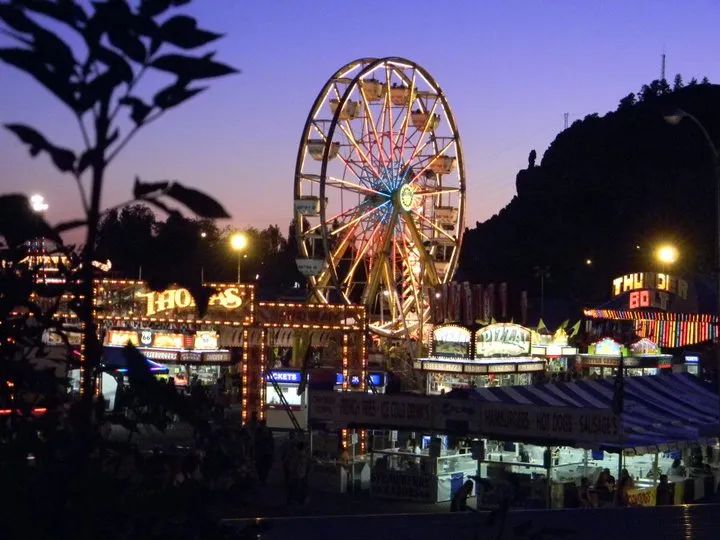 MontanaFair 2014: Deals, Food, & Fun
July 2014
Summer days: they have the uncanny ability to slip right by so that before we know it we're turning the calendar over to August with back-to-school looming overhead. But before we slip back into the grind, there's the epitome of summer fun, MontanaFair, coming to Billings Aug. 8-16, 2014. Touted as being an "agricultural celebration in the historic tradition of fairs," MontanaFair is more than concerts and carnival rides (fantastic, though they are), it's where more than 10,000 folks will earn cash and ribbons for their entries – ranging from beer, wine, bunnies, crocheting, horticulture, horses, cattle, goats, sheep, pigs, pickles, to hobbies, arts and crafts – amongst other things.
Held at MetraPark in Billings, MT, MontanaFair includes the Thomas Carnival operated midway featuring rides and games of chance. Free entertainment can be found on a variety of stages located throughout the grounds. Beyond the happenings down midway are the concerts held in the Rimrock Auto Arena and Supercross and the Yellowstone River Roundup PRCA Rodeo held in the MetraPark's Grandstands.
$$ Deals and Dollars $$
Admittedly, taking the family to the fair can turn into an expensive endeavor, so you'll want to take advantage of the Buy Early and Save (purchased before Aug. 8), which can get you 8 gate admissions for $32 (save ½), voucher for 60 ride coupons: $40 (save 1/3). Beyond that gate admission is $8 for adults, $5 for kids ages 6-12 and those 65 and older, children age 5 and younger are free. Following, we've also included some of the…
Notable Deals of the Day:
August 11 @ 12pm-5pm – Senior Citizen's Day: Guests age 65 and older get in free! So bring grandma and grandpa out for a day of fun under the sun, touring the exhibits, taking in the free shows, and watching the grandkiddos ride the rides.
August 11 @ 6pm-12am - KULR8 Buddy Night: Buy 1, Get 1 on gates and rides; Buy 1 $25 wristband, get 1 free; Buy 1 adult fair gate admission for $8, get 1 free.
August 13 @ 12pm-5pm - Mountain Dew Kick Start Kid's Day: Kids under 12 get free admission with any empty Pepsi product container
August 15 - Veteran's Day: Free gate admission for veterans (with military ID), plus one companion
August 9 & August 16 @ 12pm-5pm - $10 Dollar Day!: Seven rides for $10. Sold from 12pm-5pm, but honored all day!
Tickets can be purchased at MetraPark Box Office, Rimrock Mall (at the Hallmark Store – the ticket outlet has moved), local Cellular Plus stores, at metrapark.com, montanafair.com, or by phone at 406-256-2422 or toll free at 1-800-366-8538.
The Food
We would be remiss if we didn't talk about the food available at MontanaFair, as I know more than one adult whose sole reason for heading to the fair is for the food. Not only is there the traditional sinful delights, but there's also the results of the Montana BBQ Championship on Aug. 12-13 (entry deadline is Aug. 8). Teams will compete in four categories: Chicken, pork, pork ribs, and beef brisket. Professional and amateur BBQ competition teams from across Montana and the nation will compete for glory and a share of over $10,000 in prize money! This year's contest is part of the Rocky Mountain BBQ Association Cup Challenge, providing for more teams, more prize money, and even more delicious BBQ.
Following the judging, competitors will be offering samples for sale from 2pm-5pm on Aug. 13.
New this year is the Kids Q Contest, which has teams of children age 6-16 competing to see who can BBQ the best steak. Rules say that an adult must accompany the child/ren, but it's the kids who have to do the prep, seasoning, and cooking. Prizes will be awarded for 1st-10th place. Entrants need to bring their own BBQ pit – charcoal and wood pellets only!
Now, no matter how befuddled we are over the days and weeks of summer having already slipped by, it's nearly time for MontanaFair, so be sure to get on the track of the early bird and catch some deals now! For a full schedule of events, deals, and happenings, go to: www.montanafair.com/.
MONTANAFAIR: AUG. 8-16, 2014 AT METRAPARK FAIRGROUNDS.