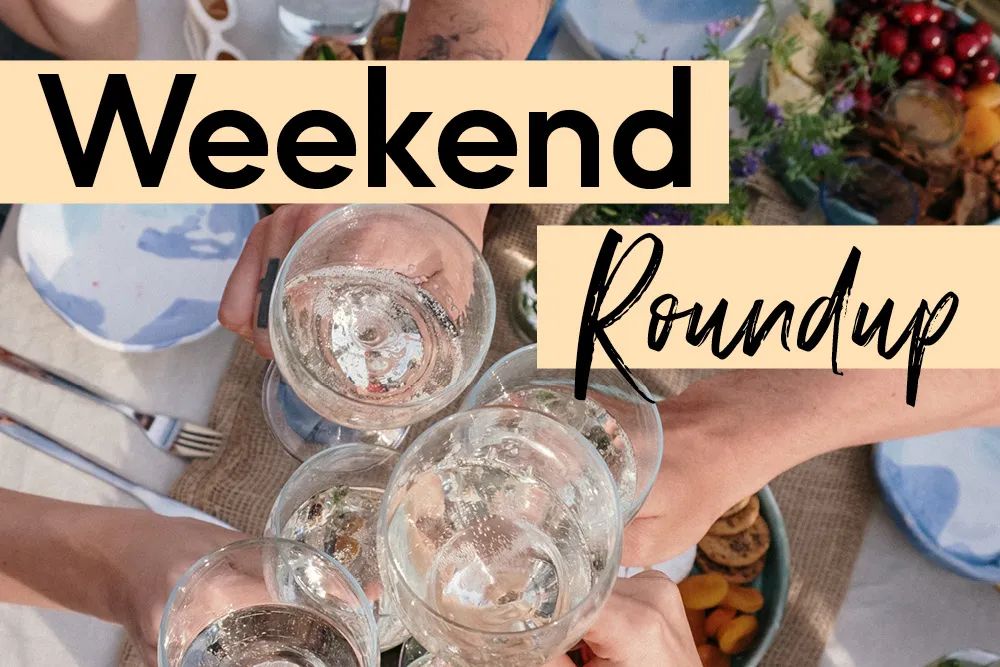 This Weekend's Top 4 | September 16-18, 2022
September 16, 2022
In this weekend's roundup, there is a little bit of something for everyone - from touring beautiful Parade Homes to music and theater, it's good times for the whole family!
#1 2022 Parade of Homes
Ahead of this year's Parade of Homes, we've been getting to know this year's builders in the pages of Simply Local Magazine, but now, the time has finally come to experience the fruits of their labor in-person. The Home Builders Association of Billings' 2022 Parade of Homes features eight custom homes, and it runs for two weekends, September 17-18 and September 24-25 from 10am-5pm. Tickets may be purchased online or at any home on the tour.
Click the box above for everything you'll need to know!
#2 Tinker Bell | NOVA Center for the Performing Arts

The wonderful, magical tale of Tinker Bell is coming to the stage at NOVA Center for the Performing Arts. Here's what you need to know about the telling of this fierce little fairy's tale:
Everyone thinks they know Peter Pan. But until you have heard Tinker Bell's side of the story, you really have not heard it at all. When the fairies in Neverland start dying, Tinker Bell comes to London to find a friend. There she meets a young boy named Peter Pan who has just run away from his family so he can be a little boy forever and have fun. When Tink takes Peter to Neverland, all sorts of wonderful and amazing things happen: flowers grow, animals appear and pirates arrive. But as Peter brings more Lost Boys and the Darling children back to her island, Tink finds she doesn't like sharing her friend with anyone else. Especially that Wendy girl. This fresh and intensely theatrical adaptation of the classic story emphasizes play and fun as well as the complicated nature of friendship. A new, twinkling light shines on the characters you love as J.M. Barrie's story is reborn from this feisty fairy's point of view.
Directed by Janie Sutton, Tinker Bell will take the audience on an adventure they'll never forget.
Tinker Bell is sponsored by Get Air and Magic City Optimist.
THE DETAILS
Showtimes: September 16-18 and 23-25 // 7:30pm, Friday performances; 2pm, Sunday matinees
Where: NOVA Center for the Performing Arts
Tickets: $16/adults, seniors and military, $10 for students. For more information about the show or to purchase tickets, please visit the box office (limited hours, please call ahead), call (406)591-9535, or visit www.novabillings.org.
#3 Adventures in Music: Featuring the Science of Sound | Billings Public Library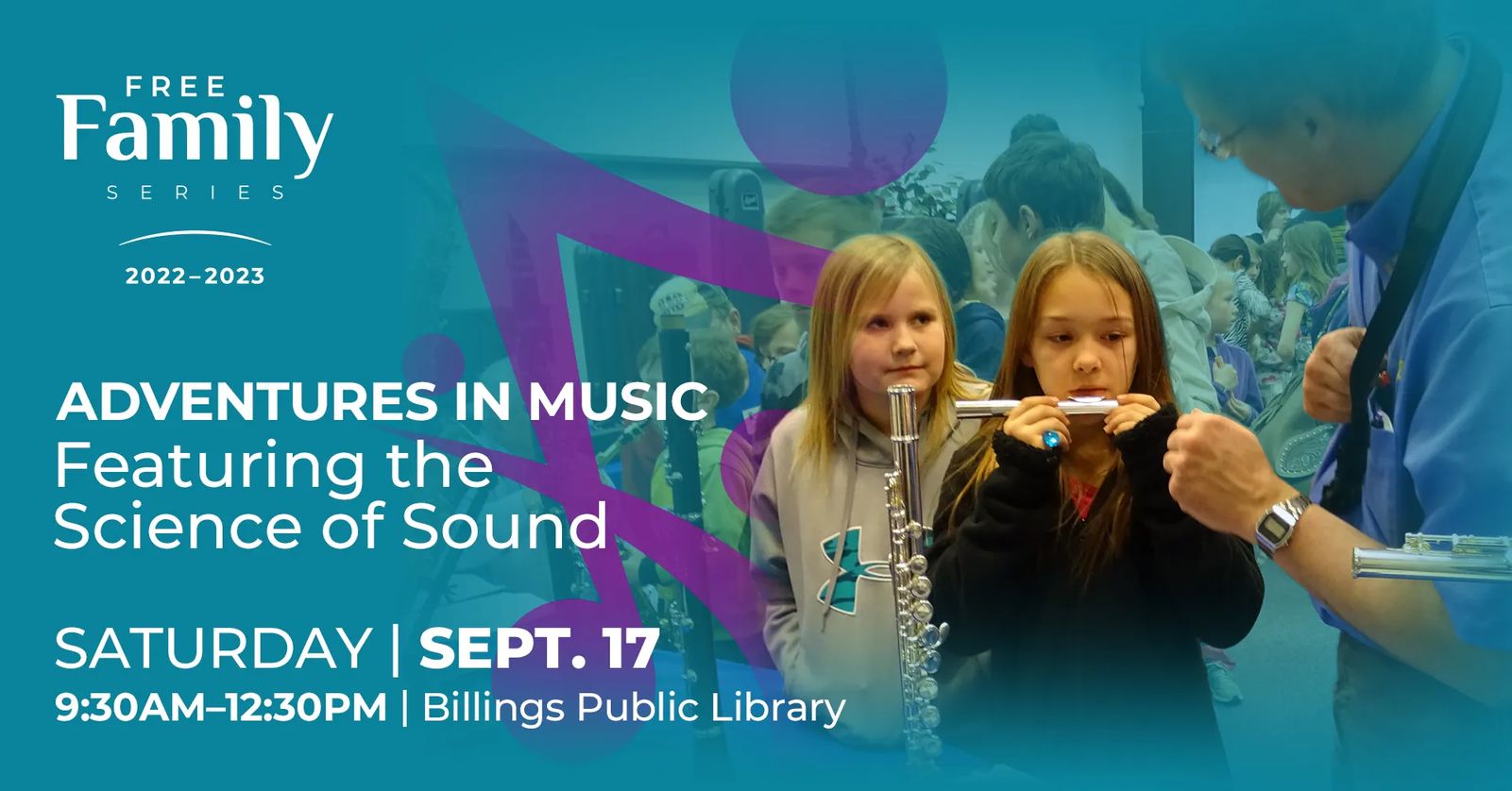 Billings Symphony Orchestra & Chorale
The Billings Symphony invites children of all ages and their parents to the Billings Public Library for a musical instrument Petting Zoo featuring all the instruments of the orchestra! Plan to stay for the Science of Sound at 11:30am when Billings Symphony percussionists will guide attendees on an entertaining and interactive journey through sound.
This annual event (typically held in January) is exciting for the whole family, and it's all FREE!
THE DETAILS
#4 P.E.A.K.S. Fall Brew Fest | ZooMontana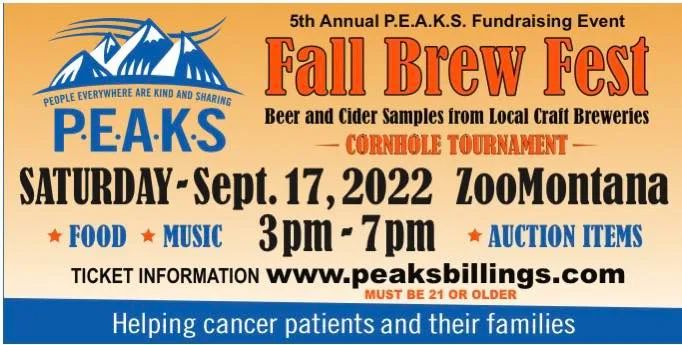 People Everywhere Are Kind and Sharing (P.E.A.K.S.)
P.E.A.K.S.' 5th annual Fall Brew Fest raises funds to help cancer patients in treatment with non-medical expenses. Come out to the Zoo for an afternoon of food, music, auction items, and, of course, beer and cider samples from local craft breweries. And, if you've spent the summer fine-tuning your cornhole skills, then you'll certainly want to get on board the Cornhole tourney.
THE DETAILS
When: Saturday, September 17 @ 3-7pm
Where: ZooMontana
Tickets: www.peaksbillings.com or at the gate
Ages 21+