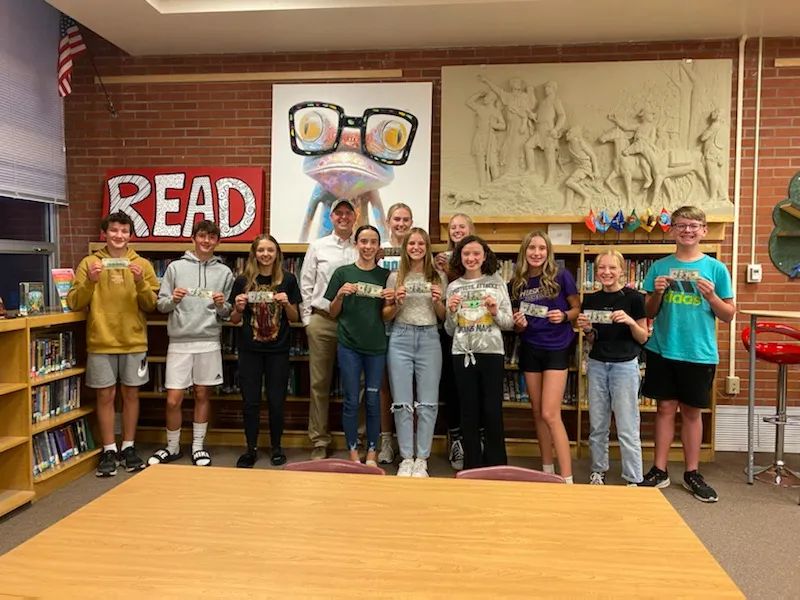 The Two Roads Project
October 24, 2022
"Don't let education get in the way of your learning." According to Jamie Jarvis, a teacher at Lewis and Clark Middle School, some of the greatest lessons take place outside the classroom. That mindset, in part, is what led him to start the Two Roads Project.
The Two Roads Project mission is to ensure that our community and our world grows in a positive manner through service. The concept is relatively simple: Eighth grade students volunteer to participate and are each given $100, 90 days, and are challenged to take on a project that could change their lives. At the end of 90 days, each student presents their service-oriented project demonstrating how they're growing the initial $100 investment, what impact they're making on the community, and why the project speaks to them.
"This program is all about empowering kids to see what they're capable of and understanding that the only way they fail at something is to give up," explains Jarvis. "It's not that it won't be hard but struggling through adversity is ok. When you reach the end, you can be proud and know you've made an impact."
The project began in 2010 and since that time has empowered nearly 100 kids to take roughly $10,000 and turn it around to impact through many times over the initial seed money.
Jarvis' aim from the beginning is to help kids think about the impact they can have with a little bit of focus and effort. The initial investment comes through Jarvis, which he funds largely through grant support. Once the students identify something they're passionate about, the rest generally falls in place. "They're taught to handle the money with three things in mind: honesty, thoughtfulness, and responsibility," says Jarvis. He describes how the students are shown upfront that the money doesn't belong to them and they're representing themselves and their community in what they choose to do with it. The length of time allotted to build the project and plan is also intentional. "I don't want students to just think on it for a week and run with something. They need to take their time, be thoughtful."
Finally, the responsibility is a huge component of the project. At the end of 90 days the students are held accountable to report on their effort. "I have had kids who return the money because they can't come up with something or they're struggling in some way. I try to build them up and teach the lesson that service is not simple. I applaud the student for handling the money with honesty and responsibility," Jarvis notes.
Many great projects have resulted from Two Roads: One student teamed up with Dog Tag Buddies and created her own organization called My Vets Friend to provide veterans going through the training program with a bag filled with everything they need to get through the course. Another student made and sold ornaments, raising more than $6,000 to purchase Christmas gifts for children spending the holiday in the hospital. Years ago, a student raised money to donate cameras and memory cards to St. Vincent's NICU (pre-cell phones!) so families could capture photos of their new babies.
The students who participate develop budgets, plans, community connections, and more – skills that carry them far outside the traditional classroom. Jarvis is a guide, but the work happens through the kids. The why is pretty simple: service is important, but not always easy. Jarvis wants to see a generation of service-minded students grow and support the community.
Learn more about the Two Roads Project at Bit.ly/tworoadsproject.