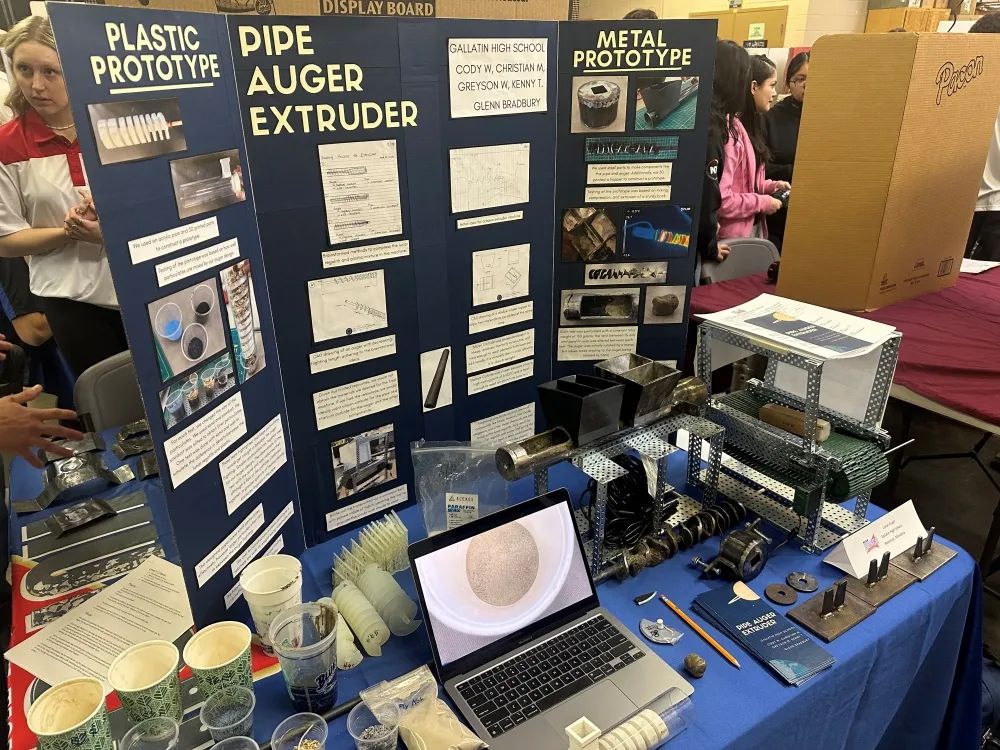 Solving Problems for NASA
March 13, 2023
article & photos by Kelly McCandless
Did you have any idea that students, right here in Billings and across our region, are designing and engineering things to solve problems for NASA? It's true. And this incredible program, called NASA HUNCH, showcases some of the best and brightest kids studying science, engineering, technology and math. HUNCH stands for High school students United with NASA to Create Hardware.
On March 7, 2023, high schools from across Montana and Wyoming arrived at the Career Center to show off the problems they solved. From creating systems to build bricks in space to virtually exploring the surfaces of asteroids, the projects displayed thoughtful solutions, dynamic thinking, and exceptional problem-solving skills.
The first three students I spoke to were Tyler Moore, Nolin Barnhart, and Daniel Githens who were tasked with figuring out how to build a device to allow astronauts to roll dice in space. Though not a major academic issue for NASA, providing entertainment and engagement for astronauts spending extensive amounts of time in space is critical to preserving their mental health and acuity. So, the trio created a Micro-G Dice Rolling Machine; a complex device using fans to start and stop dice rolling in a zero or low gravity environment.
Working since August 2022 on the solution, these students went through several iterations of their machine, completed extensive research, and completed complex physics-based math to prove their concept works. Without a zero-gravity environment to demonstrate, the math was used to show how the system would work practically.
I next spoke with several groups from Bozeman and Gallatin High Schools, one using virtual reality to simulate what it would be like to bump into Bennu (an asteroid) and minimize the expanding dust cloud that would result. The second group created a pipe auger extruder to build bricks in space. This group not only built a prototype of their auger system, but also tested a variety of different particulates that could be used to make effective bricks in space.
A team from Wyoming Indian High School included America Oldman, Eliana Underwood, and Roberta Whiteplume who created a flexible wheel system that could be used to move a scooter across the surface of the moon. The clever demonstration showed how the wheels could be rearranged depending on the terrain.
Finally, I spoke with Jon Joseph Malaga, Chase Maxwell, and Lake Gilman, three more students from the Career Center who also had the problem of determining how to build bricks in space. Their pipe auger extruder system went through an impressive number of variations before landing on an enclosed auger system which attached to the brick mold. The mold opens like a clamshell to ensure the brick can be removed efficiently, and the entire system functions in zero gravity.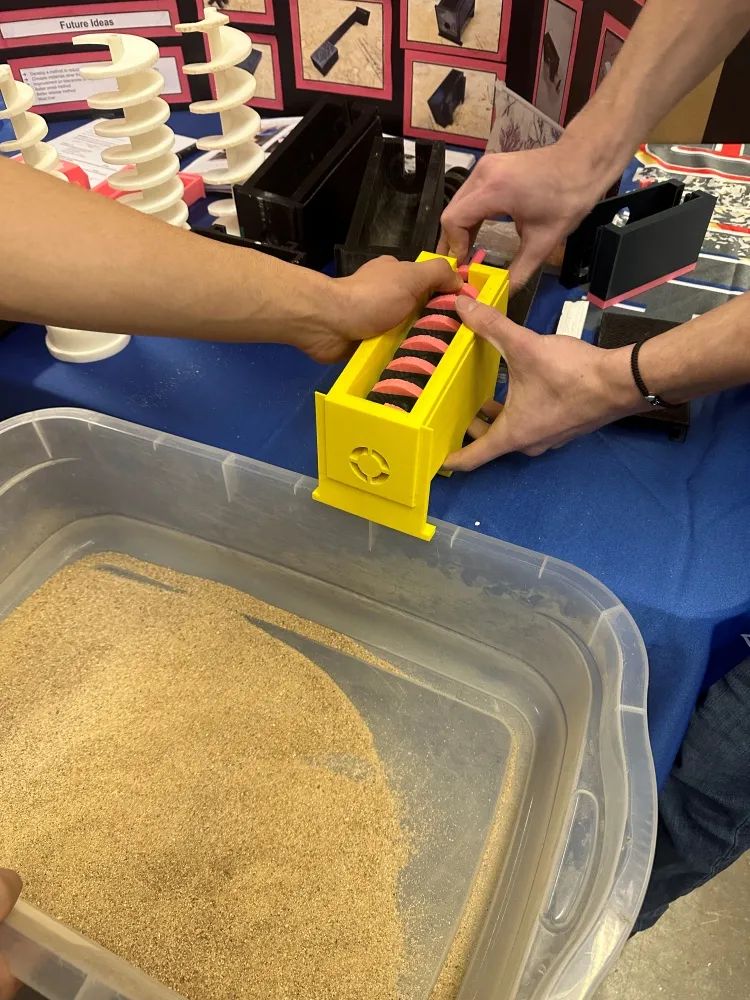 Jon Joseph Malaga, Chase Maxwell, and Lake Gilman's Extruder
During the event, students were interviewed and evaluated by judges who weighed the students' research, their problem solving, and their presentation of the solutions. Winning projects will be invited to a national competition in Houston later this year. The best of the best will make true final products which will actually be used in space.
One of the coolest takeaways is that there are students from our very own Career Center whose projects are actually at the international space station as we speak. Whether the students I saw take home an award or not, their intelligence, passion, and the entire process is a total win. Not a bad day's work when these kids go home with NASA problem solving as part of their resumes!