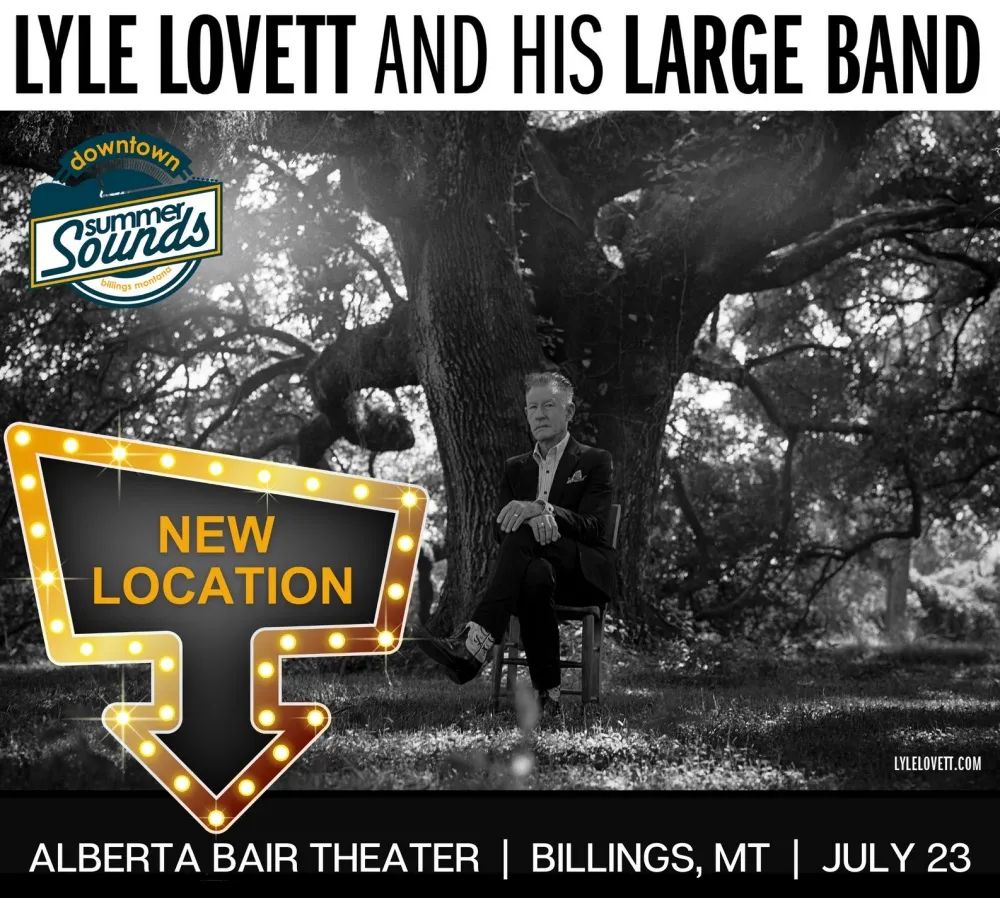 Soaring Temps Moves 2023's Downtown Summer Sounds Concert Indoors
July 19, 2023
Downtown Billings Alliance
BILLINGS, MT | The Downtown Billings Alliance, in partnership with the Pub Station, is excited to welcome Lyle Lovett and His Large Band to Billings this Sunday, July 23. Originally scheduled to be held outdoors, the concert is being moved indoors due to weekend temperatures forecasted to be over 100 degrees. The DBA and Pub Station have partnered with Alberta Bair Theater to move this wonderful show into its stunning and iconic theater.
Providing a safe and comfortable experience is the first priority of our team, and fans of Lyle Lovett and his Americana vibe will be guaranteed the best possible show in the newly remodeled downtown theater.
Downtown Billings Alliance
It's more than just a concert...
The Downtown Summer Sounds event is the largest fundraising opportunity for the Downtown Billings Alliance (DBA). In partnership with the Pub Station, the DBA relies on this annual, ticketed event, featuring a nationally recognized musical act, to raise funds for the Business Improvement District (BID) and the many projects that benefit downtown Billings. The downtown BID works year-round to implement downtown public safety initiatives, public art and beautification projects, maintenance and cleaning, and public events that draw thousands to the streets of downtown Billings. Residents, downtown employees, property owners, and visitors all can experience and enjoy the results of the downtown BID and DBA efforts.
About the Artist:
The headlining artist Lyle Lovett, a singer, composer, and actor, has broadened the definition of American music in a career that spans 14 albums. Coupled with his gift for storytelling, the Texas-based musician fuses elements of country, swing, jazz, folk, gospel, and blues in a convention-defying manner that breaks down barriers. Whether touring as a 'Duo', with his 'Acoustic Group', or his 'Large Band,' Lovett's live performances show not only the breadth of this Texas legend's deep talents, but also the diversity of his influences, making him one of the most compelling and captivating musicians in popular music. Since his self-titled debut in 1986, Lyle Lovett has evolved into one of music's most vibrant and iconic performers. Among his many accolades, including four Grammy Awards and the Americana Music Association's inaugural Trailblazer Award, Lovett was named Texas State Musician. His works, rich and eclectic, are some of the most beloved of any artist working today.