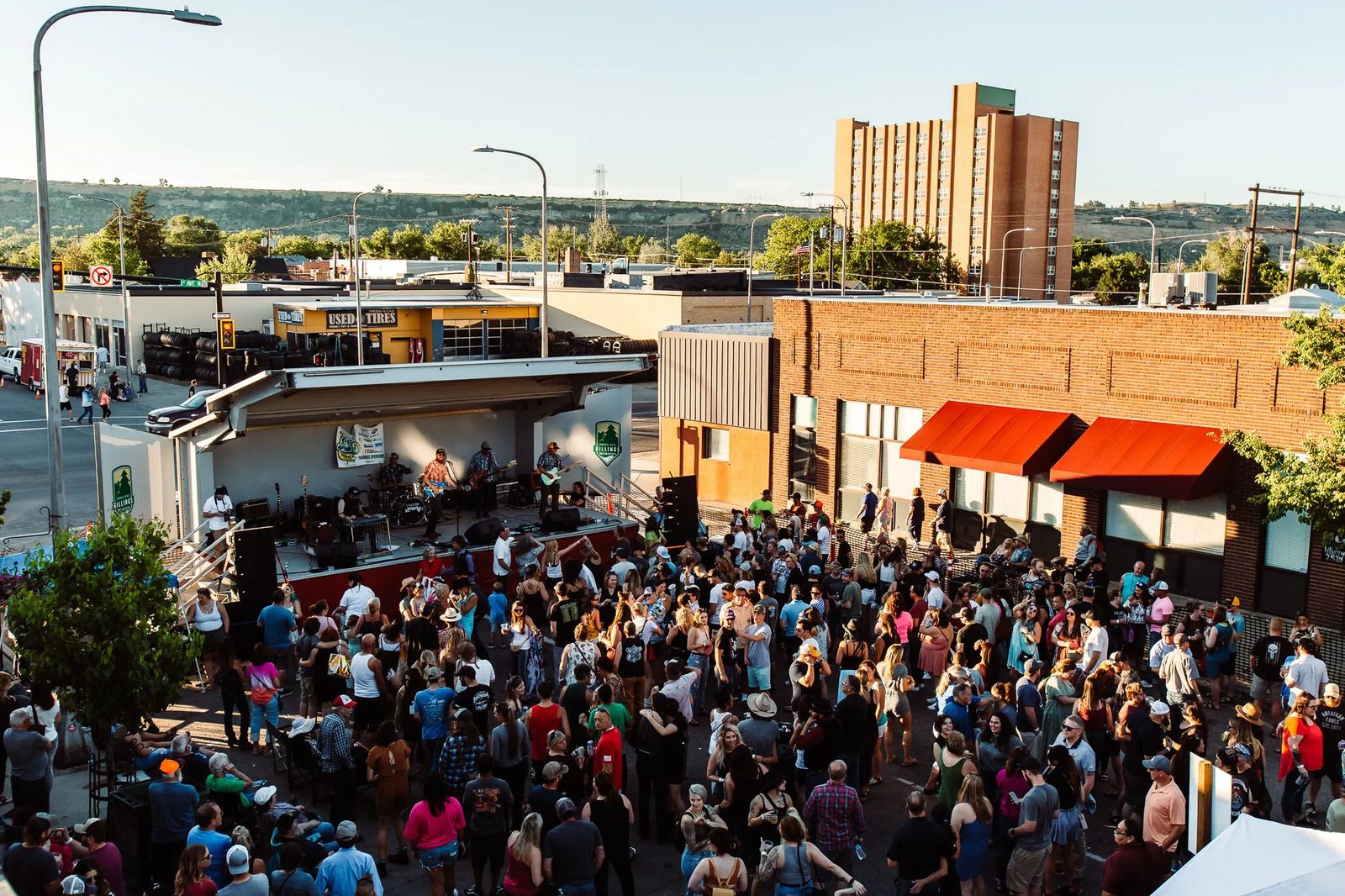 The 2022 Alive After 5 Kick off concert at the Pub Station. | Photographed by Arianna Skoog
Alive After 5 Celebrates 20th Anniversary in 2023
April 21, 2023
Downtown Billings Alliance Media Release
The Downtown Billings Alliance (DBA) recently announced the lineup for its highly anticipated 2023 summer concert series, running Thursdays June-August. This year marks the 20th anniversary of the beloved outdoor concert series that rotates to different locations across Downtown Billings throughout the season. This season is presented by the DBA and Valley Credit Union.
Alive After 5's origin story takes us back to 2003 when a group of Downtown restaurant and property owners got things (rock and?) rolling (with then Billings Gazette's publisher leading the charge). It originated with five locations that included Walkers, McCormick Café, Montana Brewing Co., the former Pug Mahon's, and the former Rex location on Montana Avenue. Tiny's Tavern would hop on board as a host location in 2004. With the concept of Alive After 5 being fully embraced by the community, the group of hosts asked the DBA organization to take over coordination efforts after its initial years of grass-roots coordinating. From its start of five concerts at five locations a summer, it went on to grow, reaching 14 concerts at 14 different locations at its largest, to its current state in its 20th year. The series, coordinated by the DBA from set-up to tear-down and beyond, brings over 10,500 people to downtown Billings each summer.
THE DETAILS:
June 8-August 3, 2023
Thursday evenings, 5-8 p.m.
Admission is free, however...
Ages 21+interested in partaking in an alcoholic beverage may purchase a $2 wristband
The revenue generated through the wristband sales at each Alive After 5 helps sustain the coordination and facilitation of downtown beautification projects, public art projects, and other DBA community-centric events throughout the year.
The V.I.P. Option- Twenty $10 V.I.P wristbands are available each week, and can be purchased before 12 p.m. each Thursday, either in person at the DBA's office (116 N 29th St) or by calling 406.294.5060
The V.I.P. area offers a shaded space for you to cool off, hang out, and enjoy the show. The V.I.P. area includes tables, chairs, free ice-cold water, and a great view of the stage.
2023 ALIVE AFTER 5 CONCERT LINE-UP
JUNE 8
JUNE 15
JUNE 22
JUNE 29
JULY 6
JULY 13
JULY 20
Location: Walker's Grill
Band: Honyocker Ft. Josie Dunne, Guthrie Brown, & Luke Enyeart
JULY 27
AUGUST 3
The 2023 season sponsors include; Valley Credit Union, TDS Fiber, B-Town Vapes & Glass, Stella's Kitchen & Bakery, The ClockTower Inn, Hensel Law, Mari Mint, Alpha Overhead Door, Earth First Aid, and Desert Mountain Broadcasting Radio group (Planet 106.7, Classic Hits, My 105.9, 98.1 KBEAR, 94.1 KSKY, 910 ESPN, The Zone 96.3).