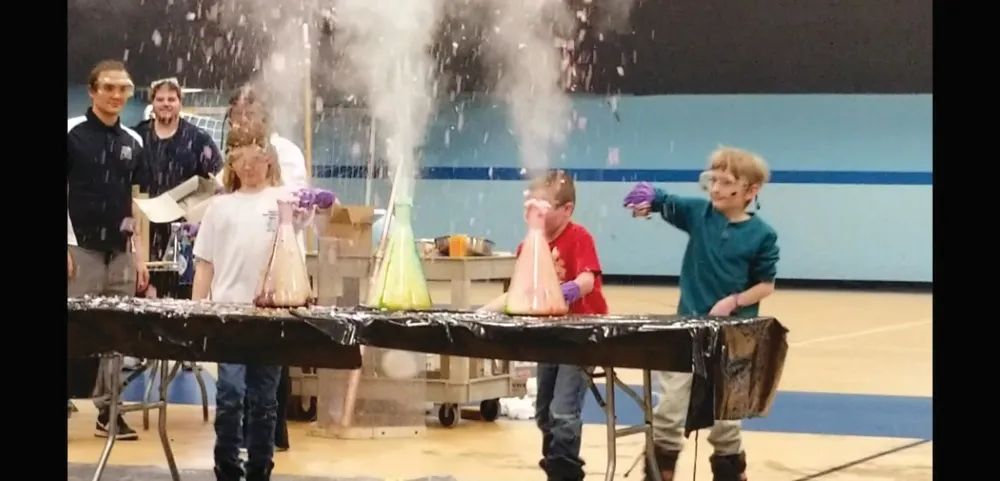 Showcasing the Treasure State's Young Scientists
March 1, 2021
by stephanie hobby | photos courtesy of MSU-Billings
Spring means flowers, fresh air, and, for millions of emerging young scientists worldwide, science fairs. The Montana State University-Billings Science Expo draws students from across the eastern half of the state to Billings every spring. Projects range from plant and animal science to robotics and computer programming. The endeavor takes a tremendous community commitment, but organizers say it's rewarding for everyone.
The MSU-B Science Expo, now in its 34th year, is unique among science fairs. There are no entry fees for students, thanks to the generous support of sponsorships by Billings Clinic, ExxonMobil, and Sibanye-Stillwater. Other major sponsors include ECI Electrical Consultants, Inc. and Phillips 66.
Science Expo Director and MSU-B assistant professor of analytical biochemistry, Dr. Daniel Willems believes connecting participants with professionals in the community is one of the events' highlights. "What the students really get out of this is a unique opportunity to talk, face-to-face, with trained scientific professionals," he said, adding that the coordinators go through a lot of work to match student entries with appropriate judges. If a student conducts an engineering project, they'll likely be matched with judges who are engineers. "When I say judge, what I really mean is to sit down and have a scientific conversation with the kids… the biggest benefit to the students really, truly is the interaction with the judges," Willems said.
Another reason the MSU-B Science Expo stands out is that students as young as first grade can participate; most science fairs are limited to middle and high schoolers. According to Willems, some of the most rewarding moments arise from working with the youngest students. "I'm literally sitting on the floor because I'm six-foot-four, talking to three-foot-tall first and second graders," he laughed.
One of his favorite memories from that floor was a very young scientist who was quite adamant that he had built a working radio telescope; after talking a little more, Willems asked the physicist to come check it out. They plugged it in, and sure enough, it worked. "The idea that you can have a 7- or 8-year-old kid, on their own, in their backyard, building something like that, is just amazing."
The MSU-B Science Expo is the largest science fair in the state and, in a typical year, hosts 300 students from 24 of Montana's 56 counties. Last year, Covid-19 made its way to the Treasure State just eight days before the event was to kickoff, derailing everyone's plans, and organizers were forced to quickly move the event online. The impact was massive; fewer than 100 students entered the competition.
This year, in the interest of safety, the event will again be held online, but coordinators have had plenty of time to prepare. Students will meet virtually with two or three judges and present their work and answer questions as they always have.
And, as always, there are ample prizes. In 2019, 104 students took home 122 awards in a variety of categories. Willems said that thanks to our community and local businesses' generosity, the Science Expo is regularly able to award an astounding nearly $5,000 in prizes and gifts.
This year, the top two students will advance to the Regeneron International Science and Engineering Fair, or ISEF, which has long showcased the very best and brightest scientific high school minds and awards millions in scholarships and prizes. While it is also virtual this year, ISEF participants have the opportunity to present their research with nearly two thousand of their peers from around the world.
The Science Expo's third-place winner will be asked to participate in the Montana Science Fair in Missoula, where he or she will again have a chance to land a coveted spot at ISEF.
But more than winning a competition or prizes, the real takeaway is the learning process, Willems said. "They learn the process of the scientific method, which is really important, and then they also learn the fact that a whole bunch of science is rooted in failure. You don't do something really impressive and incredible right the first time - you do it the thousandth time you've tried."
Local support for the MSU-B Science Expo is nothing short of phenomenal; it takes hundreds of volunteers to make the event a success. Many local scientists and engineers work closely to mentor students. People may not realize that the colleges are willing to let students use their facilities - under supervision - to conduct experiments. "We invite the community to come, and if you have a project that you're working through, and it's something you want to pursue, we want to help you do that," Willems said.
This year, the MSU-B Science Expo will be on March 5th, and awards will be announced the following day. For more information, visit https://www.msubillings.edu/scienceexpo/.
Originally printed in the March 2021 issue of Simply Local Magazine
Never miss an issue, check out SLM's digital editions here!