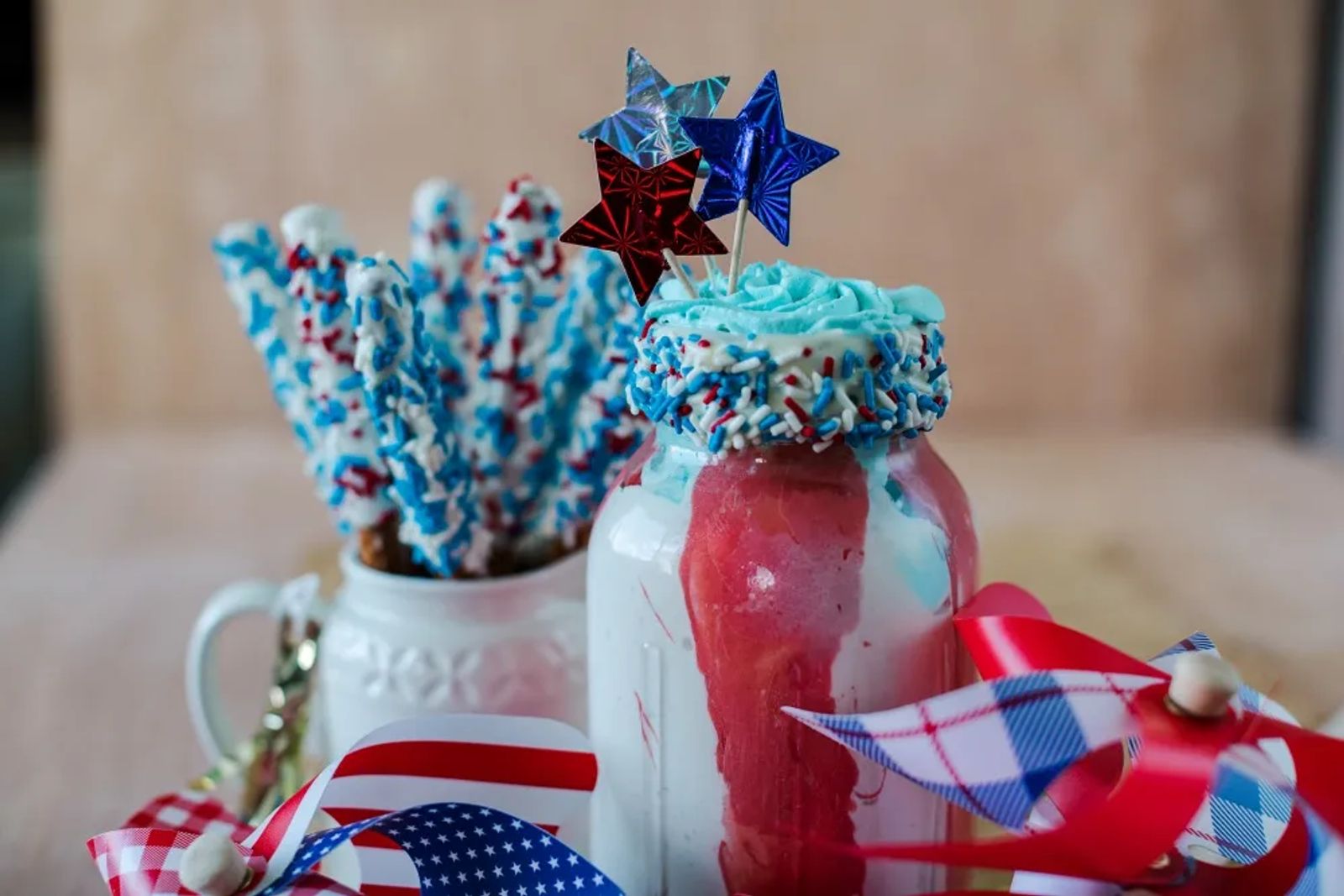 Red, White, & Blue Milkshakes
July 2021
article & photos by lovely hitchcock
In the early 1880s, milkshakes began as an alcoholic drink featuring whiskey. They remained an adult beverage until the 1930s, when they were transformed into the more familiar, non-alcoholic treat found at malt shops across the country. Upon the introduction of the modern blender, an affordable and necessary household appliance, the milkshake became a household favorite at parties or just as a daily delicious treat.
This easy and versatile festive dessert, paired with chocolate-dipped red, white, and blue pretzel sticks, is destined to make a big bang on your 4th of July table.
RED, WHITE, AND BLUE MILKSHAKE
1 Cup heavy whipping cream
1 Cup white melting wafers
Red, white, and blue sprinkles
Red and blue food coloring
1 Cup whole milk
1 Pint vanilla ice cream
1 teaspoon vanilla extract
Melt white melting wafers in a small bowl microwaving at 50% power for 20-second intervals. Stir in between to prevent burning until completely melted.
Dip the rim of two glasses into the melted wafers and sprinkle with red, white, and blue sprinkles. Let it set.
Mix the remaining melted chocolate with red food coloring until it is a uniform color. Using a narrow rubber spatula, draw vertical stripes inside the glass, set aside in the fridge.
Beat heavy cream with an electric mixer until stiff peaks form. Then, add blue food coloring, and mix until uniform. Set aside.
In a blender, combine milk, ice cream, and vanilla until smooth. Pour the milkshake into the prepared glasses and top the milkshakes with blue whipped cream.
PATRIOTIC PRETZELS
Pretzel rods
5 oz. melting wafers
Red, white, and blue sprinkles
Heat 5 oz. of melting wafers for 2 minutes in the microwave at 50% power, stirring every 30 seconds, so it doesn't burn until it becomes an evenly melted, smooth liquid.
Dip one end of each pretzel stick about halfway into the chocolate and then scatter on some sprinkles.
Place the dipped pretzels upright into a short jar or glass and allow to dry.
Originally printed in the July 2021 issue of Simply Local Magazine
Never miss an issue, check out SLM's digital editions here!