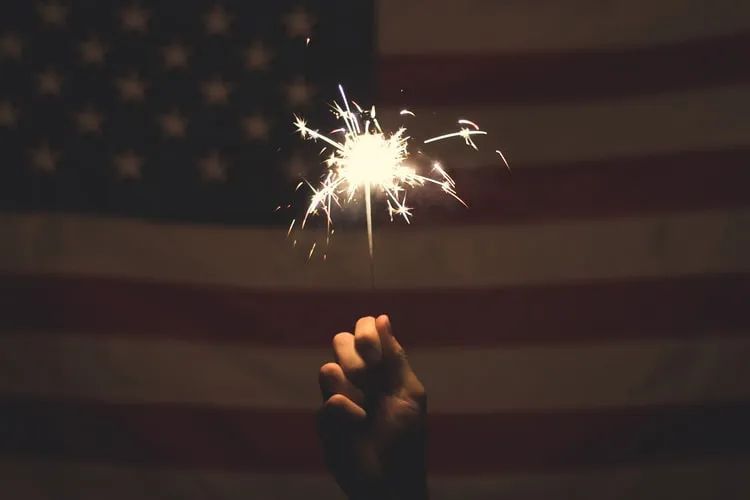 2021 4th of July Celebrations
June 10, 2021
It's incredible, the things that we took for granted pre-pandemic. Things like the ease of gathering - with our people, with total strangers - for concerts, dinners, holidays. Last year's Fourth of July was, frankly, a bit of a dud. Sure, there were still fireworks, but they were enjoyed from an even greater distance, and no parades to kickoff the day. We gathered with those we had safely determined to be a part of our bubble, but it wasn't the same. At all. So, it's AMAZING and wonderful and, dare I say, thrilling that things are looking to be well within normal range for this year's celebrations.
As we prepare to gather in celebration of our beautiful, complicated country, read on to discover what's happening in our community and beyond this Fourth of July to help round out your festivities.
CLOSE TO HOME
Laurel
Known for lighting up the night sky with the "biggest fireworks display in the state," crowds of people descend upon Laurel year after year to experience this incredible show and the fun and celebrations that come before it.
July 4 Schedule
6:30am (8-milers) / 7am (2- and 4-milers)- Sign-in for Chief Joseph Run- Begins at Thomson Park picnic shelter (East 6th Street). Register up until July 3 at https://runsignup.com/Race/MT/Laurel/ChiefJosephUphillRun
7am-11am, Laurel Jaycees Pancake Breakfast– Held at Fireman's Park, Main Street and 1st Avenue ($8/adult, $5/children ages 12 and younger, Free/children ages 6 and younger)
9am-9pm- Food & Craft Fair– Tasty eats, creative fare, activities, entertainment, and music in Thomson Park (Go here: http://www.laurelmontana.org/july-4th-celebration for updated info)
11am- The Grand Parade (theme: Proud to Be an American), the parade starts at Alder, going west on Main Street, to First Avenue, north to 8th Street, and west to 3rd Avenue.
12pm- Cornhole Tournament- On the High School lawn, sponsored by the Laurel Education Foundation.
The Main Event: Fireworks as soon as it gets dark! Sponsored by the Laurel Volunteer Firemen. Thomson Park, Laurel High School's lawn and beyond fills up quickly, so be sure to get there early to secure your spot.
BILLINGS
Celebrate Freedom Fireworks Show
It's fun for the whole family at Harvest Church's 20th year of Celebrate Freedom festivities, held this year at MetraPark's Chiesa Plaza. Attendees are welcome to bring food, drinks, coolers, and chairs. There will be live entertainment, courtesy of The Brickhouse Band and food trucks starting at 7pm on July 4. Fireworks make an explosive appearance at dark from Metra's Upper Parking Lot (no parking viewing from the upper lot).
7pm, the fun begins!
Fireworks at dark
DOWN THE ROAD
Roundup Independence Days Extravaganza (RIDE)
Hit the highway and head to Roundup for their 16th annual 3-day festival that's all about celebrating western history and national pride. A RIDE Wristband ($45/ages 12+, $5/youth, ages 6-12, Free/ages 5 and younger) does not include admission to PRCA Rodeos. Food and vendors will be at the concerts all three nights, don't forget your chairs and blankets!
Get your RIDE Wristbands at:
In Roundup: First Security Bank, Picchioni's IGA, Liquor Store #44, Roundup Skylighters;
In Billings: KGHL Radio
July 2 Schedule
Downtown
11am- Main Street Parade by the Chamber
Shooting Range (83 Golf Course Road)
1-5pm- Roundup Sportsmen's Association 3rd Annual Top Shot Competition
City Park Stage
7pm- Hotel California with Jason Larson opening
July 3 Schedule
Downtown
11am- Main Street Parade by the Chamber
City Park
12-5pm, Kids Kountry (all kinds of fun and activities for the kiddos!) & Craft Bazaar
o Booths & Food Vendors
City Park Stage
7pm- Joe Nichols, American Idol's Lauren Mascitti, hosted by KGHL's Nick Tyler
Fireworks following entertainment
July 4 Schedule
Riverwalk West Kiosk
7am- July 4th Birdwalk by Arts and Culture
Ridge Riders Arena (405 12th Ave East)
Red Lodge Home of Champions Rodeo & Parades
It's traditional 4th of July at its very finest in Red Lodge, MT. The Home of Champions Rodeo has been a part of the community for 91 years! Pull on those boots and make your way to the mountains for a "ropin' and ridin, singin' and swingin' good time!"
The Home of Champions Rodeo action runs at the Red Lodge Rodeo Grounds:
July 1 @ 6pm (PRCA Xtreme Bulls)
July 2 @ 6pm
July 3 @ 6pm
July 4 @ 3pm
For tickets or more information call 406.446.1718 or go to http://redlodgerodeo.com. Rodeo tickets can be purchased in Billings at Billings Kubota, 5548 Holiday Ave.
Parades start each day, promptly at noon. This year's theme is "Back in the Saddle Again" with 2021's Grand Marshall, Bob Thiel of Bridger, MT, a champion bronc rider in the '80s. A special group/theme is recognized with a variety of prizes awarded each day.
Parade registration starts at 10am at the Civic Center parking lot each day. The parade route will head North on Broadway to 5th Street.
Thanks to the Home of Champions Rodeo, there is still no fee for entering the Parades!
ROAD TRIP
Livingston Roundup Rodeo
Independence Day is one steeped in tradition and what better way to celebrate that than with a beloved piece of Montana's own history, the Livingston Roundup Rodeo. Nearly a century in the making, it's three days of outstanding rodeo action that sells out early, so get your tickets sooner rather than later! ($17/general admission, $28/reserved | purchase tickets online)
July 2 Schedule
3pm- Livingston Chamber of Commerce Parade (downtown Livingston)
8pm- Livingston Roundup Rodeo (Frontline Workers & First Responders Night, Fireworks) @ Park County Fairgrounds
July 3 Schedule
2pm- Kiddie Rodeo @ Parky County Fairgrounds (uses stick horses, not live animals. Autographs with the Rodeo Queen)
8pm- Livingston Roundup Rodeo (Tough Enough to Wear Pink & Ag Appreciation Night, Fireworks) @ Park County Fairgrounds
July 4 Schedule
11am- Barrel Racing Slack @ Park County Fairgrounds
8pm- Livingston Roundup Rodeo (Military Night, Crowning of Miss Livingston Roundup, Fireworks) @ Park County Fairgrounds