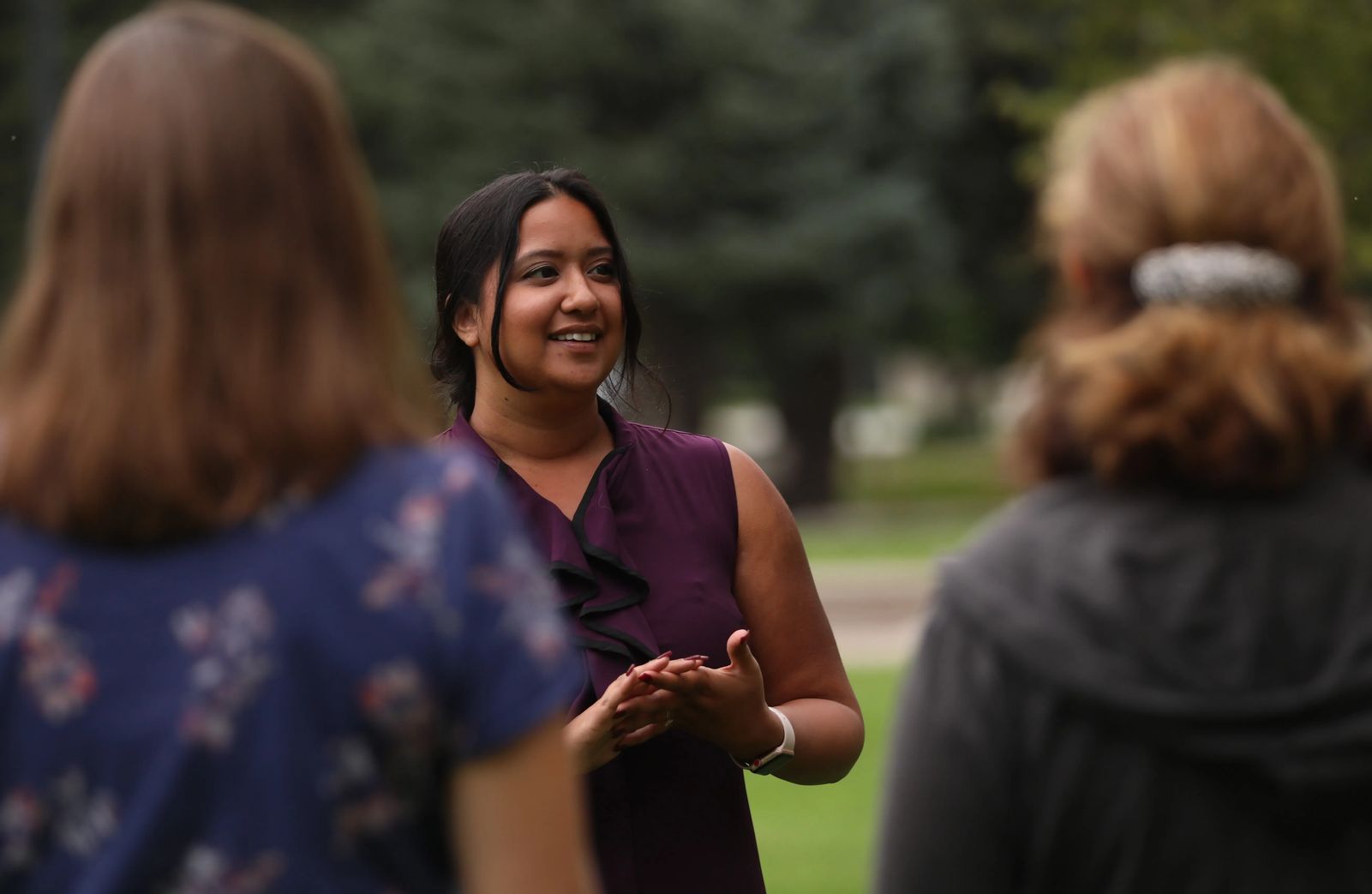 Institute Director Krystin Hussain | photo courtesy of MSU Billings
MSUB Institute for Neurodiversity to Expand Services in Eastern Montana
October 19, 2022
Grant will increase access to behavioral health services for children in Eastern and Central Montana
Update to a blog posted in May 2022: MSUB Announces Institute for Neurodiversity and Applied Behavior Analysis
Montana State University Billings' Montana Center for Inclusive Education received, for the first time, a $25,000 grant from the Montana Healthcare Foundation to support the work of MSUB's Institute for Neurodiversity & Applied Behavior Analysis. The Institute serves children in the region with mental, social, and behavioral differences associated with autism spectrum disorders, developmental disabilities, similar mental health disorders, and other behavioral disabilities by providing direct and telehealth clinical support.
The purpose of the grant is to increase connections and grow telehealth services into Central and Eastern Montana. Institute Director Krystin Hussain will travel to these areas where behavioral services for children are minimal or non-existent to establish connections with service providers, schools, and medical providers to ensure these children receive the care they need. "The main goal is to ensure that children in areas of the state where services are lacking receive the quality care they need to succeed in life," said Hussain. She adds that the Institute will be able to provide behavioral therapy services through telehealth, which will ensure children in these areas receive the same access to services as children in larger cities.
Tom Manthey, director of the Montana Center for Inclusive Education shares that there is a waitlist in Billings for children's behavioral health services and the Institute's goal with the grant is to increase access for children in Billings and in underserved areas of the state. Manthey adds that the grant will also support providing professional development for existing providers ensuring continuous tools and resources to help support Montana children with disabilities.
This summer the Institute started an in-person group to work with children ages 7-12 years old on building social skills. The group currently has five children but will grow to around twenty by next spring when MSU Billings behavioral health students can support the growth. Hussain will start working with early intervention clients this fall, which are children typically between the ages of 18 months and six years old.
About the Institute for Neurodiversity and Applied Behavioral Analysis: The mission of the Institute is to educate, advocate, support and provide accessible services for children with neurodiverse conditions, their families, educators, and community partners through compassionate, innovative evidence-based practices and research.