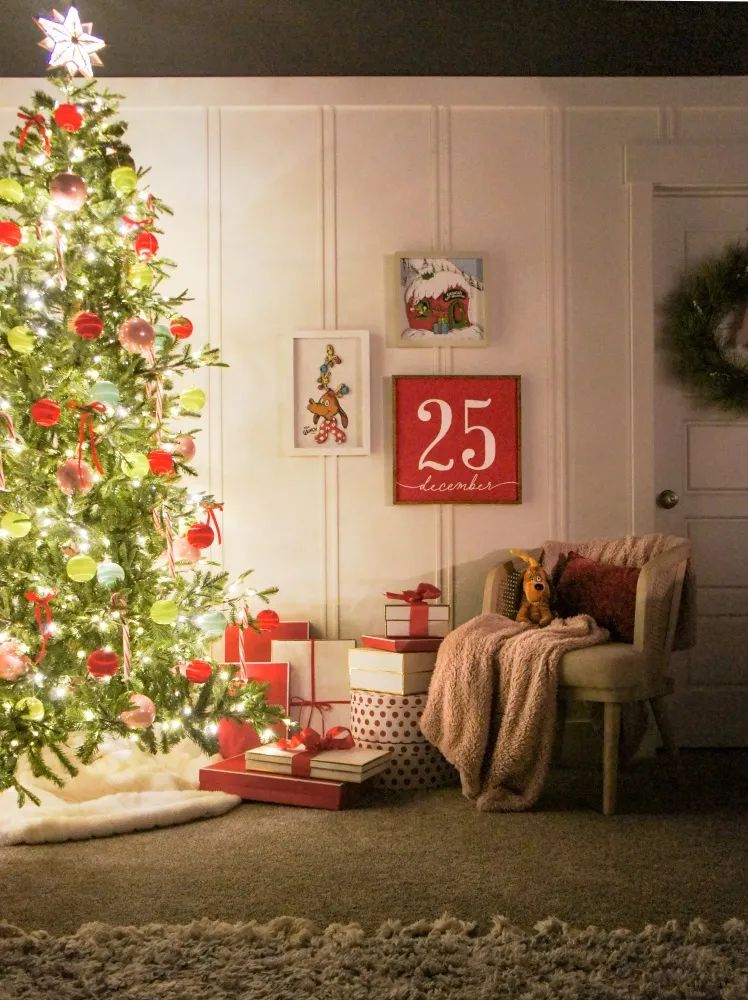 Merry Grinchmas! Bringing Whoville to Your Home
December 2022
article & photos by cassie michael
Once upon a time, a 3-year-old little boy was learning about the city and state where he lived during a lesson at preschool. When his teacher asked where he lived, he nonchalantly replied, "Whoville," and this Mama's heart grew three sizes.
Upon relocating to Billings in 2017, my husband and I were drawn to the unique community created in Josephine Crossing. "It's like building a house that automatically comes with friends," I said. "And a whole neighborhood that rallies together to spread Christmas cheer is exactly where I want to be." It was settled. We were moving to Whoville.
With great anticipation, I prepared for our first Christmas in the neighborhood, where each home is decorated to bring Dr. Seuss' Whoville to life. Whoville bakery? Check. Whoville library? Check. Dozens of Grinches on each block? Check. Check. Check. I absolutely loved the theme, but trading in my beautiful, sophisticated, neutral-colored Christmas décor for brightly colored Grinchiness was a bit more difficult than I'd like to admit. I needed a design reset
Instead of focusing on how the themed display would look, I focused on how it would feel. I pictured the excitement and magical Christmas smiles upon my children's faces. I remembered the feeling of imagination and desire to live in a place like Whoville when I watched the Jim Carrey Grinch movie as a child. I thought about the thousands of cars filled with Christmas light seekers who drive through the neighborhood each year…
Maybe Christmas, I thought, doesn't come from a (beautifully decorated) store. Maybe Christmas, perhaps, means a little bit more.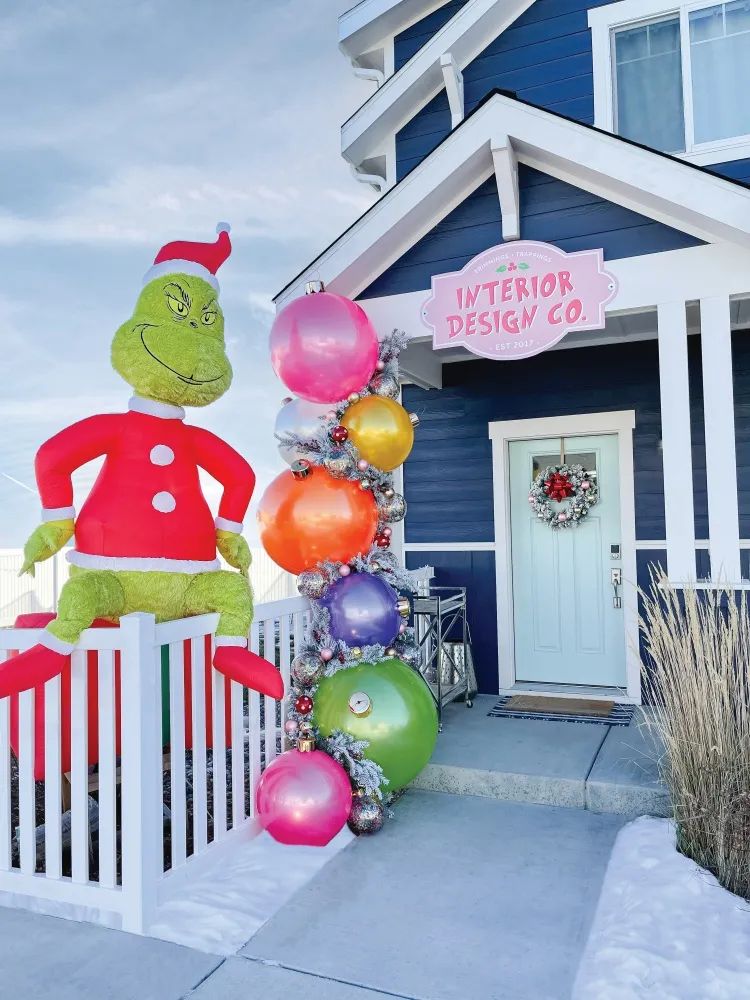 And so, the 12-foot inflatable grinch adorned with a dozen giant Holiballs and an official Whoville Interior Design sign was assembled outside. But in true designer fashion, I couldn't let the Whoville magic end at the front door, could I?
I headed straight for the brightly colored ornament aisle and decided that our upstairs living room would also have a special Whoville touch. My own desire for a fancy Christmas would be on display through the main level of our home, but the area where my kids play and watch Christmas movies was going to be decorated for them!
How to Bring a Little Whoville to Your Home
1. Start with a color palette.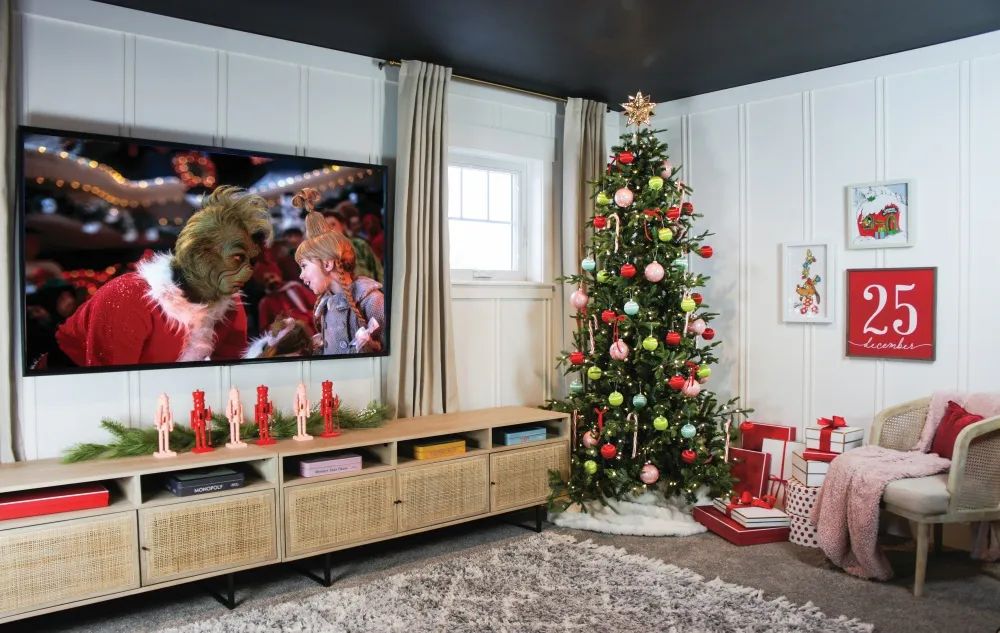 When most think of decorating around a particular holiday theme, they head to the store and buy up all the items that literally represent the theme. You don't need 17 Grinch quote signs, Cindy Lou Who ornaments, and Max the dog figurines. I repeat you can buy one sign – put the rest back. Instead, start with a color palette that reminds you of the theme. For Whoville, I chose a bright cherry red, Grinchy apple green, and a Cindy Lou Who pink.
2. Create a Focal Point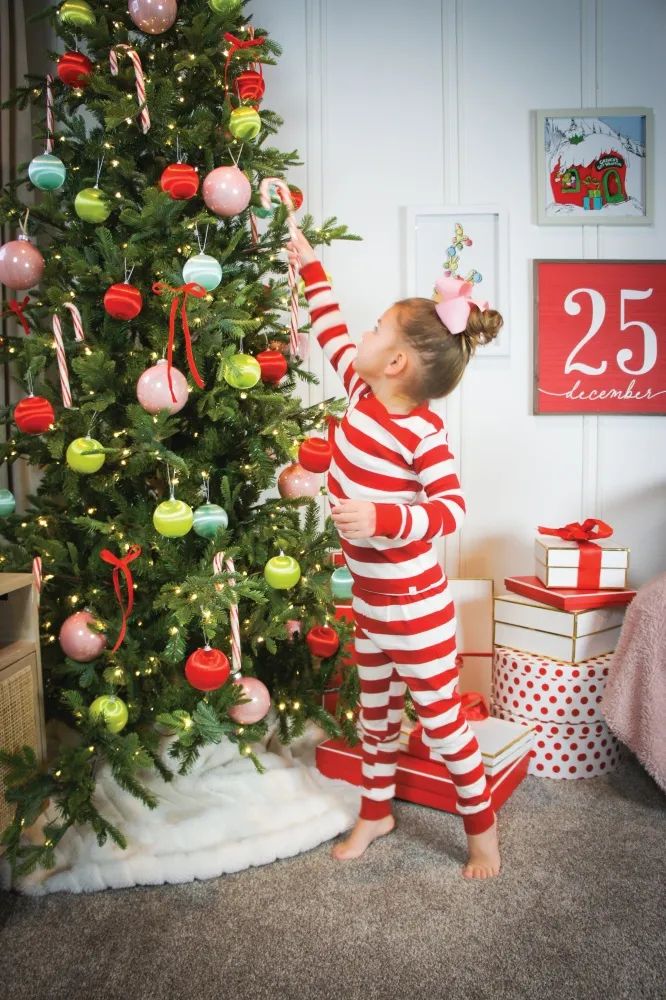 This is the easiest design principle to achieve during the holiday season, as your focal point is your Christmas tree! Your tree will automatically bring life to your space (even if it is faux) and is the perfect starting place for your themed color palette. Whoville trees are especially fun as an imperfect, more organic-shaped tree suits the theme best. In the past, I have done both real and faux trees in this space – with each, I was looking for branches with some spacing so the ornaments could really dance on the ends of the tree. I also opted for a tree with lighter color tones (think long needle pine) to bring in more Grinchy apply green.
3. Add Décor to Walls, then Tables.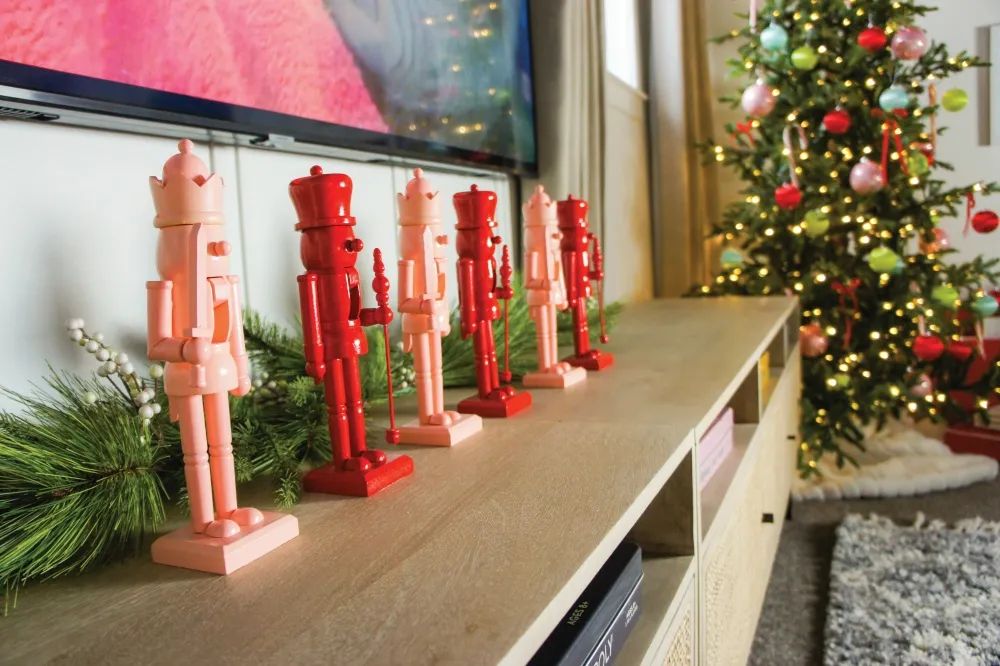 If one lived in Whoville, you better believe their wall art would be Christmas-themed. Holiday art is one of the most impactful ways to decorate without creating a ton of clutter throughout your home. Plus, it is easy to store away after the holiday season! I placed three small Christmas prints together for a gallery wall effect directly next to my Christmas tree. Wreaths draped over existing art, mirrors, or doors are another easy yet impactful way to bring Christmas cheer throughout an entire room.
After your walls look festive, it's time to add a few accents to your horizontal surfaces. Remember, these are functional tabletops in your home, and that's why we decorate them last. A few accents of color and texture on these areas are all you need to tie the entire space together while still being able to use it daily!
Sturdy gift boxes wrapped with bows are a great décor item that serve multiple purposes! I slowly fill them with real gifts and wrapping paper as I buy presents throughout the season. I then store ornaments and décor in them after the holidays are over. Lastly, a few bottle brush trees, monochromatic nutcrackers, and a bowl of extra ornaments are all I needed to complete my Whoville living room (I told you we didn't need 17 quote signs).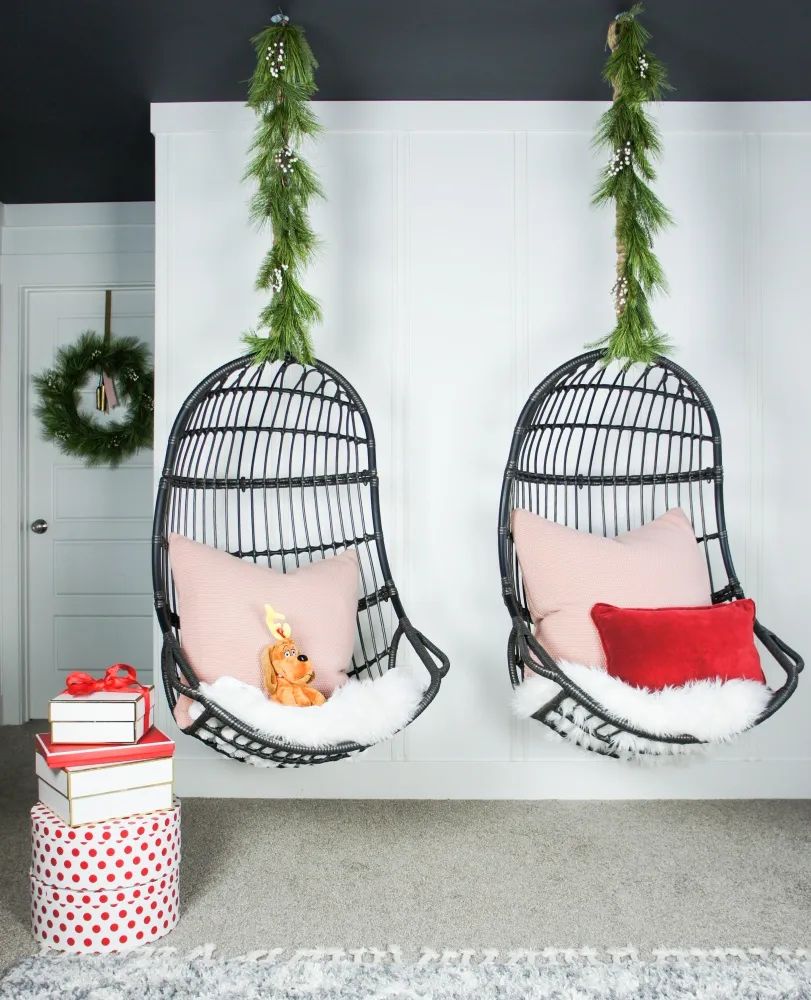 Everything is perfectly placed and decorated but don't forget to actually enjoy all of your hard work. Curl up with a fuzzy blanket and popcorn for a Grinch movie marathon. Keep your favorite Dr. Seuss books within reach for easy reads. Turn up the tunes for an impromptu Christmas dance session. Play cards next to the Christmas tree. Fall asleep on the sofa to the soft glow of twinkling Christmas lights…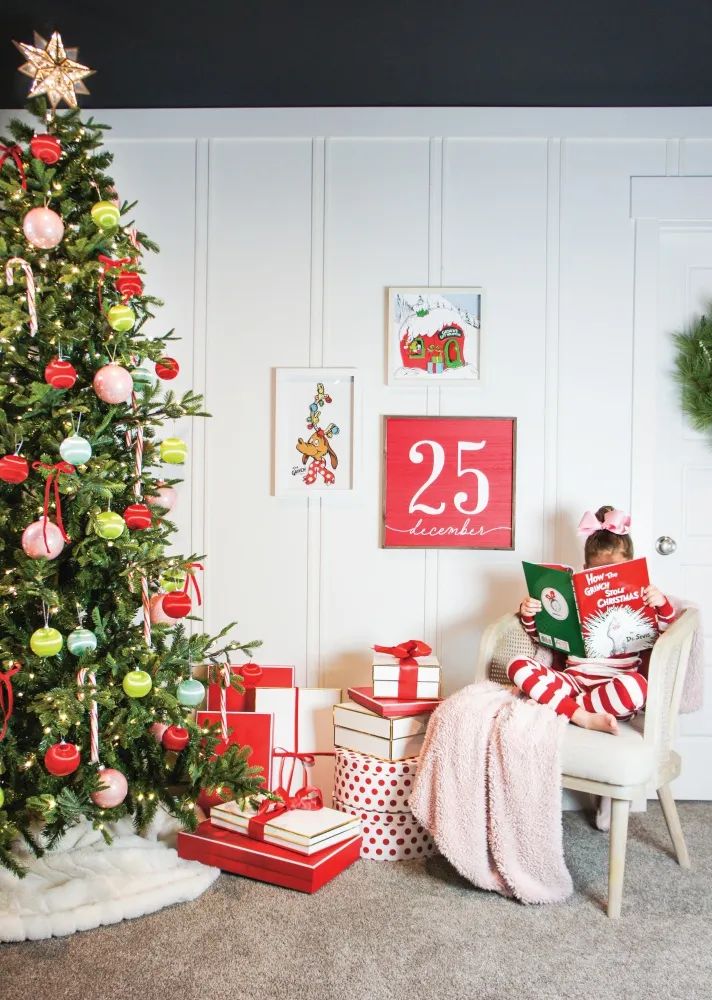 Wishing you all a very Merry Grinchmas!
Originally printed in the December 2022 issue of Simply Local Magazine
Never miss an issue, check out SLM's digital editions here!