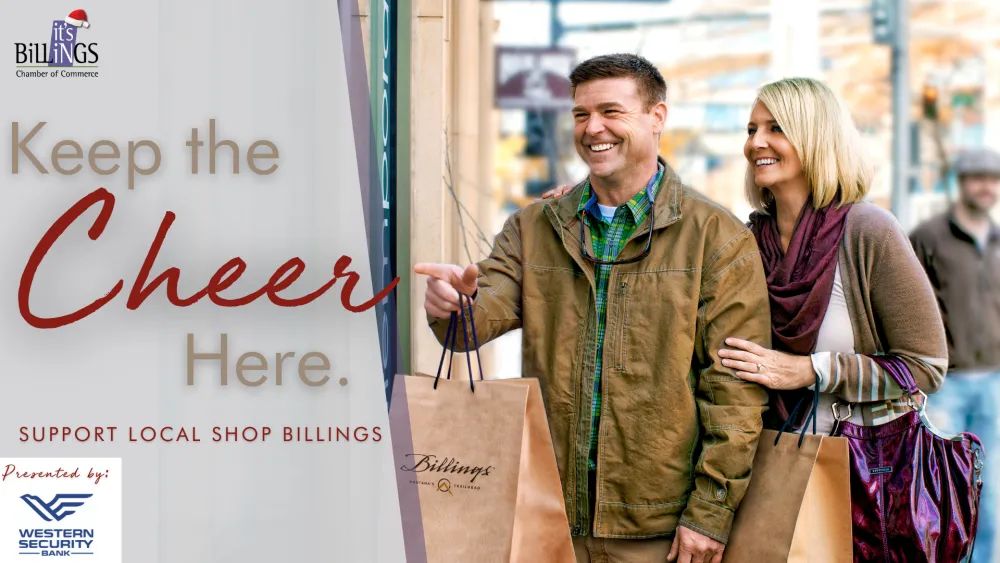 Keep the Cheer Here: Support Local and Shop Billings
November 2021
by Alyssa Voeltz, Member Experience Manager
Small businesses are vital to the economy. In the United States, they create roughly 1.5 million jobs for nearly 31.7 million businesses. In Billings, small businesses make up over 8,200 businesses. They help to define Billings and attract visitors and new residents alike.
There are so many ways to support small businesses, and while it's always been important, over the past 18 months, we've seen just how crucial it really is. Therefore, the Chamber continues to create opportunities for the community to rally behind local businesses.
Keep the Cheer Here is a week-long campaign focused on promoting, educating, and encouraging consumers to do their holiday shopping at their favorite local business. It could even include a company rewarding employees and staff with gift cards to different local eateries or shops. The possibilities are endless. The Keep the Cheer Here campaign includes a social media contest, shop small tour, and even a gameboard to complete to win prizes. We are grateful for Western Security Bank's support of this important campaign.
Supporting local isn't just for the holidays. When you support small businesses, you are cultivating a thriving economy. According to CDC Small Business Finance, here are some ways you, your family, and your business can support local all year round!
Get Digital
Tag a friend on their post.
Share, repost, and retweet.
Write a good review.
Post a picture with a shout-out.
Sign up for newsletters.
Shop Local
Tip generously.
Buy gift cards for later.
Consider shopping small over big box and Amazon.
Order takeout or delivery.
Cater in a lunch for you and your employees.
Buy merchandise.
Shop now for later.
Be Caring
Show your appreciation.
Check-in with small business owners and employees.
Refer your family and friends.
Commit to doing one small thing each week for small businesses.
These are surprisingly simple ways to show your local support. We encourage you to choose local because we know we are stronger together and can rally for Billings' small businesses. Our community would not be the same without them.
Shop local. Eat local. Spend local. Enjoy local. Do something BIG: Shop Small.
Originally printed in the November 2021 issue of Simply Local Magazine
Never miss an issue, check out SLM's digital editions here!