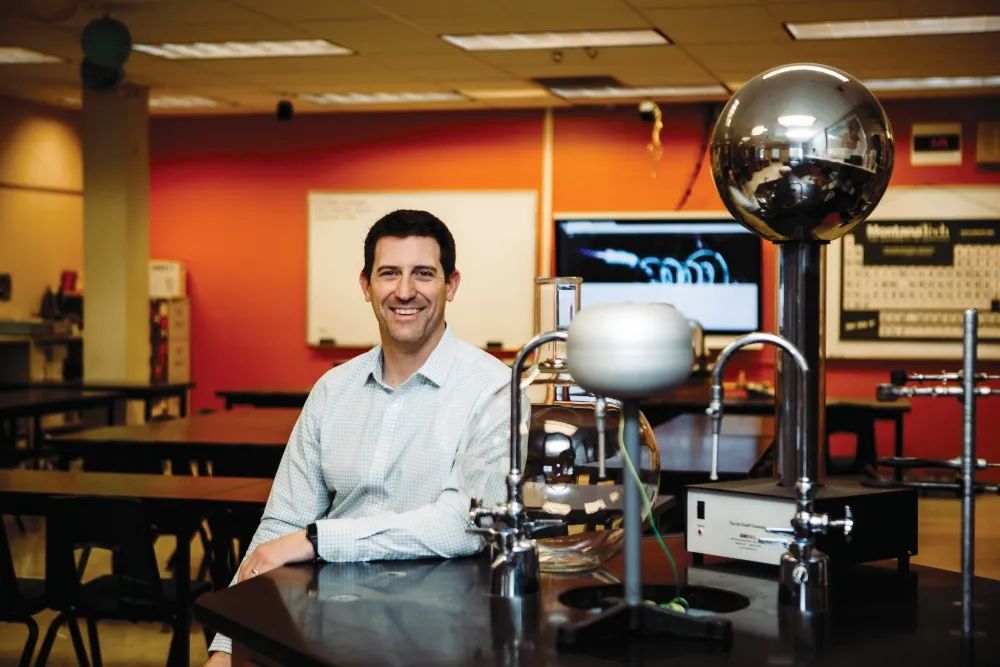 Keep on Learning
April 2022
by stephanie hobby | photos by arianna skoog
The tagline "Keep on Learning" drives everything that prolific science educator Craig Beals does. He's the owner of the popular YouTube channel, Beals Science, which features wacky science experiments - think exploding five-pound gummy bears or building a bowling ball cannon from scrapyard parts - that will have you laughing - and learning - as you click through his over-the-top fun demonstrations. You'll wish your high school science classes were as awesome as this.
And for a lucky group growing up in Billings, Montana, that's a reality. Since 2005, Beals has taught earth science, biology, and chemistry at Billings Senior High School. His passion for educating led to him being named the 2015 Montana Teacher of the Year, which has only broadened his educational outreach.
Today, the Beals Science YouTube channel has more than 27,000 subscribers and has attracted the attention of prominent television producers. In 2014, the History Channel called, looking for someone to host Secret Earth: Yellowstone Supervolcano. Beals' ability to explain challenging scientific concepts while entertaining and engaging an audience made him a natural fit.
Sitting in his classroom after all his students have gone home, Beals explained, "I end every video with my whole rationale, which is keep on learning. For me, growing older, that has been the one thing that keeps me excited. The more you learn, the more you realize there's more to learn!"
That curiosity has taken him all over the world. In 2008, he was selected out of 700 applicants to be part of an atmospheric research team at the top of the Greenland ice sheet for six weeks, which he says was a transformative experience. That prompted him to apply to a master's program at Miami University in Ohio, where he researched human and predator interactions worldwide and compared them with what was happening in Yellowstone National Park. After that, he journeyed to Namibia in Africa to study cheetahs, Mongolia to explore predators' changing habitats, and then to Borneo, where there are no longer apex predators, to study creative solutions for human and wildlife conflicts. "I spent three summers intensively over two years while I was teaching, in these remote places, just digging into the dirt and loving every minute of it," he said.
Ever the educator, Beals is always on the lookout for ways to share his passion for science.
Around 2010, a friend and fellow educator put his lectures on YouTube to keep students who missed class from falling behind. Beals immediately saw the benefit, and Beals Science was born. He recorded lectures but felt he could take them further. So Beals started videoing his demonstrations, which attracted a larger audience. When he was recognized as Teacher of the Year, he met hundreds of other teachers, who were all asking him similar questions to mimic his methods in their classrooms. Which led to the making of videos demonstrating the how-to behind the experiments.
"After I made a few, I really liked it," he said. "I started with a lot of the things we do in class, partially because I wanted people outside of these walls to see what kids are doing," he said, adding that students have always been notoriously quiet about what they do at school all day.
Beals' students are doing some very impressive work. His honors students are responsible for independent study projects. For example, they've been monitoring radon levels in Billings for the past six years. Now equipped with six years of data, they are in the process of determining what to do to help mitigate the astronomical radon levels in the area. Beals hopes that in the future, the school's STEM society could have radon monitors available for people to come and check out, to easily determine whether radon is an issue for their home, and eventually build maps to show radon levels in the area. "It's really good because it's brought science home, and I'm excited for the impact students can have," Beals said.
He and his wife, Christi, the chief nursing officer at Rimrock Foundation, are both from Billings and attended Skyview High School. Beals says the Billings community is unique in how it invests in students. "I am so fortunate to be back here, in Billings, and to be able to stay in Montana," he said, emphasizing that the generosity of organizations and individuals is what makes his outreach possible. "This is a great place. We've got amazing schools, and we've got educators that are working as hard as anybody anywhere. And we've got a really supportive community. We really do."
If you'd like to see more of Beals' work, visit https://www.bealsscience.com, where you'll find a wealth of lesson plans, science experiments, and of course, his videos.
Originally printed in the April 2022 issue of Simply Local Magazine
Never miss an issue, check out SLM's digital editions here!