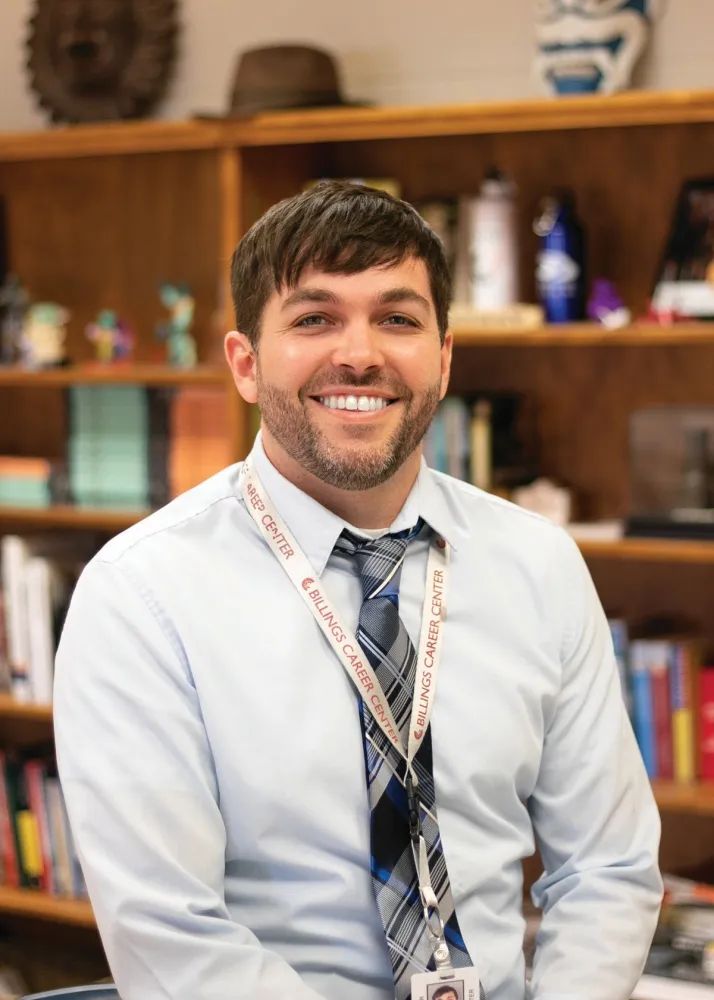 Dave Jones, Social Studies teacher at Billings Career Center
High School History with a College Spin: Dual Credit with Mr. Jones
January 2022
by katie jones backer | photos by Jennifer Lohof (Career Center Photography teacher)
Mr. Dave Jones, a Social Studies teacher of four years at the Billings Career Center, has taught Government, U.S. History, World History, Psychology, and leads the only SD2 Dual Credit U.S. History class. With his experience building a course from the ground up, he shared what kind of education the students are receiving, how he teaches a college class to teenagers, the workload involved, and why history matters.
Ever the intellectual, Mr. Jones dreamed of teaching college-level content. So, when his administrators approached him about Dual Credit, he jumped on the opportunity, saying it felt like a natural fit. "With Dual Credit, students receive high school AND college credit at the same time. Students earn three college-credits in American History each semester of this course, which will assist them in completing some of their General Education requirements before they even go to college." Students - while still in high school - can earn college credits! Think of both the time and financial savings. Beyond that, it is an excellent introduction to the college pace and workload. Jones explained, "The main difference in a Dual Credit course is the expectation and workload for students. They are responsible for reading the text on their own time," so they can come prepared to discuss and dig into the content.
"My class is designed in a way that the work should facilitate a productive learning experience. We focus on key terms and responding to the reading. As they write their six response papers (throughout each semester) students are asked to focus on a portion of the text and respond to a question about it. Students in this way are not only doing the reading but engaging with it."
Thinking back to my time as a college History student, I wondered aloud if I would've been capable of this in high school. Jones agreed, admitting, "Although the class is being taught at a college level, we are still dealing with 16- and 17-year-olds that need to acclimate to this level of study. [As with any class, they ease into this type of learning and progress throughout the year.] Developing beneficial study habits and teaching students how to learn for themselves is one of the main goals of the class."
Jones went on to describe his class:
Our yearly study is from pre-colonial America-modern day. Each week we look at four-five primary sources that give us a better look at history through the voices of people that were actually there. This is where I believe history is most effective. We learn the context of the period of time and then try to understand the experience of all Americans. These primary sources lead to great discussions in class and allow students to determine what the motivations and key points of the writer were. History is not just a bunch of events and dates that unfolded that we need to memorize. History is a collection of individual stories that should be heard and discussed.
This program isn't for everyone, though, and that is okay. This is a fabulous way to earn dual credits for college-bound students who can handle and desire the higher-level content and have time to complete reading and writing outside of class.
"One of the greatest aspects is watching students improve academically. Throughout the semester students write papers…. And as the semester goes on, students improve in their writing and analysis substantially." Mr. Jones continued, "It's amazing to see the progression of their ability to engage with the content."
As the only Dual Credit U.S. History teacher, Jones gets students from all over town. And his fun, singing/guitar-playing, movie-quoting, positive personality is infectious. As his reputation spreads, more students choose to try out his class. I asked him what it is like to create a course like this. "Building any class from the ground up can be a daunting task. Fortunately, I have had a great deal of support from my administration and colleagues at the Career Center as well as the MSUB History Department." Of the entire experience, Jones seemed extremely happy in his role as Dual Credit instructor and a big fan of kids. He's very proud of what they're creating.
And U.S. History isn't the only Dual Credit class. If you're interested in learning more, contact your building counselor to see what courses are offered (at the high school level).
Visit:
Dual Credit - Billings Public Schools (billingsschools.org)
Dual Enrollment - MSU Billings | MSU Billings
Mr. Jones is nearing the second semester. In just a few more blinks, his students will have survived their first Dual Credit class, and soon after that, they'll head off to college with a few credits already under their belts. And as they say, "the rest is history!"
Originally printed in the January 2022 issue of Simply Local Magazine
Never miss an issue, check out SLM's digital editions here!