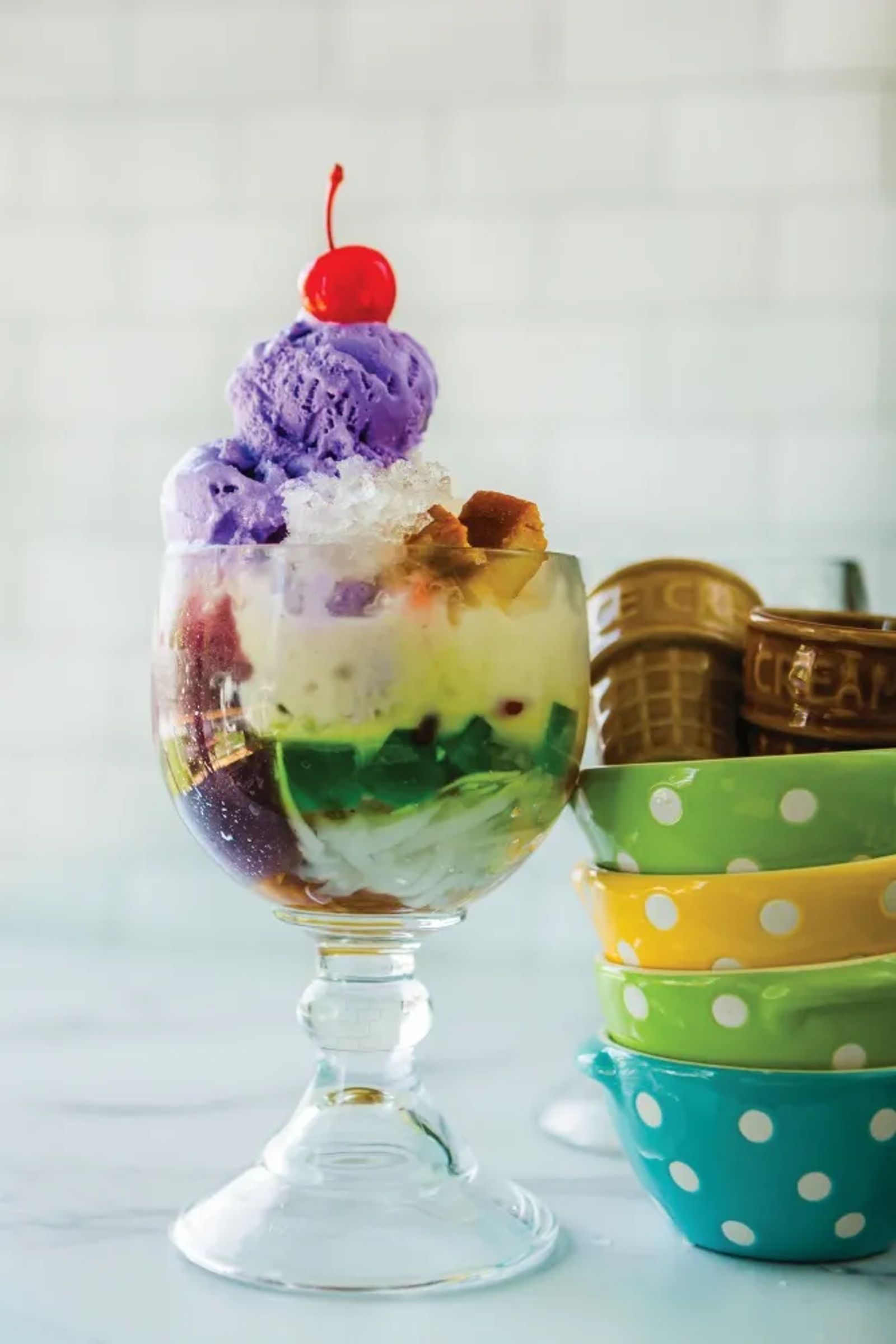 Halo-Halo: A Celebration of Ice
August 2021
article & photos by lovely hitchcock
Filipino food is generally ignored in the general media despite Filipino culture recently permeating much of the U.S. However, if you've spent some time hanging around with a Filipino or two, there is no doubt that you've heard of Halo-Halo. Not familiar with this dish? Allow me to introduce you; this is not your average summer shaved-ice treat. Halo-Halo is a celebration of ice!
As an avid fan of the late, globetrotting celebrity chef Anthony Bourdain, I was delighted when he tried Halo-Halo for the first time. "Dig deep and you hit delicious stratas of red beans, white beans, and chickpeas, cubes of red and green jello, young white coconut, shaved ice, and is that flan? It makes no [damn] sense at all. I love it!"
He described it perfectly. Halo-Halo is a year-round treat in The Philippines. Filipinos are incredibly proud of their food, but Halo-Halo is underrepresented. Luckily, social media and the growth of Asian stores across small-town America are changing that. With a bit of searching for key ingredients, we can now experience this mind-bending island treat almost anytime and anywhere.
Traditional Halo-Halo includes:
Shaved ice: Crunchy or finely shaved ice works!
Evaporated milk: This adds both sweetness and a creamy consistency.
Ube (or purple yams): A spoonful or two of purple yams is important to halo-halo.
Sweet Beans: To those who are not familiar with halo-halo, this ingredient might seem a bit odd, but sweetened beans (red beans or mung beans) create a chewy texture.
Coconut: Strings of shredded young coconut and coconut gelatin.
Jackfruit: This popular Asian fruit not only gives Halo-Halo a fun color but adds to the colorful layering and visual enjoyment.
Flan: Perhaps my favorite ingredient though not all versions of Halo-Halo have it.
Sugar: Sprinkle in just a bit to add a bit more sweetness.
A Generous Scoop of Ube: Top those layers of "wow" with a scoop (or two) of ube ice cream. You can also substitute your favorite ice cream.
Halo-Halo is traditionally served on a footed dessert glass, dessert bowls/cups, or a regular drinking glass (in a pinch).
The best part of this popular treat is that there's no specific amount or measurement of ingredients. You can pick and choose your ingredients, and include new and exciting choices. Whatever you decide to include, be sure to layer each ingredient according to taste until the cup/bowl is about ¾ full. Then top with shaved ice and a heaping scoop of ice cream. Serve immediately.
To eat, mix all the ingredients with a spoon and then dig in. Once you have eaten all the goodies, you are left with a creamy and milky liquid that will fill your mouth with a closing mixture of pleasing flavors.
Unsure of what ingredients to add? You can find Halo-Halo mix in a jar. Just add shaved ice, ice cream, and evaporated milk. A few local places sell ingredients and mix for Halo-Halo including:
Isabela Asian Market - 1005 24th St. West
Amaya Oriental Store - 520 Wicks Lane
Noodle House - 2325 Central Avenue (they offer authentic Filipino flan)
If you prefer to enjoy Halo-Halo already prepared for you, Mia's Wok - 3012 4th Avenue North is a great place to enjoy it!
Originally printed in the August 2021 issue of Simply Local Magazine
Never miss an issue, check out SLM's digital editions here!