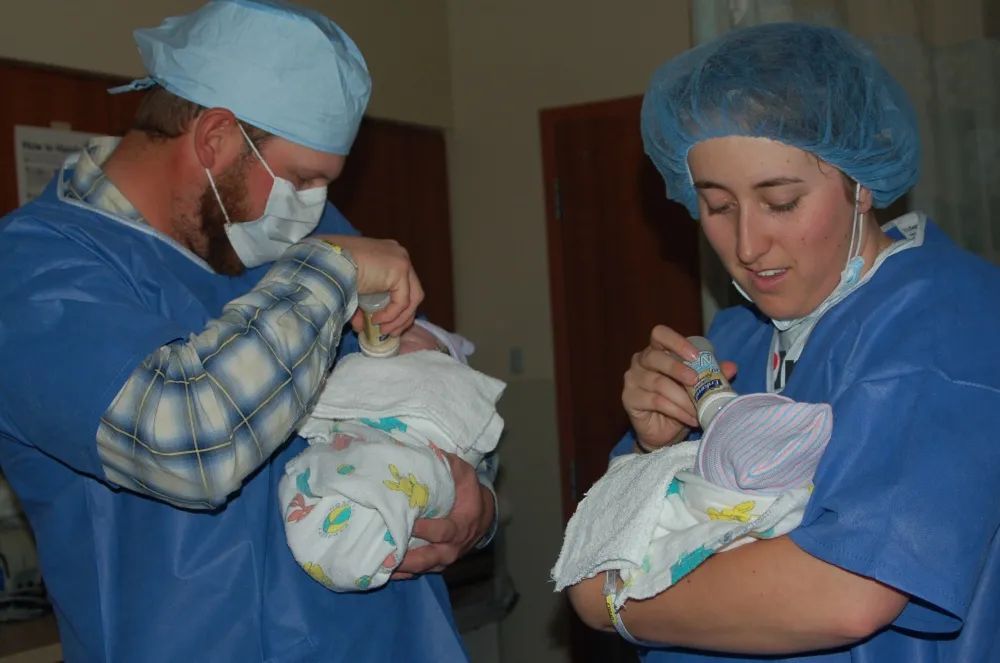 Ben & Carolyn feeding their twins
Gestational Surrogacy: The Intended Parents' Perspective
June 1, 2022
My name is Ben Jensen, and along with my wife Carolyn, we tell our surrogacy story below:
In 2012, after two years of marriage, we decided to think about having children. Carolyn has a relatively rare blood disorder, so we consulted a fertility doctor in Boston who had some expertise on people with blood disorders having kids. Ultimately, we remember him saying that even though he usually doesn't tell anyone unequivocally not to try to have kids because of their condition, he did think that in this case the extreme risks to both Carolyn and the baby would be too great, and we should think about exploring other options.
We first considered adoption, but were wary of some of the pitfalls around some adoption agencies and we really wanted to try to have children who are biologically our own. We didn't know much about how surrogacy worked, so we did some research that allowed us to dispel a few common myths (like the extremely rare situation where a surrogate decides to try to keep the baby), we decided that surrogacy might be a great choice for us. We were extremely privileged to be in the situation to have financial help from family to help defray the costs of the process, which in my opinion, are quite low when you consider you are compensating an individual for growing, carrying, and birthing babies (two, in our case!).
We worked with a surrogacy agency in L.A. with a good reputation to link us up with a surrogate. After our initial visit, we were convinced that we would have to try to make it work with a surrogate from Colorado or Minnesota or even California because the agency told us there weren't any they worked with in Montana. However, after a few days, the agency called us and said they had a surrogate not far from us where we used to live in Montana, but she had gone through the process multiple times before and that she might not want to do it again. The agency called Kaci, and she agreed to meet us for lunch in Billings, so off we went.
We were totally blown away meeting Kaci and her husband Dan. They were so kind, funny, friendly, and incredibly knowledgeable about the surrogacy process – actually much more knowledgeable than anyone we talked to at the agency in LA. After our first meeting, Kaci indicated that she would like to be our surrogate and we were just shocked at our luck to find this amazing person so close to us. We were even more shocked to learn that Kaci had four of her own children along with having carried two sets of twins and one singleton baby as a gestational surrogate. She said that she had a passion for helping people through surrogacy and that she had pretty easy pregnancies, so she was able to help a lot of people!
We got the ball rolling with the agency in L.A. and Carolyn went down there to have her eggs harvested, then Kaci met us there for the procedure to implant the fertilized embryos. We agreed to implant two embryos on the advice of the fertility doctor, who said putting in two would increase the chances of having a single viable pregnancy. We clearly remember Kaci telling him that if we put two in, we would definitely have twins, and of course, she was right. So, Kaci carried her third set of twins for us as her last engagement as a surrogate. Our kids were her 9th and 10th babies! We are still in absolute awe over this!
We met Kaci and her wonderful doctor in Billings for regular ultrasounds, and everything progressed well. She was cheerful and in good humor without fault every time we went to see her. Her wonderful family was so supportive of both her and us throughout the entire process. We are resolute in saying the Moore family are some of the finest people we have ever met in this world.
The girls came via c-section just a couple days before their projected due date, and things went well. Even though Kaci was basically at the point of total exhaustion in the few hours of waiting before the birth, she was so strong and positive that she actually kept us from totally freaking out.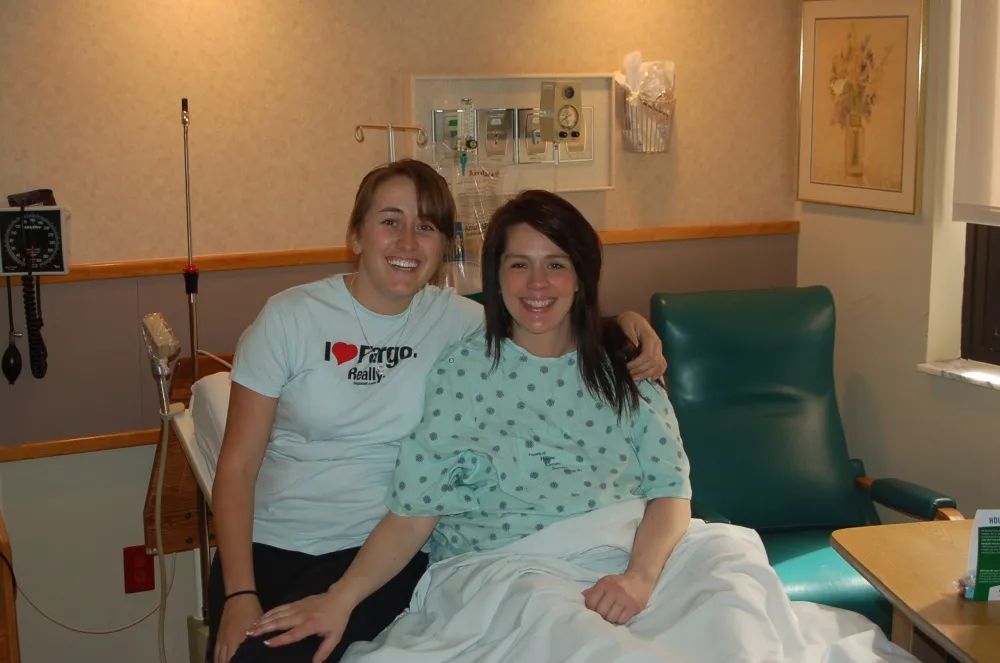 Carolyn Jensen & Kaci Moore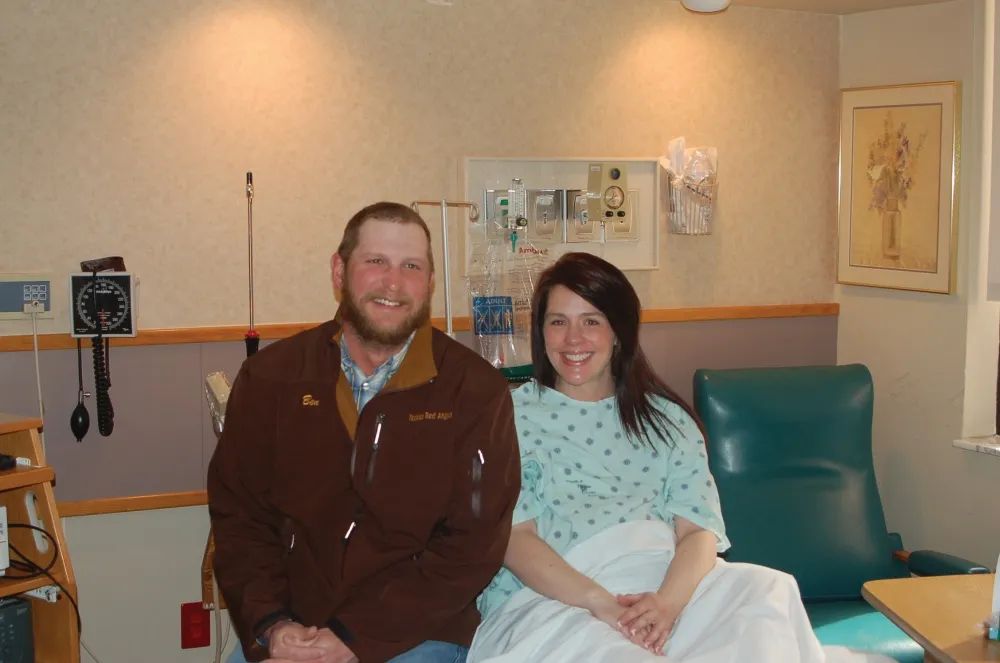 It was such a special time to have our families there, and to have Kaci, Dan, and her children hold our babies and share in the miracle that Kaci had performed yet again. I remember telling a nurse at the hospital that there should be a plaque or a shrine or something to Kaci Moore in this building for all the good she has done for people over the years – the nurse wholeheartedly agreed!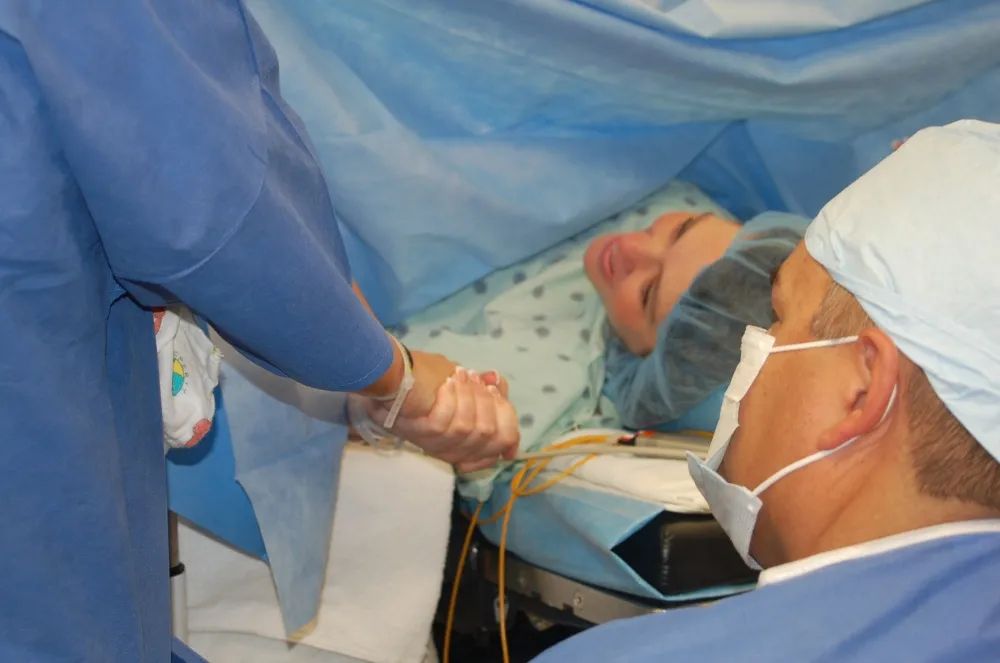 Delivery room
Each time we have met with Kaci and her family after our surrogacy adventure has been joyful and so, so much fun. Kaci simply shines with vitality, youthfulness, beauty, and love; and frankly, it is hard to fathom the fact that she has carried 10 babies, raised four amazing kids, worked full-time jobs, started her own business, and became a premier surrogacy consultant. She is truly an amazing human being beyond words.
We have kept in regular contact with Kaci and the Moore family over the years, and our twins have always known exactly who she is and what she did for all of us right from the beginning. We cannot put into words or overstate the gratefulness and joy Kaci brought us with her selflessness, courage, strength, and love; things she continues to bring to us when we have the chance to meet in person or talk on the phone. We hope that as many people as possible will hear about Kaci and her absolutely superhuman ability to help so many different people bring children into the world. We also hope that as many people as possible will hear about the incredible world of surrogacy and appreciate the many amazing women who have helped people have children of their own.