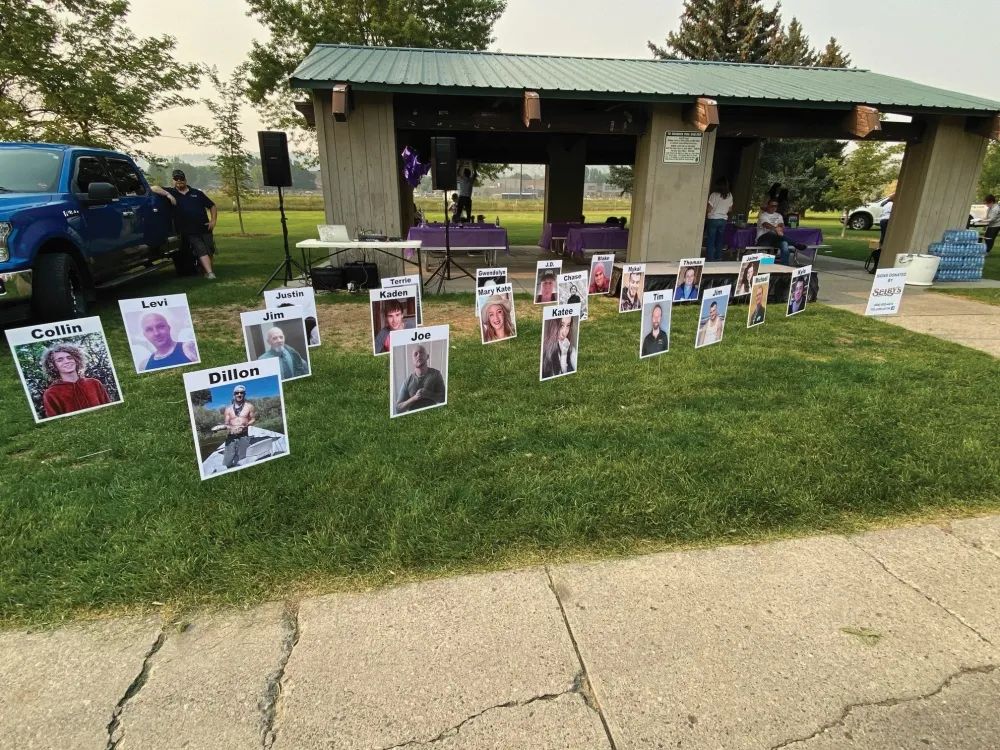 Fighting the Shame and Stigma of Death by Overdose
August 2022
Three days after interviewing the brave women I spoke with for this article, a KTVQ news alert crossed my inbox: "Eight fentanyl overdose deaths were reported in Montana between May 22 and June 1, including one in Yellowstone County." Eight. In 10 days. Overdose is real, it's stigmatized, and it's preventable. Awareness for this cause of death is critical.
I walked into Rock Creek Coffee Roasters in downtown Billings to interview Carol Keenan and Kim Edinger, the women organizing the 3rd Annual Overdose Awareness Day in Billings on August 31. I had not met Carol or Kim before, so I ordered my coffee and went to sit down when I noticed a woman trying to catch my eye. 
Why the background? Because these courageous women don't stand out. They don't have a "look" or any way to know they've both tragically lost children to overdose. They've battled trauma, PTSD, shame, and stigma, all while grieving their precious children.
International Overdose Awareness Day
Creating a safe space to grieve is what brought Carol and Kim together. Their tender stories include tragedy: Carol lost her 22-year-old daughter in November of 2016. She had been in treatment for 15 months and overdosed while in sober living. Kim's son passed away in July of 2017 also due to overdose. Losing their children was the unfortunate link that encouraged a mutual friend to connect them.
In 2019, Carol and her husband attended International Overdose Awareness Day in Salt Lake City, and the camaraderie offered by the event inspired Carol to find a way to bring it to Billings. "I called Kim in January of 2020 and asked her to co-chair the effort, and she agreed immediately," she remembers.
"It's not a thing we love to do. It's a really hard thing to do. It takes everything out of us," adds Kim. "To meet people who have been through what we've been through is emotionally draining for all involved, but also so important to us."
International Overdose Awareness Day was started in 2001 by Sally J. Finn in St. Kilda, Melbourne, Australia. The event spread worldwide, allowing organizations and individuals to hold events raising awareness and commemorating those lost to drug overdose.
According to www.overdoseday.com, "International Overdose Awareness Day is the world's largest annual campaign to end overdose, remember without stigma those who have died and acknowledge the grief of the family and friends left behind."
Despite COVID-19 restrictions, Carol and Kim's first event was held outdoors and drew more than 100 people, safely distanced. The second event took place in 2021 and saw support from Rimrock and the Mental Health Center. The duo will hold their third annual event on August 31, 2022, in Rose Park.
"Kim and I have to remember what our focus and purpose is," explains Carol. "Of course we want prevention, and we want to celebrate those in recovery, but for this event, we focus on people who have lost someone. We help to dissolve the shame and create relationships. Overdose is a different kind of death, like suicide can be. There's a stigma."
"Overdose is such a huge issue that we could easily lose focus," adds Kim. "Our goal is to help people feel less alone. We create a community for those who have lost someone."
What to Expect
The event is open to anyone affected by or interested in learning about overdose. The community is invited to attend, hear the stories of loved ones lost, learn about prevention, and support those who are grieving.
The event also includes a moment of silence and prayer, as well as a memory walk. "Family members, law enforcement, and friends speak about loss. This year those who choose to participate will bring photos of their loved one and share stories of who they were as a person, beyond the addiction," explains Carol.
"We're asking people to share three things that defined that person," continues Kim. "The general population thinks addicts are sloppy, derelict people with bad families. That's just not the case. We cared for our kids; we were strong, active parents. Our kids were great kids. There was so much more to them, and we want others to be able to share those stories, too."
The Journey
Overdose death isn't often discussed, but the occurrence continues to grow. Both Carol and Kim note that they are members of a club they never wanted to join and no one really wants to talk about. They also note that they see all walks of life on the same journey.
The death of any child is horrible, and both Kim and Carol observe that overdose seems particularly lonely, shameful, and stigmatizing. Families endure incredible trauma through the path of addiction, and support is difficult to obtain. "You're watching your kids slip away, screaming at the top of your lungs, but you can't stop it," says Kim.
How to Help
If you'd like to attend the event or donate to help Carol and Kim host the event, you can purchase t-shirts and learn more on Facebook. Here you can also share photos and stories as well as find others who have lost a loved one to overdose.
International Overdose Awareness Day
August 31, 2022, | Rose Park Shelter
5:30pm Food Trucks | 6:30pm Program Begins
The goals of International Overdose Awareness Day are:
To provide an opportunity for people to publicly mourn loved ones in a safe environment, some for the first time without feeling guilt or shame.
To include the greatest number of people in International Overdose Awareness Day events and encourage non-denominational involvement.
To give community members information about the issue of fatal and non-fatal overdose.
To send a strong message to current and former people who use drugs that they are valued.
To stimulate discussion about overdose prevention and drug policy.
To provide basic information on the range of support services that are available.
To prevent and reduce drug-related harm by supporting evidence-based policy and practice.
To inform people around the world about the risk of overdose.
Originally printed in the August 2022 issue of Simply Local Magazine
Never miss an issue, check out SLM's digital editions here!