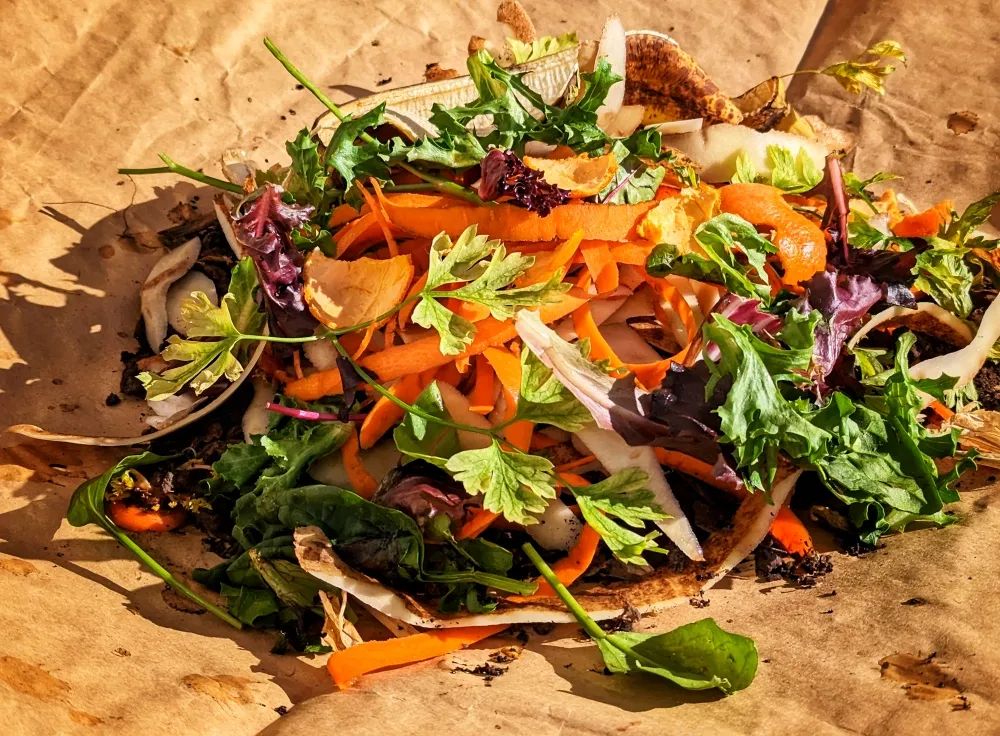 Fighting Food Waste
January 2023
article & photos by renata haidle
We've all noticed that food prices have increased significantly in the last couple of years. With that in mind, you probably wouldn't believe me if I told you there is a simple and guaranteed way to save money on food: waste less.
When it comes to wasted food, the statistics are staggering. In the United States, food waste is estimated at 30-40 percent of the food supply. Worldwide, the numbers are even more shocking. An estimated 1.4 billion tons of food is thrown away every year. The US ranks highest, with 40 million tons (or 80 billion pounds of food) discarded yearly. To bring things to a more personal level, your share of wasted food is estimated at 219 pounds each year. That hurts.
So, where is the food waste coming from, and what can we do to reduce it?
Before the food gets to us, waste can occur at various stages of production and supply chain with spoilage happening because of:
Improper storage and transportation due to temperature variation
Bacteria and mold
Insects and rodents
Lengthy storage that results in natural decay
While it's up to the suppliers to figure out effective ways to reduce this type of waste, it's on us to do better once food crosses our threshold. Most household food waste occurs from shopping and cooking too much and throwing away excess.
To gather some insight on making changes, we turned to the experts who deal with food daily in our community. A chef, a restaurant owner, a cake designer, and a food business owner offer advice on how to keep eating well, reduce individual food waste, and save money.
Expert Tips:
Buy less, shop more often
"Since our family has gotten smaller, I've leaned more into a form of 'just in time' purchasing groceries for home. Lots of successful restaurants buy fresh produce and meats just in time to use them, ensuring fresher food and less waste. It's tempting to buy big amounts of produce or dairy at big box stores, but I believe they create a lot of waste if you don't have a very intentional use for them. I prefer the European way of grocery shopping, buying enough food just for a day or two." - Chef Lisa Rembold, Seconde Fresh Pasta
Repurpose leftovers
"Food waste is a personal vexation of mine and something that most households experience far too often. It is a challenge to plan your meals, then shop and cook according to that plan. One trick that I rely on heavily is repurposing leftovers into something new, like pizza or soup. Those are both easy ways to get creative while using up extra items in the fridge, especially when there aren't enough items to make another big meal. This same concept applies to using your leftovers to make a hearty soup. Storing boxes of broth in the pantry comes in very handy for this. You can throw all of your leftovers in a pot with some broth and add some extra veggies or rice for a well-rounded soup or stew." - Teri Haddick, Get Baked!
Compost food scraps
"Most of our food waste can be attributed to our juicer. The juicing process extracts most of the juice from a fruit or vegetable and leaves behind a mostly-dry waste of skins, peels, and pulp [fibrous waste that is ultimately donated]. Currently, we donate our food pulp to the City of Billings to add valuable nutrients to garden soils and to an alpaca, worm, and chicken farmer to help feed their animals. We estimate that close to 95% of our restaurant's waste is compostable or recyclable." In addition to donating their food waste, Well Pared sends customers away with carry-out products that are compostable or recyclable. "So, next time you order something to-go, make sure your food containers make it to the recycling bin." - Nicole Griffith, Well Pared
Plan meals properly
"Food waste really starts in the planning phase. When planning for a meal or party, be realistic about how many people you will be feeding so that you don't overbuy (and spend the time making). I typically advise my clients to plan on 75% attendance at parties. Also, keep in mind the age of those you are feeding. A small child will not require the same portion as adults. Knowing your family's habits also plays into minimizing food waste. Do you take leftovers to work for lunch or use them as a filler meal later in the week? If not, it doesn't make sense to make more than when your family will eat in one setting (unless you plan to freeze the meal and eat it next week, for example.) - Andrea Vacek, Bluebird Sweets
10 More Ways to Minimize Food Waste
Some peels (potato, cucumber, eggplant) are edible and nutritious. Do not throw them away
Immerse stalky vegetables and herbs that have wilted in cold water to rehydrate them and restore freshness
Freeze extra fresh fruits and veggies to extend their life by several months
Marinate meats - it will make them last a few more days
Rinse berries in a solution of 3 parts water and 1 part vinegar - they will keep longer
Use see-through storage containers in your refrigerator to quickly see what is available and how fresh it is
Buy "ugly" produce at a discount
Regularly check the expiration dates of pantry staples like canned soup, sauces, jams, etc.
Buy local foods to reduce storage and transportation spoilage risk
Use smaller plates and bowls to decrease over-plating and waste when serving food.
Originally printed in the January 2023 issue of Simply Local Magazine
Never miss an issue, check out SLM's digital editions here!