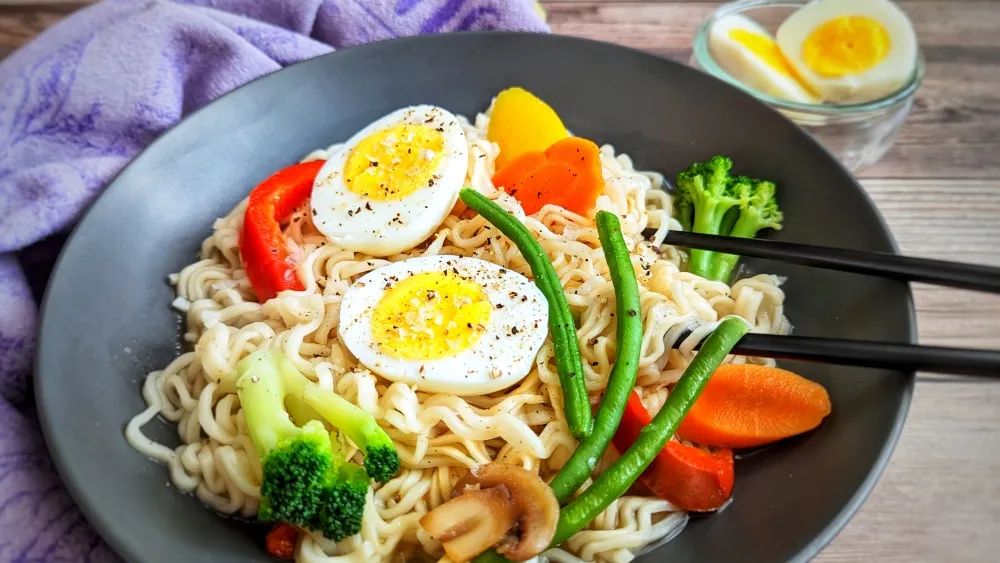 Eggs Every Way
April 2023
recipes & photos by renata haidle
Eggs are an eggcellent source of protein and other nutrients such as Vitamin D and choline (liver and metabolic function, fetal brain development). In addition, egg yolks are a great source of lutein and zeaxanthin, beneficial to eye health, and shown to reduce cataracts and macular degeneration.
But, aside from their health benefits, eggs are just dang delicious, and there are many ways to prepare them. Below, we've compiled three delicious recipes that could be enjoyed for breakfast, lunch, dinner, or, my favorite- brunch!
Eggs Benedict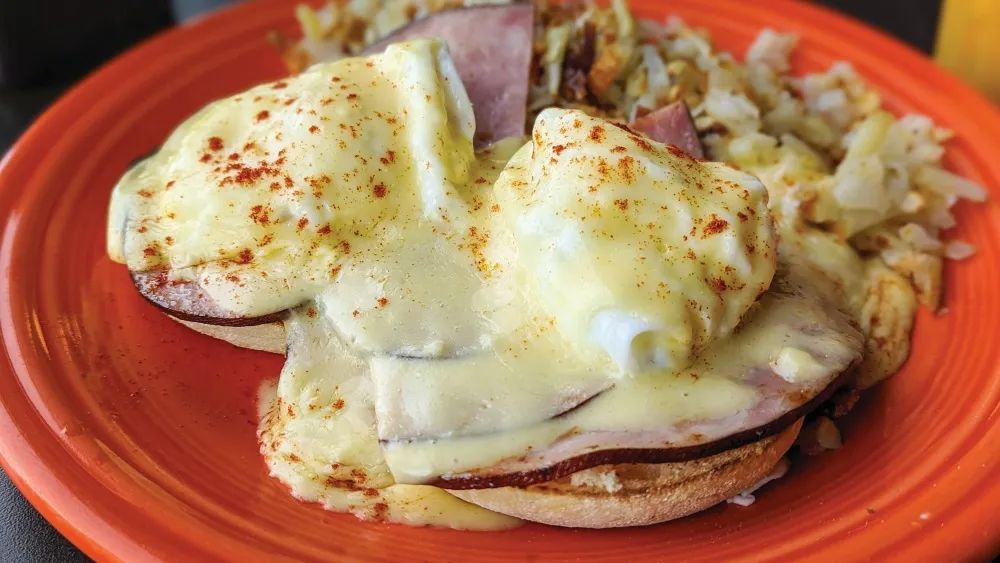 They might not be a quick and convenient breakfast staple, but eggs benedict deserve a seat at the table once in a while. Smothered in a lemony hollandaise sauce and laid on top of a slice of ham, they are the perfect addition to an indulgent weekend brunch.
Ingredients:
4 eggs, preferably free-range
2 English muffins
2 slices of ham
¼ teaspoon salt
¼ teaspoon pepper
3 Tablespoons vinegar
Servings: 2
For the hollandaise sauce:
1 stick butter (4oz)
2 egg yolks
2 Tablespoons water
½ teaspoon white wine vinegar
⅛ teaspoon cayenne pepper
¼ teaspoon salt
½ teaspoon freshly squeezed lemon juice
Directions:
To make the hollandaise:
Melt the butter in a small saucepan. Set aside and let cool for 5 minutes.
Separately, whisk together the egg yolks with the water on low heat to create a smooth, thick sauce. Keep whisking, and gradually add the melted butter, vinegar, salt, cayenne pepper, and lemon juice until incorporated.
To poach the eggs:
Fill a medium-sized saucepan halfway with water and bring to a rolling boil. Add 3 tbsp vinegar. Turn the heat to medium-low and, using a long handle spoon, create a vortex in the center of the pan.
Gently lower an egg in. If done correctly, it should take a circular shape.
Cook for 2-3 minutes and remove from the water. Repeat the process with the other three eggs.
To assemble:
Slice in half and lightly toast the English muffins.
Spread some of the sauce on the toasted halves, then add a slice of ham and a poached egg on top of each.
Drizzle the remaining hollandaise.
Serve immediately.
Scrambled Eggs with Pecorino Romano and Mushrooms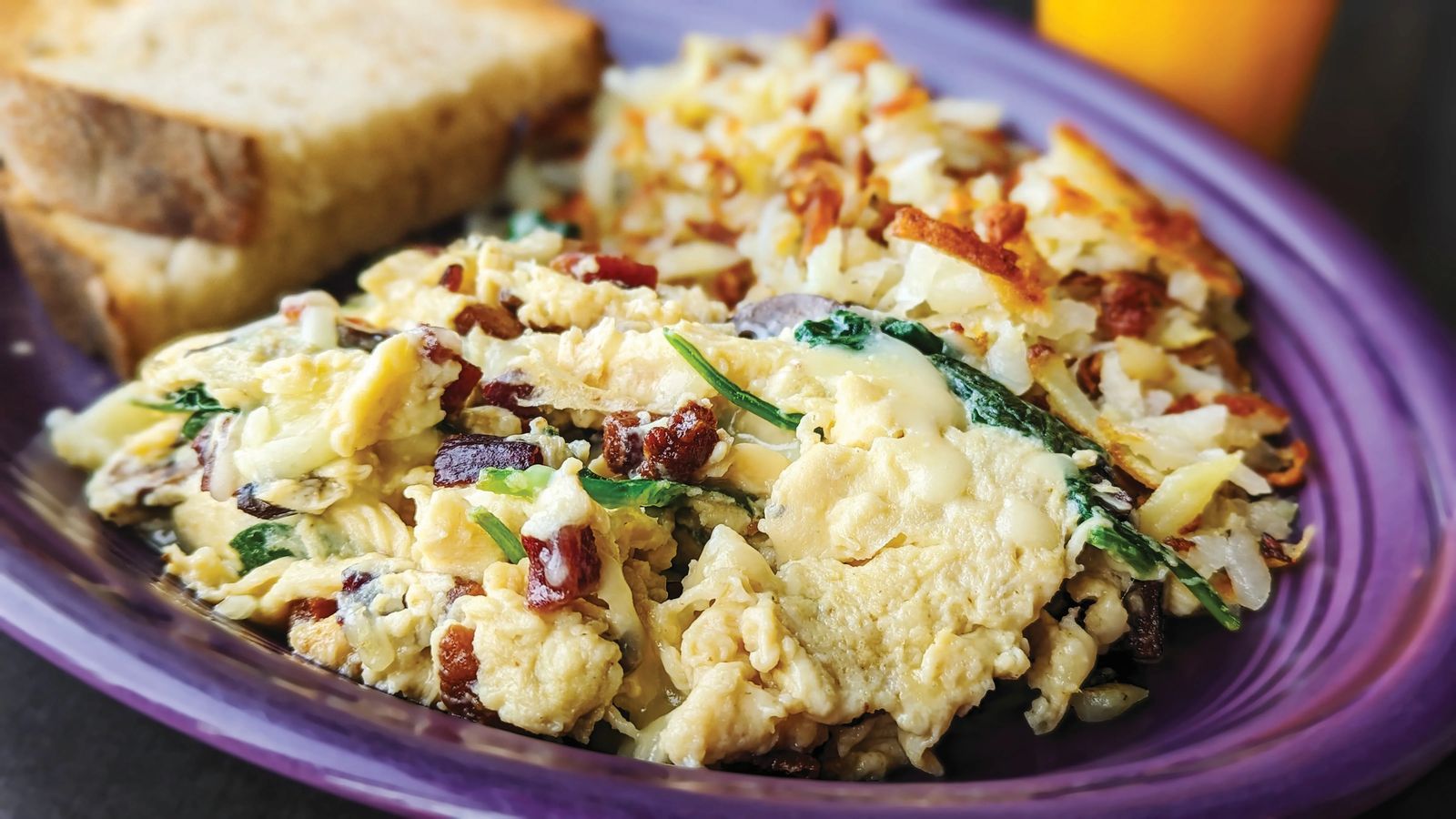 Inspired by a popular Sophie's Kitchen brunch item, this recipe replaces fontina with Pecorino Romano for a richer, bolder taste. Pecorino is an aged hard cheese made with sheep's milk. It has a salty and sharp taste, perfectly suitable for omelets and scrambled eggs.
Ingredients:
4 free-range eggs
4 strips of bacon, cooked and crumbled
4 oz Pecorino Romano, grated
1 small can of mushrooms (4oz)
1 Cup spinach
2 Tablespoons olive oil
1 teaspoon salt
fresh ground pepper, to taste
Servings: 2
Directions:
Heat the olive oil in a frying pan for 3-4 minutes.
Drain the mushrooms and add them to the hot oil. Sauté on medium-high heat for 5 minutes. Chop the spinach coarsely and add to the mushrooms.
Reduce the heat to medium-low.
In a bowl, whisk the eggs until homogenous and foamy. Add the salt and the crumbled bacon, and pour the egg mixture over the sautéed spinach and mushrooms.
Cook for 5 minutes over low heat. Use a large spatula to push and fold the eggs occasionally, creating large curds.
When the eggs are half-cooked, add the cheese. Keep cooking for another 5 minutes until the cheese has melted and the eggs are completely set.
Season with freshly ground pepper and serve immediately.
Ramen Noodles with Hard Boiled Eggs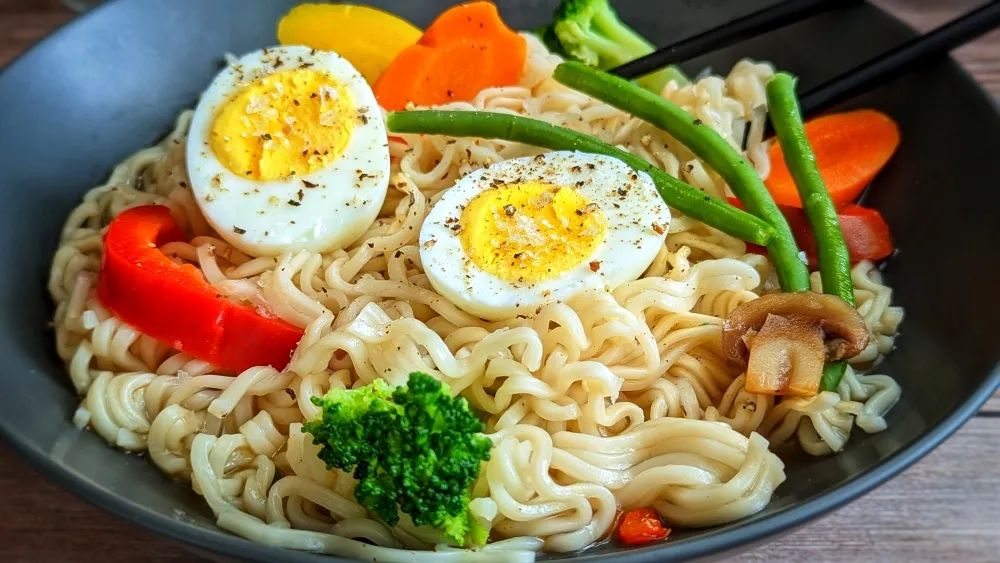 This is probably the easiest meal to put together. So easy, in fact, that my teenage daughter seems to prefer it to just about anything else she cooks for herself. If you are trying to get your teens in the kitchen, suggest they try this recipe. It is foolproof.
Ingredients:
1 pack of ramen noodles (Momofuku is a good brand with a much shorter and healthier list of ingredients than most found locally)
2 free-range eggs
1 cup mixed vegetables
1 Tablespoon olive oil
1/2 teaspoon salt
1/4 teaspoon fresh ground pepper
Directions:
Place the eggs in a medium saucepan and cover completely with room temperature water- 2 inches above the eggs.
Bring to a boil, turn off the heat, and let the eggs sit for 12 minutes.
Remove from water. Peel when cool enough to touch.
Prepare the noodles according to the manufacturer's instructions. While the noodles are cooking, quickly sauté the vegetables in olive oil.
To assemble, place the noodles and their sauce in a deep dish. Add the vegetables and the eggs, sliced in half—season with salt and pepper.
Originally printed in the April 2023 issue of Simply Local Magazine
Never miss an issue, check out SLM's digital editions here!