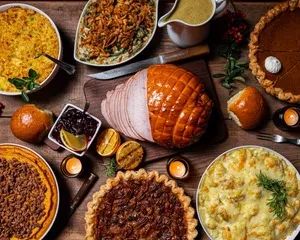 photo by Jed Owen via Unsplash
Eating Through the Holidays: Thanksgiving
November 9, 2021
We're turkey trotting right into Thanksgiving as we move on to the second article in our three-part series: Eating Through the Holidays. With Halloween in the rearview mirror and Christmas on the horizon, it's time to focus on one of the most anticipated meals of the year - the Thanksgiving feast.
It seems getting uncomfortably stuffed during this meal is the national norm - why, we may even choose stretchy pants for dinner to allow for enough room. Just because Thanksgiving is once a year, doesn't mean we need to go all out and push our stomach stretching to its limit.
Here are a few tips to help you make the most of this delicious meal without stuffing yourself - that's the turkey's job.
Find time for fitness
Change your mindset from exercising to earn your calories to exercising to help manage your stress level. The holidays can be a stressful time for some of us - whether it's difficult family relations, grieving lost loved ones, or preparing the meal itself - getting in a little exercise, preferably outside, can help mitigate the stress. Get your workout in early before you put the turkey in the oven and plan for a post-meal walk together with your dinner guests.
Eat breakfast
There's no reason to "save your calories" for the big meal. A good breakfast will help you control your appetite when it's time to put together your dinner plate. Start the day with a colorful yogurt parfait, satisfying bowl of oatmeal, or scrambled eggs with toast.
Consider a light snack or lunch before you go to dinner. Combining fiber from complex carbs with a little protein will certainly help you from going overboard when they start carving the turkey.
Focus on veggies
Yes, I know. Turkey is the star of the show. But you can enhance the buffet table line-up by including a variety of colorful veggies. Consider a fresh salad with dark leafy greens, bright red pomegranate seeds, and shaved Brussels sprouts. Include a bowl of roasted vegetables - purple eggplant, black kalamata olives, orange sweet potatoes, white cauliflower, and red bell peppers - for an earthy pop of color. Enhance those mashed potatoes by incorporating other root veggies such as parsnips, turnips, and rutabaga. You may even find that some of these new dishes could become traditional favorites.
Be picky with your choices
More than likely, the buffet table will be filled with tons of choices for you to enjoy. It's wise to survey your options before you start filling your plate. What are some of the foods you only get at this meal? What can you not live without? Choose reasonable portion sizes of your must-haves and leave the rest. Savor the special foods mindfully so you can save room for dessert. Speaking of dessert, be sure to scope out your choices before diving in - if you are hungry enough for dessert. If not, set your favorite aside to enjoy later in the evening or the following day. There's no prize for being the most stuffed, uncomfortable dinner guest.
Focus on the important things
The Thanksgiving meal is just that - a meal with which we give thanks. Focus on all that you have to be grateful for while you are eating. Discuss these blessings with the family and friends surrounding you. Enjoy conversations with people you don't connect with regularly. Shifting the focus from overeating at the meal to enjoying the meal can make for a memorable holiday that you won't regret.
Happy Thanksgiving to you and yours!