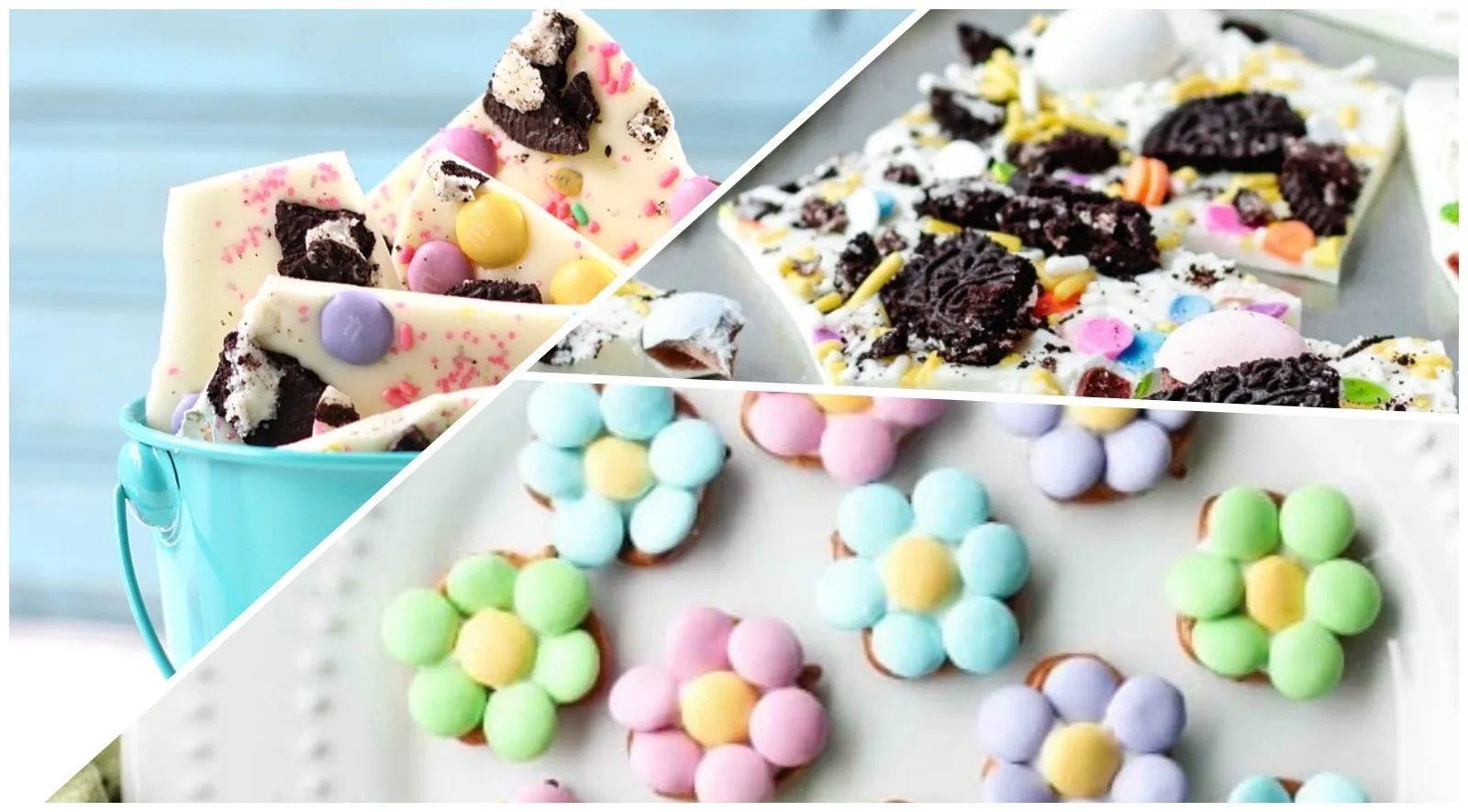 Easter Treats in 10 Minutes or Less
April 7, 2020 | by kaylee vandjelovic
Looking for Easter treats that are easy, delicious and perfect for a crowd? (And by "crowd" we totally mean the people with whom you're sheltering in place). Well look no further – here are some simple recipes that are ready in 10 minutes or less and are sure to please!
Easter Oreo Bark
First up is Easter Oreo Bark, an irresistible dessert idea that can be served at an Easter brunch, work potluck, or school event. Or, here in 2020, at home. One of the great things about this recipe is how versatile it is – while the base remains the same, you can feel free to go wild with the topping options and pick and choose which of your favorite Easter goodies to include!
What you'll need:
20 ounces white chocolate chips/melts (or any other type of chocolate)
5-10 Oreos (crushed)
1 cup of your favorite Easter mix-ins (pastel M&M's, Cadbury mini eggs, sprinkles, Whoppers Robin Eggs)
How to make it:
Line a 9x13-inch pan with parchment paper and set aside.
Melt the chocolate in microwave until smooth and pour into prepared pan.
Place your mix-ins of choice on top of melted chocolate and press down so they stay in place.
Place pan into freezer for about 10 minutes or until chocolate is completely hardened.
Break up bark or cut with a warm knife. Enjoy!
Flower Pretzel Bites
The perfect combination of sweet, salty, and crunchy –
– these colorful morsels are a great addition to any Easter gathering. Since they are super easy to throw together, they can be a fun treat to enjoy all Spring season long!
What you'll need:
Pretzels (regular or square shaped)
Round chocolate melts – white
Pastel M&M's
How to make them:
Arrange pretzels on a plate. Place a round candy melt in the center of each pretzel.
Microwave until soft, but not runny. Make sure to heat in small increments of time, checking often.
Immediately place one M&M into the center of the melted chocolate for the flower center, then six more M&M's (of a contrasting color) around the center for the flower petals. Work quickly, and freeze/refrigerate until set. Enjoy!
*TIP: Keep the "M" side of the M&M's down for the best-looking flowers.
Looking for more ideas? We've got you covered. Check out these links for even more simple recipes: