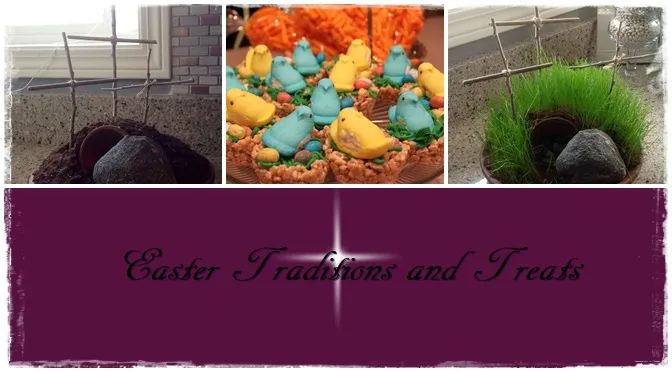 Easter Traditions and Treats
Springtime is such a beautiful time of year. Living in Montana, our winters are long and we are always eager to see the sunshine and green growth. As
Easter
nears we're all looking for crafts/activities and goodies to
create
and share with our loved ones. Today we're sharing a special craft that my friend and I started last year as a new tradition with our kids, along with two cute and simple treats.
First up is the "Resurrection Garden." We took this adorable craft and turned it into a scavenger hunt in nature. With the green grass and the empty tomb it serves as the perfect reminder that He makes all things new.
Resurrection Garden
Materials needed:
Terra cotta tray
Terra cotta mini pot (tomb)
Small pebbles
Grass seed (we used the quick grow kind and used the leftovers to fill in our yard)
Potting soil
Large stone
Sticks
Twine
Create:
Place the mini pot in the center of the tray.
Add potting soil to the backside of the tray creating a small mound to serve as the hill.
Pour small pebbles in front of the tomb.

Place larger rock halfway in front of the tomb.

Sprinkle grass seed into the soil.
Take twigs and form them into three crosses. Secure each cross with twine.
Push each cross into the hill of soil behind the tomb.
Fun tips:
If you're turning this into a scavenger hunt, have your kids search outside for the twigs and large stone.
Water the grass seed every day with a spray bottle. This keeps the soil and seed from going everywhere.
Watch as the seed grows and use this as the perfect opportunity to talk to your children about new life, growth and the true meaning of Easter.
These super simple spring inspired treats are quick and easy. Your child and their classmates will love them.
Peeps Easter Nests
Ingredients:
1 Tablespoon butter
1 16 oz package mini marshmallows
8 Cups rice krispies cereal
green frosting
12 peeps
36 malted eggs
Instructions:
Spray a muffin tin with cooking spray and set aside.
In large microwavable bowl, place butter and mini marshmallows. Microwave one minute and stir. Microwave an additional 30 seconds and stir well.
Stir in half of rice krispies and mix well.
Repeat with remaining rice krispies
Spray hands with cooking spray, put batter into 12 muffin cups and lightly press center of nest with a cookie scoop.
After cooled, decorate with green frosting, 3 malted milk eggs and finally your little chick.
Cheetos Carrot Treats
Fill a clear disposable cake decorating bag with Cheetos and tie with a green ribbon! Adorable little treat for all the Cheetos loving kids in your life.
Wishing a Happy Easter to you and yours from me and mine!