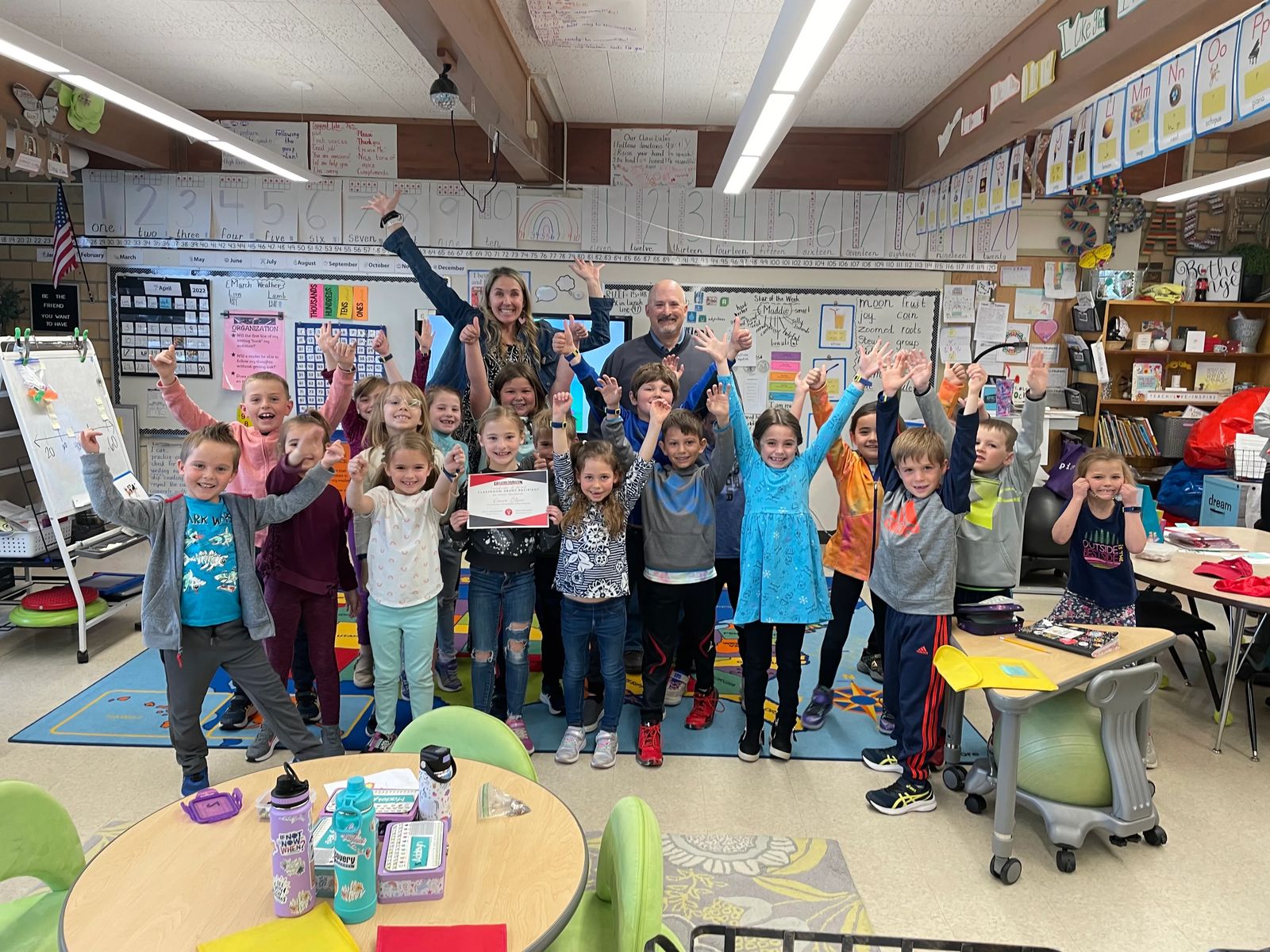 photo courtesy of Kerra Olson at Boulder Elementary School
$80,000 Awarded to Nearly 100 Teachers Across School District 2
April 29, 2022
The Education Foundation for Billings Public Schools surprised 96 teachers across School District 2 last week when they visited nearly 25 schools.
The Education Foundation, thanks to the support of generous donors, awarded $80,000 in Classroom Grants which will impact at least 160 classrooms across Billings Public Schools. A selection committee from the community reviewed the grant applications and awarded the funds based on innovation, creativity, and applicability to the classroom. The 2022 grants will go to support many worthy projects in the district.
Classroom Grant recipients will receive new technology, as well as supplemental literacy, writing, and math materials for use in the classroom to reach students of all learning abilities and styles. The grant program also provides funding for art and music programs, as well as special needs programs benefiting students in elementary through high school.
Grants funded include everything from basic classroom needs like Chromebooks, iPads, and digital whiteboards to new tools to support social-emotional learning, flexible seating ,and even hydroponic growing supplies. A few highlights include:
Purchasing technology for non-verbal students that is used to help with communication. These students will be able to use the new programs to help them share their thoughts, express feelings, and contribute meaningfully in a way their peers, teachers, and families can understand.
The addition of graphic novels to an elementary library and expanding the audiobook library at a middle school adds methods for reaching readers in a variety of ways. Through three other grants, German language books were added to two high school libraries to help those learning the language experience it natively, and a new novel purchased for middle school English students offering relevant and engaging reading curriculum.
Virtual Reality headsets and programming to provide special needs students with immersive learning experiences where they will learn professional skills and engage in simulated work environment education.
Several different District-wide mentorship programs focused on connecting new teachers with seasoned professionals, building strong professional relationships, and encouraging the retention of high-quality talent for Billings Public Schools.
"The Foundation is proud to be able to fund these grants for Billings Public Schools," shared Greg Benjamin, Board President for EFBPS. "Not only do these projects spark learning and growth, but they also inspire teachers alongside their students, hopefully helping to retain much of the incredible talent within School District 2."
###
The Education Foundation for Billings Public Schools provides support to educators and students through philanthropy, connection, and collaboration. We strive to give all students the tools they need to reach their greatest potential and to develop into engaged and productive citizens. The Foundation works in cooperation with the public school system but operates independently. Through endowments, scholarships, grants, and specific projects, the Foundation provides opportunities and resources for students and educators in Billings Public Schools to promote excellence in education.