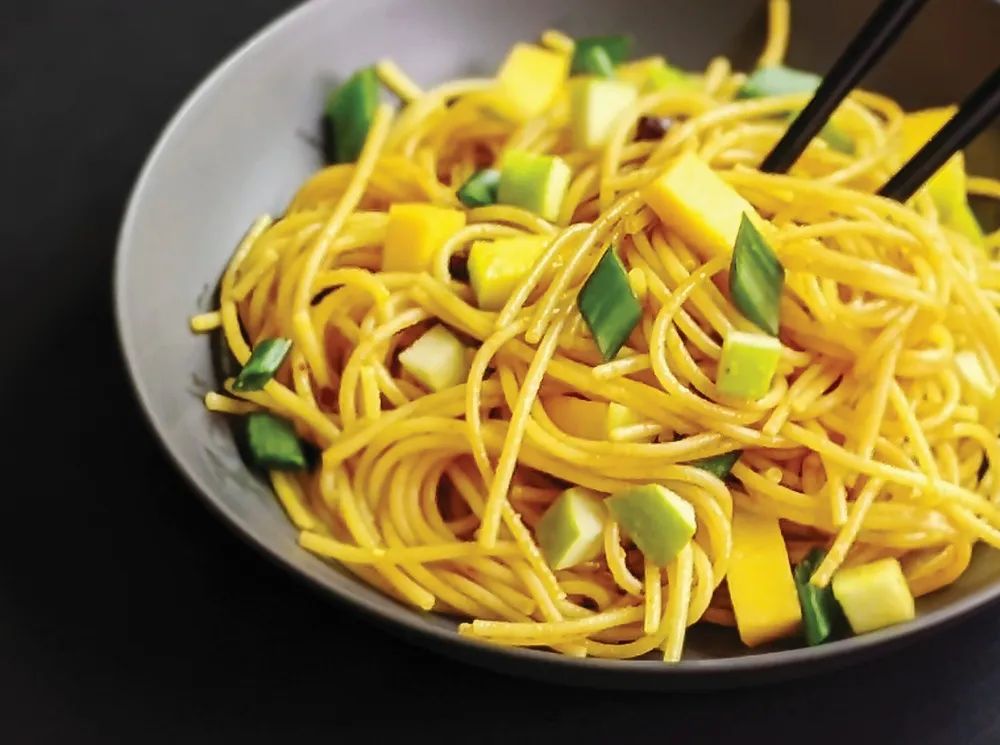 Cook This: Curry Spaghetti Salad
July 2022
article & photos by renata haidle
Many years ago I attended a garden party hosted by one of my dearest friends, a very talented gourmet cook. That's where I first got to taste this cold spaghetti salad, and I have been making it ever since for family gatherings and other summer parties. There are never any leftovers to bring back home.
The soy and curry-based sauce is pretty simple and straightforward, and the entire preparation takes less than 30 minutes, which makes this recipe ideal for a quick lunch or a light dinner. Over the years, I experimented with adding toppings to enhance the flavors, from tart Granny Smith apples to tropical mango or sweet and sour craisins. Feel free to add your own touch to it, according to personal taste and what your family enjoys.
Ingredients:
1 pack (500g) spaghetti, cooked
⅓ Cup olive oil
2 Tablespoons balsamic vinegar
2 Tablespoons soy sauce (if desired, you can substitute Bragg's coconut aminos)
2 teaspoons Spicewalla Madras curry powder (this is no brand endorsement - I just found this to be better tasting than other brands I've tried)
1 teaspoon salt
½ teaspoon crushed red pepper flakes
2 cloves garlic, crushed or finely chopped
Optional toppings: green onions, chives, diced tart apples, diced mango, craisins
Directions:
Boil the spaghetti according to the manufacturer's instructions - preferably al dente. Place in a colander to drain and cool slightly. Do not rinse.
While the pasta is boiling, mix the remaining ingredients in a cup or small pitcher. Pour the sauce in a large serving bowl, then add the cooked and drained spaghetti. Combine thoroughly. Add preferred toppings. For optimal taste, refrigerate for at least an hour before serving.
Originally printed in the July 2022 issue of Simply Local Magazine
Never miss an issue, check out SLM's digital editions here!