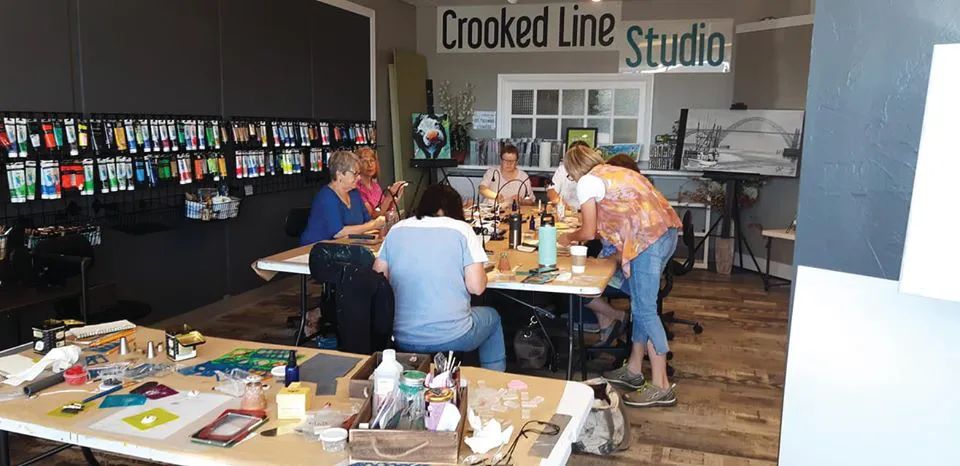 Connecting Through Art at Crooked Line Studio
February 1, 2020 | by katie backer | photos courtesy of Crooked Line Studio
When was the last time you sat down to paint? Last week? Last year? Not since childhood?
We live in this fantastic, technologically driven world, yet the fast pace of our lives leaves little time for creativity or face-to-face connection with people. Art and a positive atmosphere can lead to a healthy escape, especially after a hectic workday. As Artist Georgia O'Keefe famously said, "I found I could say things with color and shapes that I couldn't say any other way--things I had no words for."
Fortunately, Crooked Line Studio allows us to pick up a paintbrush, give our eyes a break from screens, and let our minds wander and create through self-expression and art-making. Whether you're a newbie or seasoned artist, you will find a happy greeting and wonderfully warm atmosphere at Crooked Line, where their motto states: "Everyone can draw a crooked line" therefore there are "no rules, no mistakes, [and] no judgment."
Owner Julie Durrett is in her fifth year with the beloved art studio. With a background in engineering, she admits she's not an artist, but that hasn't stopped her. Julie shared that her grandmother taught her to crochet at the age of 8, and she's enjoyed "keeping her hands busy" ever since. So, years later, she saw a need for a place where people of all backgrounds and art capabilities could gather to experience a variety of classes and connections through art. Julie's Studio Manager, Dan Granger - originally from Sheridan, WY - is a kindred spirit and she hired him almost immediately. His talents and teaching abilities have greatly enhanced the studio, and this dynamic duo has recently moved to their fabulous, new 24th Street location.
As soon as you walk in, you'll note the vibrant, positive, and education-based atmosphere. Even first-timers or beginners will find a place here. One way they make you feel welcome is by allowing full use of their art supplies. While seasoned artists may prefer to bring their supplies, if you're not sure how to use materials or want to give something a try before you buy, attending a class or Open Art session at Crooked Line Studio is a wonderful way to explore and create without the stress of supply purchases. Dan shared that he loves helping people learn what they can do with supplies, so please don't feel embarrassed to ask and try. "Sometimes it's hard [finding a space to create at home and you end up] making a mess on your kitchen counter… being with people and a teacher helps and you are able to walk in with nothing and leave with something finished," Julie added.
"When the studio first started, I offered single classes… kind of a one and done type thing," Julie explained. "People are now asking for a series of classes, so we are trying to accommodate those requests." Above all, a connection is what you find here, whether with yourself and a canvas or by making new friends.
The Studio now offers multiple series, that include Painting 101, Art Journaling, Workshops, Open Art, and the newly created, Altered Book Club. "People are asking to come more regularly, and they're buying into the concept of no rules, no mistakes, no judgment. Our Altered Book Club began after a single class with approximately eight people, none of them together. After the class, they all went out to lunch, and then came back to create for four more hours! They loved creating and connecting, so we started the Altered Book Club. The classes are geared toward beginners and first-timers." So, "walk in, try, play with the supplies, and get started!" Julie encouraged.
They also host events! If you're looking for a great team-building activity or a place to celebrate your child's birthday, this is a fantastic place to host an event. Dan shared, "We want to partner with other organizations and artists to help connect the community in a creative way to help design a creative life."
"Art allows," as Dan said, "for people to get out of their head for a bit," and Julie echoed, "it's so different than your day job… it allows you to relax and let loose."
Crooked Line Studio blew me away! You have to check it out… and if you're still looking for a Valentine's gift for your sweetie, I heard them mention the possibility of a couples' class! Perfect date night!
Originally printed in the February 2020 issue of Simply Local Magazine
Never miss an issue, check out SLM's digital editions here!