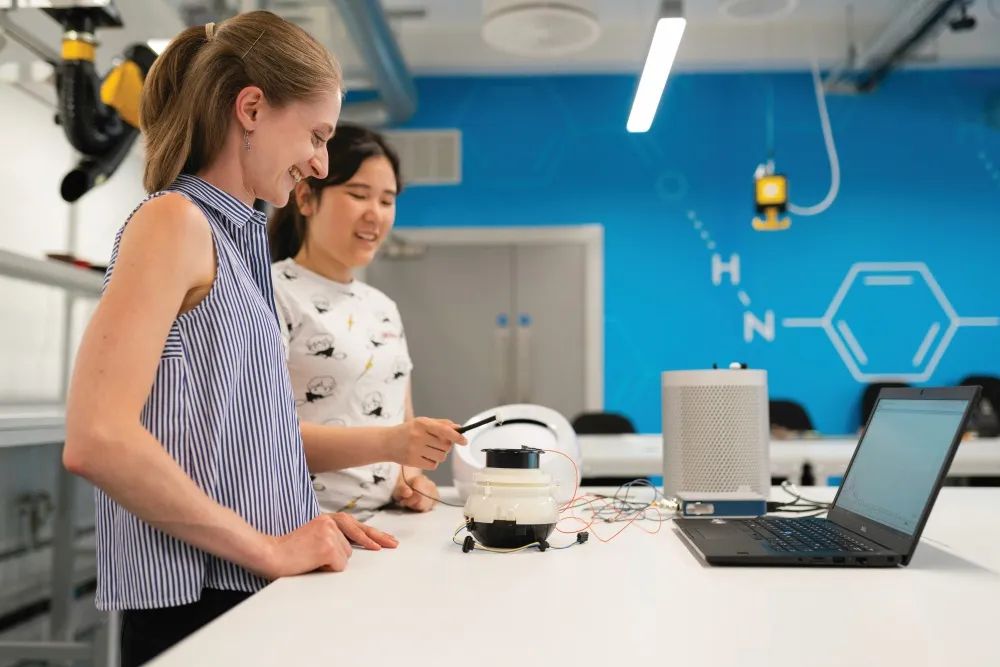 Code Girls United
January 2022
When Marianne Smith agreed to help a girl from Kalispell with a computer science project, she didn't realize she would be starting a movement. But now, six years and hundreds of students later, Code Girls United is transitioning from being a small startup to scaling into a full-blown curriculum for girls who want to learn coding and computer science across Montana.
For Smith, the mission is personal. "I'd been an engineer in a time when there weren't any other women, and things were very different. It really bothered me when I was teaching that I wasn't seeing many women in my classes. It's such a disconnect, because in my time, there were these forces against you going into these jobs and college and being the only woman. And now, all these doors are open, and there are still some issues, but compared to what it was like 30 years ago, it's night and day," Smith said, adding that no one is being badgered at work for being a woman or being asked during job interviews if they're pregnant. "Girls are good at math, so why aren't they in these courses?"
The disconnect is real. In the mid-1990s, 35% of computer science jobs were held by women; those numbers have dropped in the last 30 years. Today, women make up only 24% of the computer science workforce.
With a mind toward changing those statistics, Smith, who has worked as a NASA engineer and has undergraduate and master's degrees in engineering, reached out to Liz Bernau, a Kalispell elementary technology teacher, and Beth Schecher, who has an MBA and a degree in computer science.
The three women created a curriculum focused on teaching coding and practical business skills and got to work with a handful of interested girls, first meeting in a restaurant basement and then an elementary school, before moving to the community college. "We had no idea that we were doing anything big," Smith said.
In 2018 when they were looking for a $300 grant to buy the girls some supplies and T-shirts, things really took off. "We went to a Women Who Wine event here in Kalispell to pitch our idea, and the place was packed. They said they'd never had such a turnout. The three of us walked out and realized that there was more to what we were doing."
Seeing that interest was energizing, and they worked quickly to establish other sites in Montana where more girls could try their hand in computer science. Today, Code Girls United groups are in 14 locations across Montana, including Red Lodge and Joliet, and two online groups, where several students from Billings participate.
Code Girls United is free for 4th-8th grade girls and meets once a week throughout the year. They work, first, on coding concepts and eventually develop their own apps. Giving girls the opportunity to explore their interest in technology is paramount, but there is a definite emphasis on learning business and marketing skills. Those abilities play a vital role when Code Girls United switches gears halfway through the school year to participate in competitions where students present their work.
Every year, Smith's teams, which are made up of girls no older than 8th grade, go head-to-head - and hold their own - against high schoolers from much bigger cities across the globe. The International Technovation Challenge attracts roughly 20,000 girls worldwide, and the Code Girls United teams have made it to the semifinals every year.
Closer to home, the Northwest Regional App Challenge is open only to Montanans. Participants can win scholarships of up to $5,000. Students also have the chance to interact with venture capitalists based in the Treasure State and learn more about the business aspect of marketing and selling the technology they create.
Finally, the middle schoolers can compete in the Congressional App Challenge, where middle and high school students compete to represent their congressional district. The Code Girls United team represented Montana and were the youngest winners in the country. "I watched a lot of the presentations from the other congressional districts. Our girls could hold their own against anyone, and I think it was that sense of confidence coming from them that was really great to see," said Smith.
Building such confidence is part of the DNA of Code Girls United. The motto is "Self-confidence is a superpower," and immersing girls in computer science at such a pivotal time in their development does play an important role in how they see technology… and themselves. Investing in girls' interest in tech subjects before they get to high school helps de-stigmatize computer science coursework. "It's even more important now because technology is everywhere; everyone has their phones, and they're doing all these things. For me, I want to see kids become more creators than users," Smith said.
The only option for girls in Billings is the online class, but with the organization's growth, that could change in the near future. If you know a girl who is interested in coding and computer science, she can register online at www.codegirlsunited.org.
Originally printed in the January 2022 issue of Simply Local Magazine
Never miss an issue, check out SLM's digital editions here!