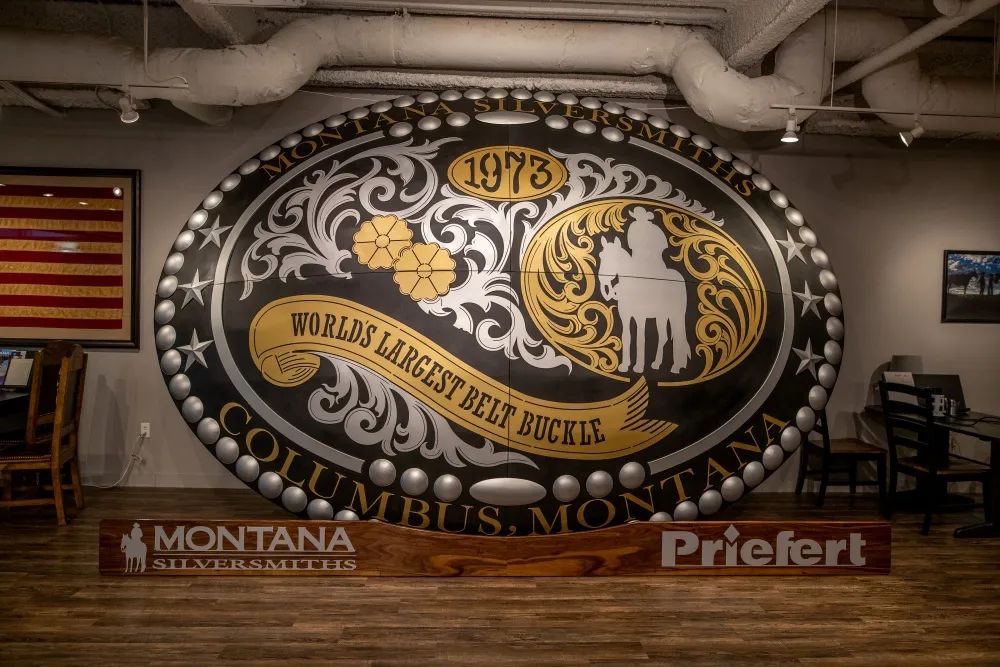 Buckle Up, Montana - A Larger Than Life Masterpiece
October 2023
by brooke wagner | photos courtesy of Montana Silversmiths
Tell me of that Treasure State Story always new, Tell of its beauties grand And its heart so true.
lyrics from Montana's state song
So begins the state song of Montana, penned by Charles Cohan in the mid-1940s. The wide-open landscape and grandeur of green pastures earned the nickname "Big Sky Country," and a recent installation at Billings Logan Airport lives up to the legacy of substantial width and breadth. Montana Silversmiths, a premier Western fashion label and trophy buckle design company, has created the World's Largest Trophy Belt Buckle, which greets passengers from near and far in the airport's main terminal. The perfect background for a Montana selfie (or simply a spot to stop and admire its meticulous craftsmanship), the buckle beckons travelers to be a part of the Western lifestyle, if only for a brief moment. Affectionately called "Big Buck," the stunning 1,000-pound beauty stands at 10 feet 6 inches by 14 feet 6.4 inches.
Montana Silversmiths' Chief Marketing Officer Judy Wagner says, "Every buckle tells a story, and buckles are a quintessential aspect of Western life. Displaying Big Buck in a location like the Billings Airport, where so many people will have the once-in-a-lifetime chance to see him up close, is the perfect opportunity to celebrate our anniversary as well as the beauty and grandeur of the Western lifestyle." 
Big Buck is a larger-than-life replica of Montana Silversmiths' customer favorite Big Horn trophy buckle, fondly known as "Little Buck." The design features a classic silver filigree, bold ribbons, golden flowers, stars, and a unique berry trim. Its record-breaking counterpart was built to exact specifications, mirroring everything from the shape and curvature to the finish and intricate artistry Montana Silversmiths is known for. Created to celebrate the company's 50th anniversary, Wagner says, "The vision for this buckle was that it needed to incorporate everything that Montana Silversmiths has perfected through the years…we needed to bring to life this vision to share our story authentically and with attention to every detail. We found a partner in an iconic industry brand, Priefert Manufacturing Company, Inc. Together, our passion, artistry, and teamwork made this dream a reality."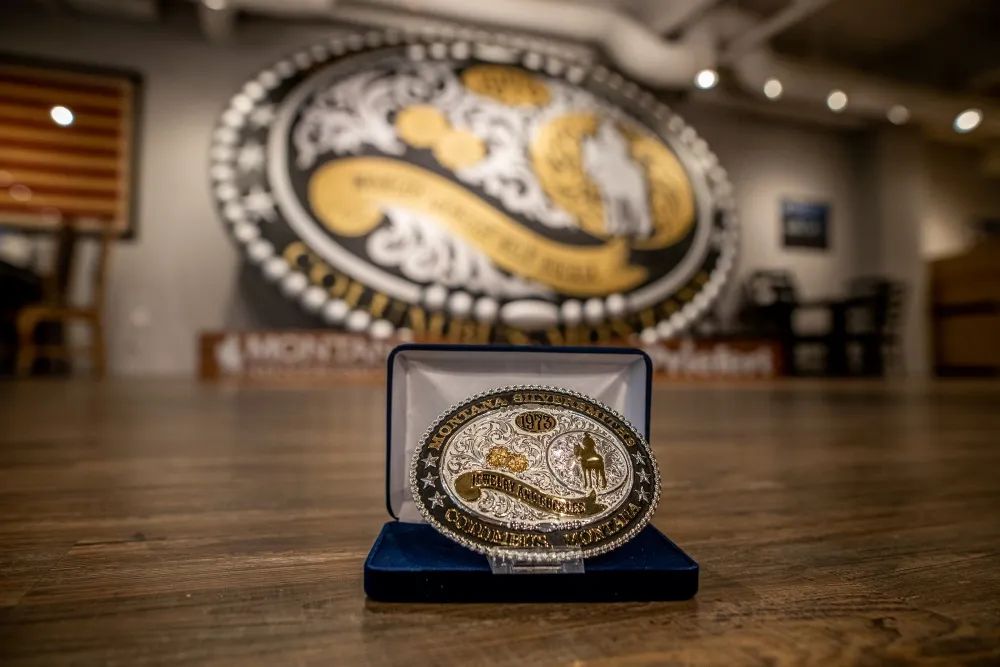 Big Buck is a larger-than-life replica of Montana Silversmiths' customer favorite Big Horn trophy buckle, fondly known as "Little Buck."
Indeed, the project was a team effort through collaboration with Priefert and within Montana Silversmiths. To successfully break a world record, the "team had to follow numerous guidelines, one of which stated the item had to be an authentic replica, to scale, of an existing buckle that the public could purchase." Early on, they discovered that their factory wasn't physically big enough to build the project in-house. The buckle was eventually created in four sections, each weighing just over 250 pounds. Nearly six months were spent perfecting each detail, beginning with welding the aluminum frame. A special stand was created to hold the buckle in its first home at the Montana Silversmiths showroom in Dallas, where team members worked overtime rerouting air vent ducts in the showroom to accommodate the height of the buckle. Big Buck skyrocketed to the 14th floor of the Dallas Market Center, using the freight elevator as a route to its market debut.
Big Buck returned home to the Treasure State in January of this year. For the remainder of 2023, it will be on display on the east side of the Billings Airport concourse. It seems fitting that the buckle should reside just a stone's throw from the Montana Silversmiths headquarters, located in Columbus since 1980. As the official silversmith of the PRCA, PBR, and NFR, this icon of the Western industry has awarded buckles to some of the rodeo arena's most decorated world champions. Now, back where it all began, Big Buck encompasses the past 50 years of quality and excellence as it looks to write a new (BIG!) chapter of innovation for generations to come. 
Originally printed in the October 2023 issue of Simply Local Magazine
Never miss an issue, check out SLM's digital editions here!