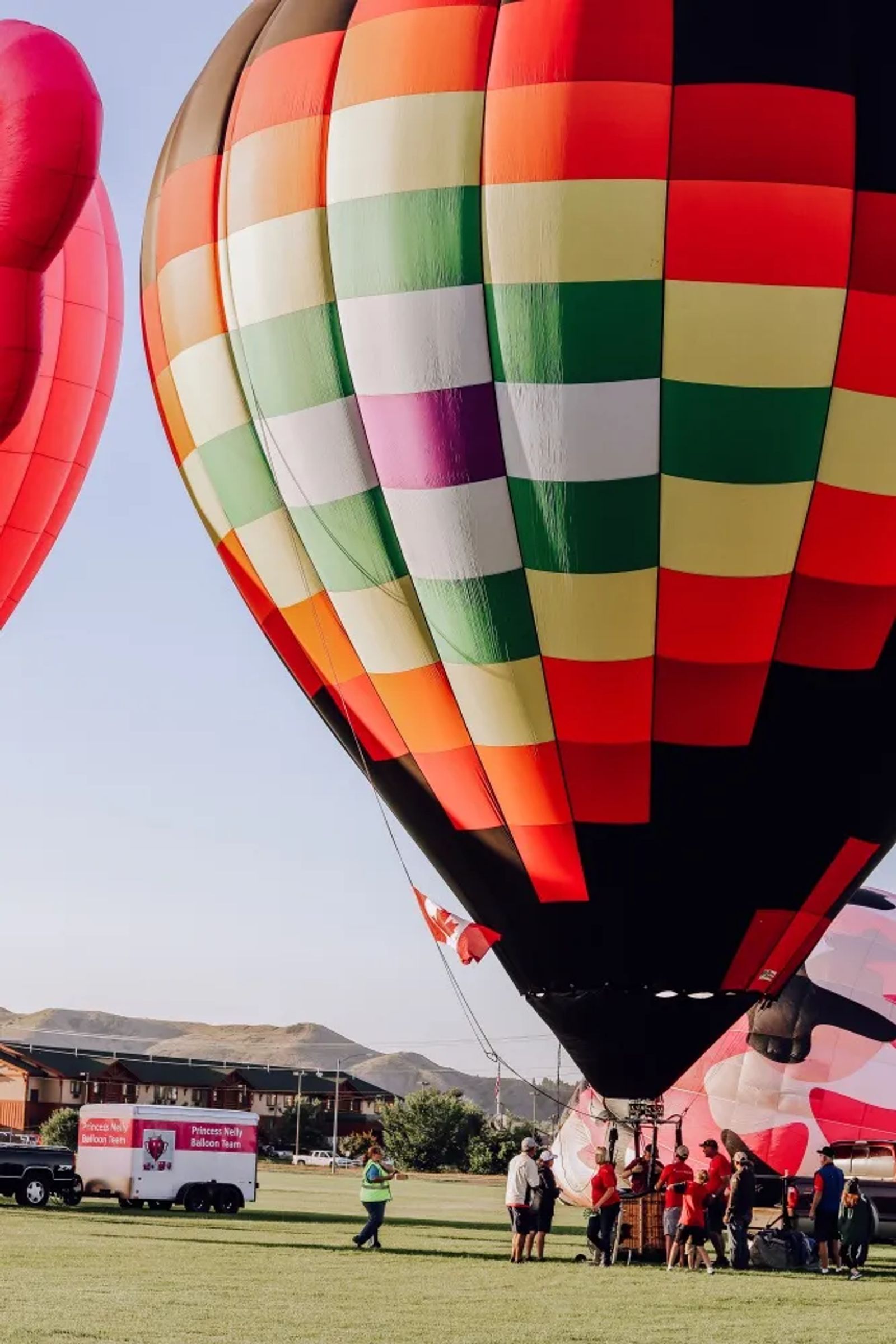 Rise Above! Billings to Host Only Hot Air Balloon Festival in Montana
July 14, 2021
by robyn fogle | photos by brynn barriger
The Big Sky over Billings will be filled with extra color and beauty next weekend (July 23-25) as over 14 hot air balloons take flight during the Big Sky International Balloon Rendezvous (BSIBR). A cornerstone in Billings for over 25 years, the event draws pilots from across the world and is made possible through the generous support of sponsors from the Billings community.
A free, family-friendly event, this years' event theme is "Rise Above!"
"We wanted to give people a reason to look at the sky and be grateful, to rise up out of what was 2020 and the impacts of the pandemic on the community," says Triniti Chavez, Secretary of the Board for the BSIBR, which operates as a non-profit organization.
Pilots from as far away as Germany and Canada will join with pilots from Montana and other states to provide spectators with a magnificently memorable experience. "We'll bring as many balloons as there are sponsors," says Chavez, explaining how the $1,000 balloon sponsorship provides things like transportation for the pilot and balloon, along with propane for the flight since most pilots are hobbyists. Valley Credit Union and NorthWestern Energy are this years' premier sponsors, with additional funding and sponsorships from Heights & Lockwood Optimist Clubs, Just 1 More Bar & Casino, Frosty Erben's Home Selling Team, Billings Jaycees, TLC Lingerie, Canyon Creek Dental, and Fustercluck Creations.
Each morning of the 3- day event the balloons will take flight from Amend Park where spectators are encouraged to gather at dawn to watch the ascent (a truly spectacular sight to behold and worth the early morning wakeup call). As viewers eagerly anticipate take-off they can grab a cup of coffee from Big Sky Coffee Roasters and enjoy the sunrise from lawn chairs, blankets, or even the comfort of their car. Since launch conditions are highly weather-dependent, a local weatherman will be on-site to discuss any delays and help educate the crowd on safe flight conditions.
Once in the air, the balloons fly as long and as far as the wind takes them, typically landing by 8am. Volunteer chase teams follow their designated balloon and bring the pilot and balloon back to the park where some observers even choose to camp out for the day.
Perhaps the highlight of the weekend event is Saturday night's Balloon Glow and Field Festival. Starting at dusk, the huge, magnificent balloons are lit up and glow like fireflies, illuminating the park. The balloons remain on the ground and it's the perfect time for observers to walk around and interact with the pilots while marveling at the grand size of the balloons.
"Every balloon has a name and usually a story about why it's named that," says Chavez. Pilots give out trading cards and enjoy sharing the name and story of their balloon and experiences. "It's such an old hobby they want to inspire new and young pilots," she continued, recalling what a huge impact the event had on her as a child.
In addition to the balloon glow, the festival will also include kids' activities such as an out of commission balloon which kids can walk inside and explore, face painting, games, 50/50 raffle, and more. A live concert by local group "Not Your Boyfriend's Band" will entertain the crowd from 6-8pm, followed by the balloon glow till 9:30pm and a movie at 10pm. Food trucks, summer snacks, merchandise like t-shirts and stickers will all be available for purchase.
While hot air balloon rides are not for sale to the public, each year the board selects a Bucket List Recipient from the community to experience a flight. "This years' recipient is Vicki Gaschk, a nurse from Billings Clinic who came out of retirement to treat people with COVID" shares Chavez.
Even if you don't make it out to the park for the early morning launches, be sure to look up at the sky from wherever you're at and take in the glorious and peaceful sight of the balloons in flight. Let them lift your spirits and inspire hope as we Rise Above Billings!