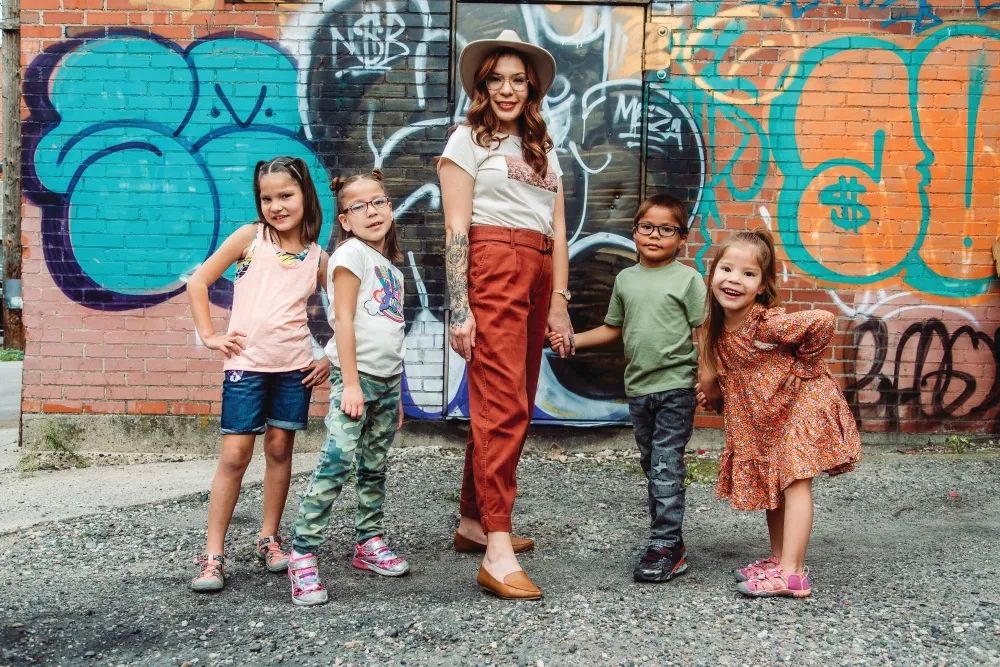 Beauty from Ashes
October 2021
by stephanie hobby | photos by arianna skoog
When Montana State University-Billings student Chantina Pretty Weasel's alarm clock goes off at 6:00 am, she has a full day ahead of her. The 26-year-old single mom gets up, has prayer time, and then wakes and feeds her four children: Yvonne (7), Axziliiya (6), Nico (5), and Chenani (almost 4). They're all out the door, headed for school or daycare by 8:00. When she wraps up work and classes in the afternoon, she picks her children up, shuttles them to their activities, and makes dinner before settling into her studies for the evening. Life is incredibly busy, but Pretty Weasel says she is grateful for all of it.
It's been a remarkable journey for Pretty Weasel, whose background was marred by trauma and toxicity. "I had a hard childhood; I endured pain, trials, and abuse, but I feel like, for where I am, and where God has me, it's really amazing and has really opened my heart to want to go into the human services field," she said.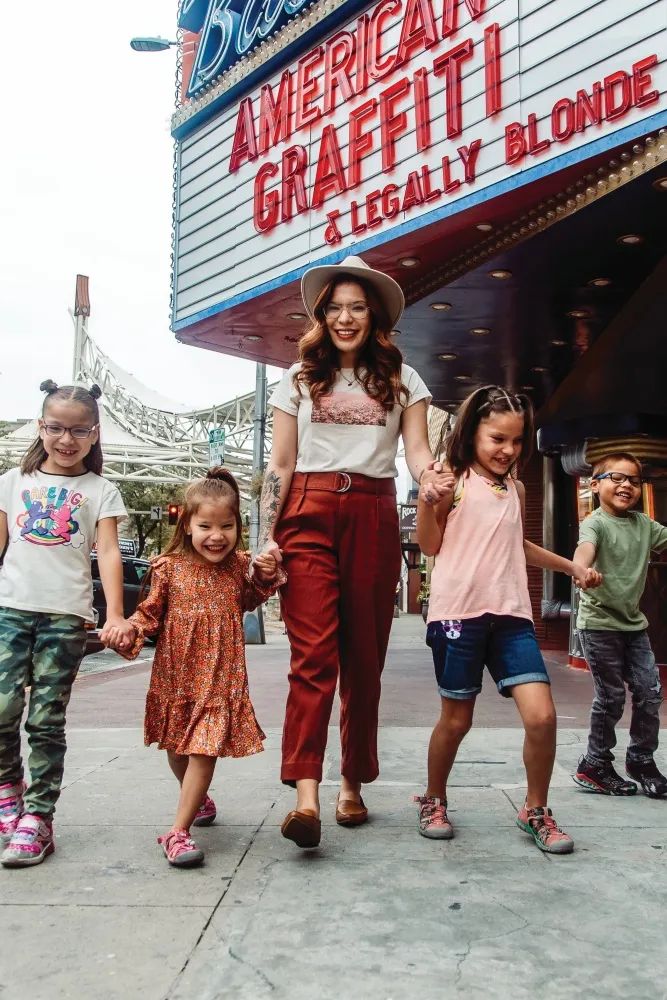 Pretty Weasel, who is Crow, was born and raised in Billings and says she didn't have a strong connection to her culture growing up. During her teenage years, she moved to the reservation, where she says she fell in with the wrong crowd. She met the father of her children when she was 17, married young, had four children within four years, and divorced. In 2020, she took the courageous steps to change course.
She started attending Harvest Church earlier this year, joined a women's small group, and resolved to raise her children in a stable home. "My kids will tell me our house is really nice and peaceful, and I never had that peace until recently. I know 2020 was a hard year for a lot of people, but it was the best year for me and my kids, because that's when we decided to make changes," she said.
When she first started at MSUB, Pretty Weasel said she didn't have a strong tie to other Native Americans and didn't know many other students from her culture. So when Sunny Day Real Bird, director of the Native American Achievement Center, reached out directly, Pretty Weasel said it was a game-changer. "She invited me to stop by, and told me a little about their services," she said. "I didn't want to go, but I had a tug on my heart."
The Native American Achievement Center at MSUB is dedicated to providing optimal support by empowering Native students in their individual, social, cultural, and academic involvement. Their mission is to recruit and retain American Indian students and offer a smoother transition into college life. Located in a two-story house close to campus, the Center includes a washer/dryer, a playground for parents of young children, a garden, a computer lab, and even a sweat lodge.
As a non-traditional sophomore, Pretty Weasel knows firsthand how challenging it can be to go back to school in a new environment without much outside support. "Everyone else was younger, but people were accepting of me when I decided to put myself out there in a positive way. Getting involved in school - and it started with the Native American Achievement Center for me - was what really helped me," she said. She has learned to ask for help when she needs it and not to be afraid of the word "no."
When Pretty Weasel considered quitting due to problems with financial aid, Real Bird was a source of not only encouragement but also practical help. Within a week, she had helped Pretty Weasel straighten out the financial aid concerns and had given her a new outlook. "Sunny Day helped me. I was on the edge and she pulled me up and spoke life into me," she said.
After experiencing so much suffering and hardship in her own life, Pretty Weasel wants to pave the way for others, particularly Native people, to overcome obstacles and find their paths to success. "I see so much talent, so many things where they want to get out of there," she said, adding that leaving home can be particularly difficult for Native students coming from tight-knit family and community. "I want to go back and encourage others to pursue their dreams. Sometimes we have to leave what we're used to and our conformities to be this new person so that we can go back and have the strength and boldness to help our people and our children. It's the next generation that is looking at us and seeing what we do."
Eventually, Pretty Weasel plans to open a nonprofit designed to help children and families who have experienced trauma connect with resources, such as counseling and an emergency pantry. Her goal is to offer children a safe place to go if they feel alone or don't know what to do because of all the toxicity they're witnessing.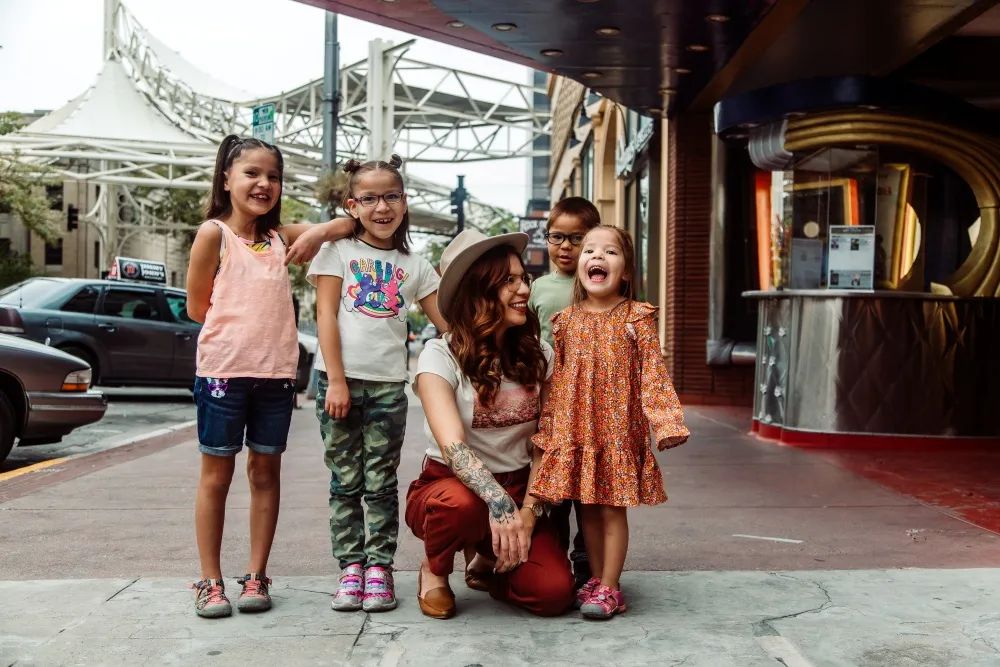 Reflecting on her own experiences, she says, is helping to motivate her. "Seeing some of the homes I've been to, it's sad for me. There are some deep hurts…. I have witnessed that and been a part of that. There was toxic in me that has had to be refined, and that's no longer my identity," she said. "My story is about beauty from ashes."
Originally printed in the October 2021 issue of Simply Local Magazine
Never miss an issue, check out SLM's digital editions here!