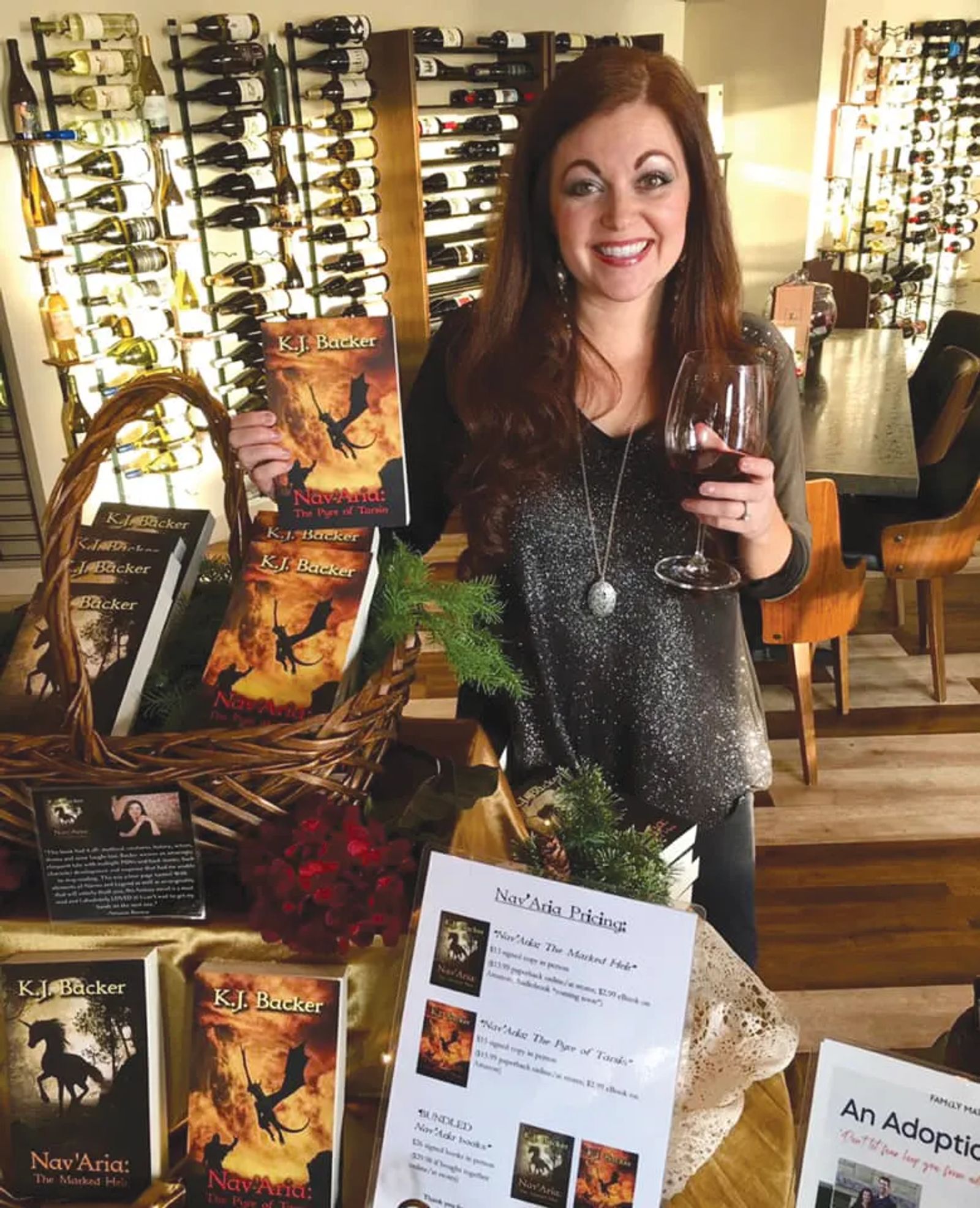 Ask The Author: Katie (KJ) Backer
January 2021 | by lindsay blackburn, photos courtesy of Katie Backer
Local author Katie "KJ" Backer was substitute teaching when her first book's initial idea emerged. While the students in the classroom were testing, she started doodling on a composition notebook's pages. Between her scribbles that day and a gritty unicorn painting she admired in her grandfather's house, the seeds of Nav'Aria: The Marked Heir were planted and started to grow.
Fast forward nearly a decade, and she's now published three books in her popular, adult fantasy series, which she describes as "not as mature as Game of Thrones, but not as sweet as The Hobbit…somewhere in the middle. These are unicorns for the grownups!"
I had the opportunity to talk to Katie about her writing habits, the fantasy genre, and her book recommendations the week her third book, Nav'Aria: The Winged Crescent, was released this past November. Her creativity, passion, and zest for life made for one great conversation.
Let me introduce you to a wonderful Billings resident, writer, and friend, KJ Backer.
Katie, tell us about yourself.
Hi, I'm Katie. I'm a history teacher-turned-fantasy author. I've been happily married for eight years, and we're the proud parents of our 12-year-old daughter, whom we adopted three years ago. I'm obsessed with my pet Pomeranians and tiny tortoise. I love to read and talk about all things history, culture, travel, sociology, movies, and books.
When did you first become interested in writing?
I have always loved storytelling, but it wasn't until 2011 when I really began writing. I slowly began picking away at it for fun during school breaks and summers. In 2017, we adopted our daughter, and I stepped away from teaching. During that time, I realized I had a real book on my hands. I credit my daughter as the inspiration to finish the book, which features strong adoption themes. I pumped out the rest of the first book and by 2019, it was published and out into the world for readers!
You're a busy, working mom. How do you find time to write?
My writing habits have really varied over the last few years. I find that my brain works best in the morning, so I'm up early before the rest of my family to enjoy some quiet time in my home office. I try to write for an hour or two daily. In an average hour, I write about 1,500 words, so that's my typical daily goal when writing a first draft.
That's more of a recent thing, though. My first book took me eight years! It's definitely been a learning process. I think the biggest thing was realizing that I'm a "real writer" and that I don't have to keep writing a secret or as "just a hobby" as I did when I was teaching. Knowing that my books are out there and readers are enjoying them is just incredible. And so energizing!
What drew you to the fantasy genre, in particular?
I just love fantasy! My obsession with this genre probably began in middle school when my dad gave me his copy of Eye of the World by Robert Jordan. It's the first book in his Wheel of Time series, my all-time favorite. It blew my mind how incredibly epic, intense, thought-provoking, and endearing the genre could be. I love the magic, adventure, action, and suspense found in many fantasy books.
Why is fantasy important for today's readers?
I believe fantasy books are a great way to dive into historical themes, including social issues and injustices. For example, in Nav'Aria, we're faced with tyranny, oppression, slavery, war, and so much more. I hope that readers can use this fictional setting as a place to ponder their thoughts on certain issues and attitudes and grow along the way.
Do you have any tips for writers who'd like to publish a book someday?
My biggest advice…just write! Don't let fear, lack of education, or other people's opinions dissuade you from following your dream. If you believe you have a story to tell (and I think you do!), then go for it! Start writing as much and as fast as you can. Get the first draft done, and then you can begin the editing and publishing path.
In addition to your Nav'Aria books, which books do you recommend most often to readers?
There are so many great books out there! I always recommend books by Robert Jordan, Brandon Sanderson, Jennifer Donnelly, Ken Follett, and Francine Rivers.
After experiencing a year like 2020, it's crucial to take care of ourselves. I've spent time diving into non-fiction, memoirs, and self-improvement books, too. I highly recommend The Happiness Project by Gretchen Rubin, The Road Back to You: An Enneagram Journey to Self-Discovery by Ian Cron, and Never Give Up, Eat the Cookie…Buy the Shoes by Joyce Meyer.
Just for fun, tell us five random facts about yourself.
My favorite movies are Gladiator and Lord of the Rings: Two Towers.
I worked as a U.S. Capitol intern in D.C. after high school.
Pizza is my favorite food.
After visiting three times, it's my dream to live in Italy one day.
Since becoming a writer and working from home, I've become a bird lady. I have bird feeders and birdbaths everywhere!
Isn't she a delight? To learn more about Katie's Nav'Aria books, visit her website at kjbacker.com. She also loves to connect with her readers via social media. You can follow her at @kj_backer on Instagram, K.J. Backer on Facebook, and @KJBacker on Twitter. Lastly, purchase a copy of Nav'Aria locally at Simply Local Marketplace, This House of Books, Hallmark in Rimrock Mall, and Barnes and Noble. It's also available at Billings Public Library and Amazon.
Originally printed in the January 2021 issue of Simply Local Magazine
Never miss an issue, check out SLM's digital editions here!